If you're an avid Google Calendar user, then chances are you might have deleted an event that you've later regretted, or maybe it was an accident in the first place. The question is, how can one restore a deleted event as if it wasn't deleted at all? Well, is a way to accomplish this.
Here's the thing, whenever an event is deleted from the Google Calendar, it is set directly to the Trash. If not permanently deleted right after, then the event will stay in the Trash for 30 days before going away for good.
So, as it stands, every Google Calendar user has a maximum of 30 days to decide whether or not a deleted event is important enough to be rescued from the damned. Additionally, we must note that the ability to restore deleted Google Calendar events is only possible via the web.
How to restore a deleted Google Calendar event?
Follow the steps laid out here to view and retrieve deleted Events in Google Calendar:
Open your favorite web browser
Navigate to the Google Calendar website
Log in to your Google account
Open the Trash
Restore one or more events
To begin, you must open your web browser of choice since this task must be accomplished on the web. So launch your web browser and navigate to the following URL:
Once that is done, please sign in with your official Google credentials if needed.
The next step from there is to find your way to the Trash box. This is quite easy to get done, so follow along.
From the main menu, click on the Gear icon.
It is located at the top-right corner of the screen.
From the dropdown menu, please click on Trash.
From within the Trash area, you should see all the events and whatever else that have been deleted from Google Calendar in the last 30-days. Let us look at how to restore these events back to their rightful place.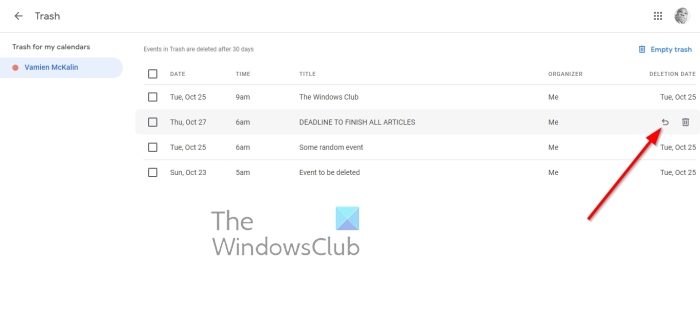 Hover the mouse cursor over an event.
Look to the right of the event and click the Restore icon.
For those who want to restore several events, you must tick the boxes to the left.
Finally, click on the Restore icon to complete the task.
Once done, all events will be returned to Google Calendar without changes.
How to delete Google Calendar events permanently
If you're not interested in waiting for 30 days in order for events to be deleted for good, then you have the option to manually intervene. This is easy, so simply follow the steps laid out below:
Open your web browser
Go to the Trash box
Hover over the event you want to delete.
Click the Trash icon to the right of the event.
It should now be deleted once and for all.
Additionally, you can select multiple events by ticking the box next to each. Hit the Trash icon after to remove all selected events, and that's it for that.
As stated above, once an event is deleted from the Trash area, you won't be able to reclaim it again, so please keep that in mind.
READ: How to add Google Calendar to Windows 11 Taskbar
How do I access my Google Calendar?
You can access Google Calendar by visiting the official website at https://calendar.google.com/calendar. You can also access Google Calendar via the official app on your Android smartphone.
Do you need a Gmail account to use Google Calendar?
Most users believe that in order to access Google Calendar, a Google account is required. However, such is not the case. Any email address can be used to sign up for the service, so you have nothing to worry about if you're not interested in creating a Google account.