Gears of War 4 is the latest game in the franchise and the beginning of what appears to be a new trilogy. The reviews have been quite fair, but the title is definitely not on the same level of greatness when compared to previous games. But that doesn't mean Gears of War 4 isn't loved by fans, because it is. If you go online right now, you'll find hundreds still playing, and that is why we can't ignore one of the newest problems the game is facing on Windows 10.
You see, several folks have complained about Gears of War 4 crashing or freezing on Windows 10, and at times, it's even stuck on the loading screen. Additionally, there are other times when the game would simply fail to launch, and that's a problem. It's quite surprising because, on the Xbox One, the game didn't have a lot of technical problems. However, things are much different where the Windows 10 version is concerned.
What we're going to do right now is to look into ways that are good enough to get your game running smoothly once more.
Gears of War 4 keeps crashing
We will be discussing the following points:
Update graphics card (GPU) drivers
Are you using a dedicated graphics card?
Turn off Async
Disable Game Bar & Background recording
Are you using a Microsoft or a Local account?
Check for Windows Updates
Reset Microsoft Store cache
Reinstall the game
1] Update graphics card (GPU), drivers
Chances are the reason folks are having problems with Gears of War 4 on Windows 10, is likely due to issues with the graphics card. Maybe it requires a new update. Therefore, we suggest visiting the official website of your graphics card maker to locate the latest drivers.
After updating the Graphics Drivers, restart the computer and check if things are running smoothly as they should.
2] Are you using a dedicated graphics card?
Here's the thing, Gears of War 4 is a demanding game, so it doesn't make much sense to run it on a system without a dedicated GPU installed. Now, if your computer comes with both a dedicated and integrated graphics card, then you'll need to check if the right one is the default.
To make the change, venture off to the NVIDIA Control Panel or the AMD Catalyst Control Center.
3] Turn off Async
Maybe you need to roll back the driver. You may turn off Async after reverting your drivers. Launch Gears of War 4 > Options > Advanced Video > Turn off Async Computer.
4] Disable Game Bar & Background recording
Xbox Game Bar is a useful feature for gamers but in some cases, it has been found to create troubles in some games. In such a case, disabling this feature helps. We suggest you turn off Xbox Game Bar on your Windows 11/10 computer and see if it helps.
See if this helps.
5] Are you using a Microsoft or a Local account?
If you are signed in to Windows 11/10 with a local account, switch to the Microsoft account. According to the reports, a Local account can cause problems with the Gears of War 4 game on Windows 11/10. When users switched to the Microsoft account, the issue was fixed.
6] Check for Windows Updates
Maybe the problem is Windows 10 itself, and therefore, a mere update could fix everything. In this case, we suggest clicking on the Windows key + I to fire up the Settings app, and from then, select Update & Security.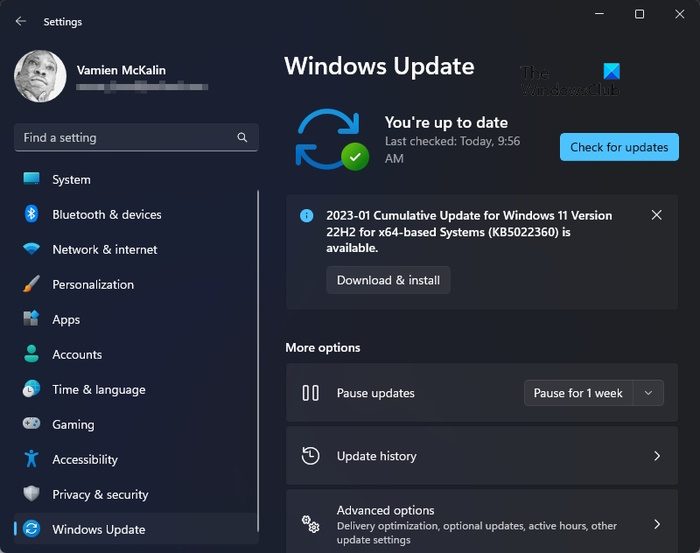 The final step, then, is to click on Updates and wait for the system to check online to see if any updates are available. If they are, the download will commence immediately, so just wait for the completion, then restart your computer.
7] Reset the Microsoft Store cache
This is something you should do if Gears of War 4 is doing things it shouldn't be doing. In such a case, the best option is to reset the Microsoft Windows Store cache. After you're done, run the game again and check if it's finally running smoothly again.
8] Reinstall the game
If none of the above solutions fixed the issue, uninstall, and reinstall the game from the Microsoft Store.
Why is Gears of War 4 not opening on Windows 10?
There can be multiple reasons why Gears of War 4 is not opening on your Windows 10 computer. The main cause of this issue is the incapable hardware. If your system does not have the supported hardware, you cannot run the Gear of War 4. Other causes of this problem are corrupted graphics card drivers, corrupted game files, etc.
Why does my PC keep crashing when I play games on Windows 10?
If your computer keeps crashing while playing games on Windows 11/10, corrupted driver(s) may be responsible for this issue. You should also check your computer for heating issues. Unsupported hardware is one of the causes of heating issues on a computer during gameplay.
We should point out that these problems aren't always easy to fix due to the possibility of numerous problems. However, we're confident that at least one of our suggestions here should get things back to normal.
Read next: God of War Ragnarok Not enough resources.