Hardcore users of Twitch love to watch videos on full-screen, especially if they have a large screen monitor. However, there are times when the Twitch full-screen feature does not work, and when that happens, many users have no idea of what to do. Several users are having problems with not being able to use the full-screen feature on Twitch. We have seen many complaints online and that's understandable because who wants to watch videos on a smaller player.
Twitch fullscreen not working
So, how do we get this problem under control? We are going to look at some of these possibilities that could return the full-screen capabilities.
Log out of Twitch and log back in
Take advantage of Theater Mode
Turn off the BTTV extension
1] Log out of Twitch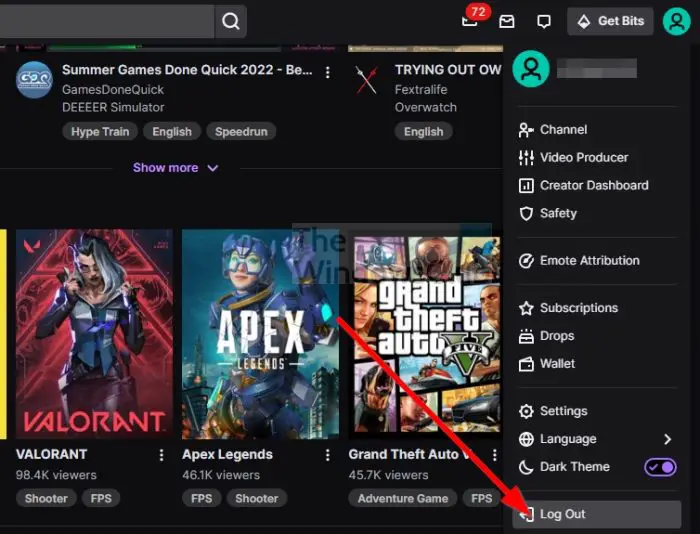 If you are logged in right now, then we suggest logging out of your account, restart the device, then log back in again. From, there, you can check to see if the full-screen issue is still persistent.
For those who are using the Twitch app for Windows, and yes, there is an official app, here is what you must do.
Click on the profile icon in the top-right section.
After that, select the Log Out option.
Once you've logged out of your account, please close the app.
Restart the computer.
Finally, boot into the Twitchloginhen log in with your official credentials.
In most cases, this should help, but if you're still having problems, then move on to the next possible fix.
2] Take advantage of Theater Mode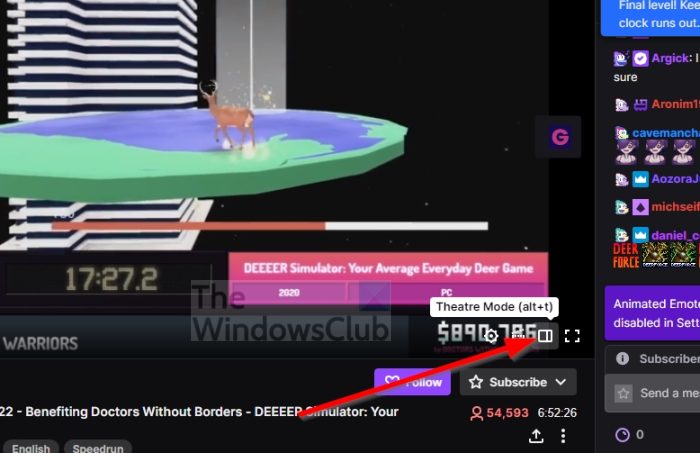 From our point of view, Theater Mode is one of the best features released by the Twitch team. For those who aren't aware enough, the Theater Mode enables the user to watch and chat on full-screen.
The question is, how does one enable this feature? It's easy, really. Let's take a look.
Visit the official Twitch webpage.
Sign in with your credentials.
Visit a currently running stream.
Click on the Theater Mode button located at the bottom of the video player.
That's it, you should now be looking at your favorite stream in full-screen with the chat section at the right.
3] Turn off the BTTV extension
One of the best Twitch-related extensions out there is one called BTTV. The extension is available for all major web browsers, and it is designed to improve the functionality of Twitch with new features and emotes.
Here are some of the features BTTV brings to the table according to the creators:
Extra emoticons – BetterTTV global and per-channel emotes
Username/Word/Phrase highlighting
Word/Phrase blacklist
Split chat lines for easy reading
See deleted links and messages
Unban all banned chatters with /massunban (channel owner only)
Anon Chat – join a channel without showing in the user list
Hide visual noise like bits
Disable the BTTV extension and see if that helps.
Read: Twitch No Sound when streaming
What is the Twitch mini-player?
The mini player on Twitch is an excellent feature that allows the user to browse other channels while still tuning into their favorite live stream or any other video being watched. This feature is nothing new since several video platforms and web browsers support mini-players.
While the feature is not built into the application, you can use extensions such as Twitch Chat Overlay that allow you to view and chat while watching a stream in fullscreen. You can also use a second device to get access to cha which can be a desktop or a laptop or even a smartphone.