If you are not satisfied with the built-in Windows File Explorer and are looking for a feature-rich File Manager software, you have a great alternative in FreeCommander. FreeCommander is a freeware application that can be used in place of the standard Window file manager where you can manage your files and data very easily and quite efficiently. 
FreeCommander Review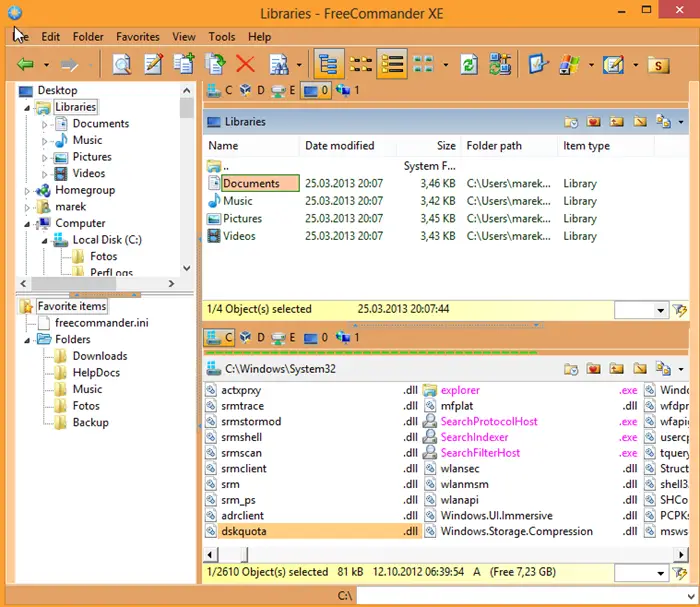 FreeCommander comes bundled with many features and the user interface of the application is attractive and simple to use. You also are not required to hold any special skill or knowledge in order to use this application.
Let us have a look at some of the more interesting features of FreeCommander.
There are lots of operations that can be performed using FreeCommander, some of them are given below.
File Compression.
Splitting of files.
Nested archive handling.
Copy, rename, delete and move files as well as folders.
Folder size calculation.
Dual panel technology, horizontal and vertical
File filters for display
Built-in FTP client and many more
File viewer inside archives too
Built-in file viewer to view files in hex, binary, text or image format.
Using Free Commander file manager
FreeCommander comes with a dual-panel, that provides you with a 'two-panel view' – one is horizontal, and the other one is vertical. There are six tabs that are present at the top of the window. Depending upon the use, you can select any of them and execute your operation.
File: In the 'File' tab all the necessary basic operations like copy, move, delete, etc. are mentioned. Other than these you can also perform tasks like pack, unpack, split, etc. As you select an option, a window will appear that will ask you for further information to complete the operation.
Edit: Through Edit tab you can perform operations like cut, copy, paste, and other options like select all, select group, Unselect all and other files related tasks.
Folder: Folder tab is used when you are working with folders. All options like creating a new folder, viewing the size of the folder, history, favorites, search, make a folder list, etc are present to make folders-related tasks pretty easy.
View: Under View tab most of the options are related to viewing and settings like you have options to view the icon either in small size or in a large one. You can even select whether you want to view the content in just list format or in a detailed one. Similarly, you can sort the data, split windows, select layout, swap panels and can perform other functions like that.
Extras: Under this tab all the settings-related operations are performed.  You can change the settings according to your convenience. If you want you can even change the shortcuts setting also. There are other options available with the help of which you connect and disconnect to the network drive.
Help: Through this tab you can find all the necessary help that is needed in order to use this file manager easily.
FreeCommander is an efficient and easy-to-use file manager. You can find many shortcuts and options here that are not included with many other file managers. DOS command prompt is also present with the application. It is a great file management tool in the market that you will find for free.
I have been using it, and personally, I did find it very useful easy to work with. You can download your copy of this freeware here. It works on Window 10 and Windows 11 too.