In this post, we list some 12 the best free Password Generators for Windows 11/10 PCs that will help you generate strong passwords. We have already taken a look at some good secure online password generators; now let us look at some free Desktop apps.
Security on the web is very important, which we should all take seriously in the future if you haven't already. Whenever you create an online account, the key move here is to do so with a strong password that is not easy to hack. Because of laziness, many of us tend to use a single password across all online accounts, and in most situations, these passwords are extremely weak and suspectable to hacking by anyone capable. And, of course, that's a huge problem we cannot allow to happen, so keep reading. 
Free Password Generators for Windows 11/10
Here are some of the best free Password Generators for Windows 11/10:
Advanced Password Generator
Password Tech
RandPass Lite
PassBox
IOBIT Random Password Generator
Free Password Generator
Secure Password Generator
HashPass password generator
LessPass
Gaijin Password Generator
KeePass
Password Generator in your browser.
Now, let us take a look at them in brief.
1] Advanced Password Generator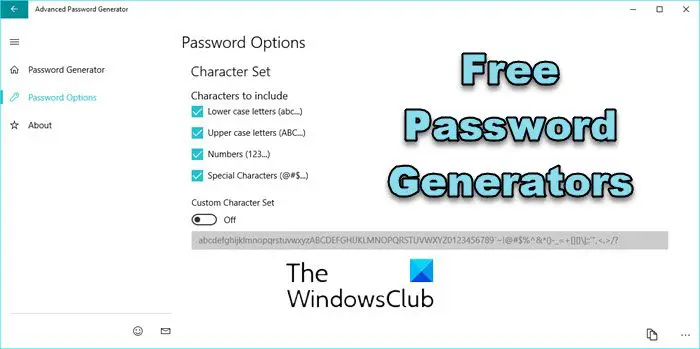 Advanced Password Generator is a Microsoft Store app that allows you to create highly secure passwords that are difficult to crack or guess. Select the criteria for the passwords you need, and click "Generate Secure Password". The application is designed to generate passwords of any character content. Using Advanced Password Generator, you do not have to think out new passwords. Advanced Password Generator will do it instead of you. Combining lower and upper case letters, numbers, and punctuation symbols makes the passwords highly secure. 
2] Password Tech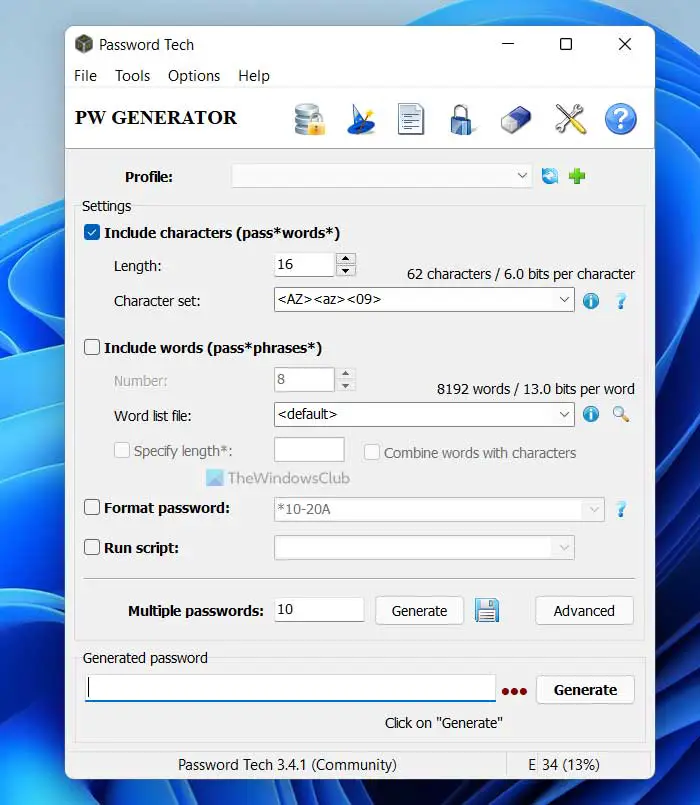 Password Tech is an awesome third-party password generator, which is available free of cost. Here is its list of features:
Create a password using various conditions
Multiple character sets support
Character-only password, word-only password etc.
Save passwords in a text file
Create profiles for different types of passwords
Encrypt/Decrypt clipboard
Use the Hotkey/keyboard shortcut to open Password Tech
Password manager
3] RandPass Lite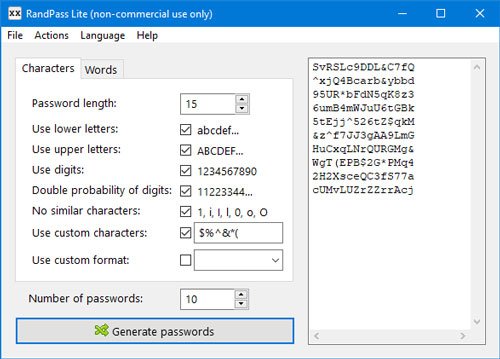 RandPass Lite helps create a password whenever needed. However, there are some other features that you should know about this security tool.
Password length:  RandPass Lite allows users to create up to 1000 characters long passwords.
Create passwords in bulk: It is possible to create 1000 passwords at a time.
Use custom characters: Apart from uppercase/lowercase alphabets and numbers, you can add custom characters such as – &, %, $, #, @, etc.
Custom word list: If you have a specific list of words that you want to use in your password, you can import that, too.
Duplicate password finder: It comes with an in-built duplicate password finder, which can find and remove all duplicate passwords effortlessly.
4] PassBox
PassBox includes a password generator, which can even suggest passwords for your account. Just hit the "Generate" button, and the password generator appears in a new window. You have to select the password length and whether or not you need special characters in the password. Boom! Hit the "Generate" button, and you get your new password, which can be quite interesting.
5] IOBIT Random Password Generator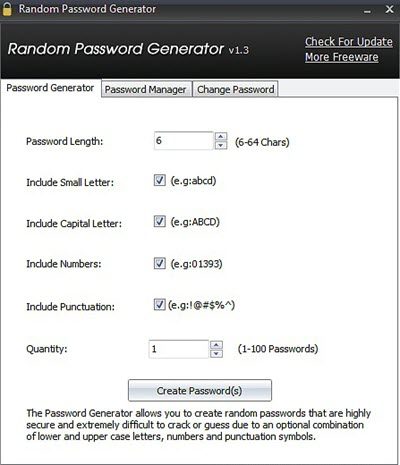 IOBIT Random Password Generator creates a highly secure, random password. You can automatically generate a batch of highly secure passwords you want as well as easily create and manage the passwords to meet your needs. Download it from iobit.com.
6] Free Password Generator
Free Password Generator application will create strong and secure passwords. It can generate passwords 1-99 symbols in length and also from one to 100000 secure passwords by one mouse click. You can get it at securesafepro.com. 
7] Secure Password Generator
Secure Password Generator helps you to generate passwords of length ranging from 5 to 500 characters using one or more of the following character sets
Uppercase Letters (A-Z)
Lowercase Letters (a-z)
Numbers (0-9)
Special Symbols ($,#, ?, *, & etc)
It is available at securityxploded.com. 
8] HashPass password generator for Windows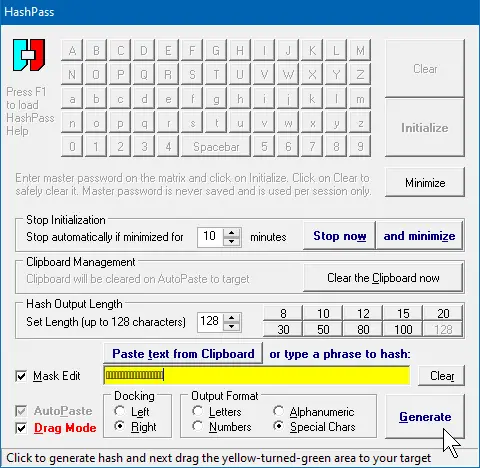 HashPass password generator for Windows mathematically transfers your chosen password-to-be into a unique secure hash. Using this software is pretty easy from our point of view. Once it is up and running for the first time, users should realize that it goes directly to the System Tray.
Once you have loaded HashPass to the main screen, you will now be given the option to create a master password. Now, this master password is only for accessing the tool and not for viewing passwords. You see, the program is not capable of storing passwords, just generating them. 
Before going forward, be sure to set the length of the password. You can choose from eight to 128 characters, though we doubt most users will ever use 128 characters for their passwords in this day and age. 
After doing all of that, click on the Generate button to get your brand new, and secure password ready for use. 
OK, so here comes the good part. As stated above, the software can protect users from insecure password boxes on any website. It does that by hashing your password before allowing the user to paste it into the password box. 
To hash your password, type it into the box or copy and paste it. Finally, click the Generate button to create the hash. From there, copy the hashed password and paste it into the password box on whichever account you're attempting to access.
TIP: You can also use ASCII characters to make passwords stronger!
9] LessPass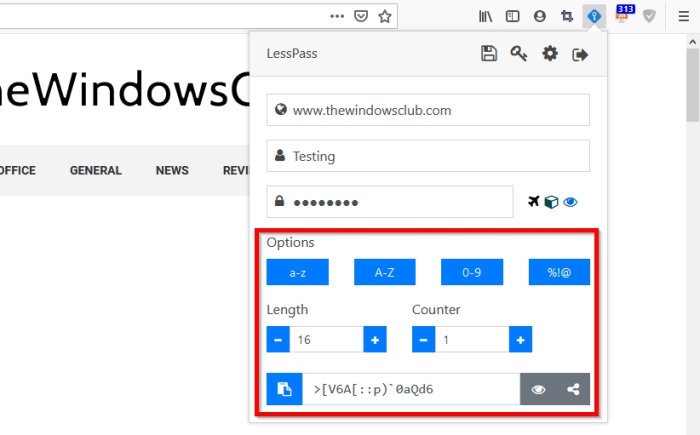 LessPass is only available for iOS, Android, Google Chrome, Microsoft EdDge and Mozilla Firefox. You can also install it on your computer via the command line
10] Gaijin Password Generator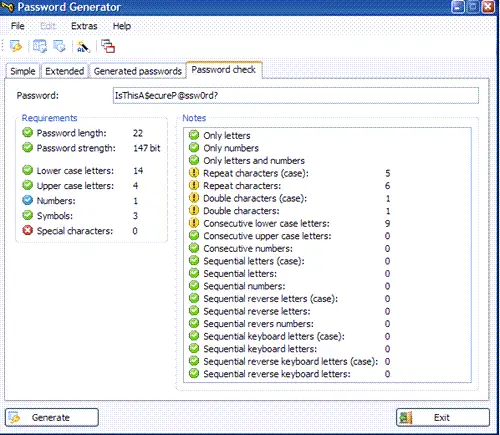 This Gaijin Password Generator has the following features: 
Password Generator can generate WEP and WPA2 keys for Wireless LAN (WLAN).
Reconstructable passwords can be created from sentences.
Passwords for UNIX, PHP and .HTACCESS (DES, MD5 and SHA1) can be created.
The checksums of passwords (MD5, SHA1, SHA256 and SHA512) can be generated.
1.000 passwords can be created at once. The passwords can be saved in a plain text file.
Password Generator is portable and can be used on USB devices.
11] KeePass
KeePass includes a password generator feature to generate a strong password using a pattern, custom algorithm, character set, etc. It also provides a Password Generator List feature that you can use to generate N (say 10, 20, etc.) number of passwords within a few seconds. You must open the Tools menu to access and use its password generator features.
12] Password Generator in your browser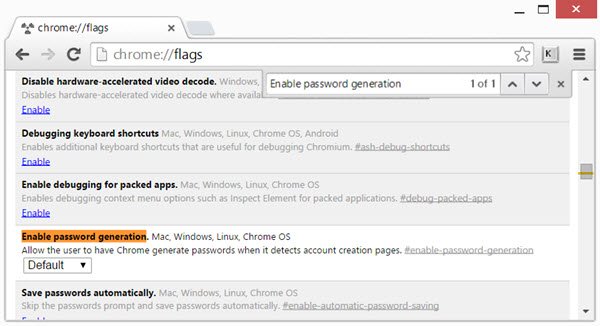 Google Chrome browser includes a built-in Password Generator, which can generate complex passwords for you when you sign up for new online services. Currently, it is not enabled by default; you must enable it first to use this helpful feature.
Similarly, Microsoft Edge too includes a built-in Password Generator that you can use.
Are free password generators safe?
Although randomly generated passwords are unique and difficult to guess, there's no guarantee that the online generator isn't keeping a copy of the new password. But because you are not sharing the site where you plan to use the password – it doesn't matter! However, a desktop tool would be a better option to consider in our opinion.
Read: Free Password Manager software for Windows PC
Does Windows have a password generator?
Yes, Windows 11/10 has a password generator. When you navigate to a webpage with a sign-up or password change form, Microsoft Edge's Password Generator automatically activates. It suggests strong passwords in a drop-down menu when you select the password field. Just choose the suggested password and submit it to the website.