Windows 11/10 already provides a built-in Voice Recorder app which is nice. But, that app may cause issues to some – like Failed to save the recording audio. Therefore, if you are looking for some other options that can help you record and save audio on Windows PC, then this post discusses some free audio recorder software for Windows 11/10.
Before using any of these free audio recorders, you should set up and test the Microphone just to make sure the recording process works fine.
Free Audio Recorder software for Windows PC
In this post, we have added 2 free audio recorder apps and 3 free audio recorder desktop software for Windows 11/10. These are:
Audio Recorder
Quick Sound Recorder Free
Ashampoo Audio Recorder Free
Weeny Free Audio Recorder
Moo0 Audio Recorder.
Let's check these Windows 10 audio recording tools one by one.
1] Audio Recorder
Audio Recorder is a very simple Microsoft Store app. It lets you create a project and then you start and save your audio recordings in that project. For each saved audio recording, it adds the date and recording time as a file name of the recording. You can select a custom folder to save the recordings. The output audio is saved as an MP3 file.
Open its homepage and install the app. When you will launch this Audio Recorder app, it will prompt you to access your microphone. Give permission using the Yes button.
Now you will see its main interface that has two options:
Start recording to record and save the recorded audio
Play recorded files to access the folder where your audio files are saved and play all those audios on its interface.
Use the first option and then you can start the recording using the Mic icon. When recording is done, stop it, and it will be saved to the default project. You can also rename your project anytime. This way you can add more and more recordings.
To save all the recordings in a folder, click on the Save icon, rename your project, and then select a folder of your choice to save your audio recordings.
2] Quick Sound Recorder Free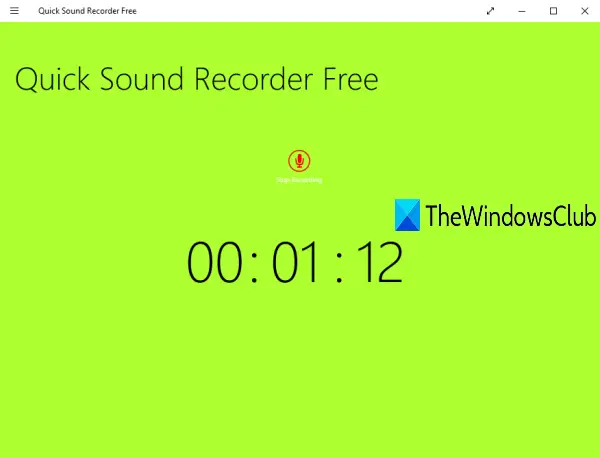 Quick Sound Recorder Free is also a Microsoft Store app. The free plan lets you save one audio recording per session but you can record and save multiple audio recordings one by one. The output recordings are stored under the Music folder on your PC in MP3 format.
You can also access your recordings on its interface and play them. For selected audio, the options to stop, pause, skip ahead, and skip back are also present.
Click here to open its homepage and install it. After launching the app, click on the Start recording icon and then give this app permission to access your microphone. Now, again click on that icon to begin the recording.
When the recording is done, stop it, and it will be saved. In this way, you can record more and more audios. To access your recordings, right-click on its interface, and then click on the View recordings option available on the top right part.
3] Ashampoo Audio Recorder Free
Ashampoo Audio Recorder Free is a feature-rich tool. It comes with a compact view and full view mode, lets you select an input device for recording, set output folder, and file names for the saved recordings. One unique feature is you can cut recorded audio (by setting start point and end-point) and save that particular part as separate audio.
You can also select output format as OGG, FLAC, OPUS, APE, WAV, WMA, or MP3. For each format, it lets you set audio quality (good, high-quality, CD, or Medium) along with custom bitrate and sample rate which is a pretty good feature.
After installing and opening this tool, you need to do account registration by providing your email address and password so that you can use its free copy without restrictions.
Now the very first thing you should do is access its Settings and set output folder, format, audio quality, etc. Now come back to the main interface, select your recording device, and start the recording. Stop and save recording using the available button.
The list of saved recordings is visible in the left section. You can select and play any recorded audio. If you want, you can also use the Cut icon (available on the bottom right part) to extract a particular part from your audio recording.
4] Weeny Free Audio Recorder
Weeny Free Audio Recorder is also a feature-rich software. It lets you play the recorded audio within its interface. You can also set output device, volume for recording, output path, and use hotkeys to record, pause, and stop the recording.
It lets you save audio recordings in WAVE, WMA, OGG, and MP3 formats. For the selected format, you can also set bitrate, and channel (Mono, Stereo, or JointStereo).
Get this tool and install it. On its interface, click on the Settings icon, and use available tabs to set audio format, quality, output folder, etc.
To begin the recording, use the Record icon. Whenever you want to end the recording, press the Stop button. If you want to play a recording on its interface, use the File List icon, select a recording, and play it.
5] Moo0 Audio Recorder
Moo0 Audio Recorder (free for non-commercial use) lets you select any of the three options to record audio or sound: any PC sound and Microphone, any PC sound, and only Microphone. A unique Cut Silence feature is also there that automatically pauses the recording when there is no audio and resumes the recording when some sound is played. That helps a lot to exclude unwanted time duration in the recording. You can save the audio recording in MP3 or WAV format.
Apart from that, it lets you set audio quality, output folder, interface transparency, and output file name. By default, this tool comes with a transparent interface and remains on top of other applications, but you can also manage transparency and uncheck the keep on top option.
Click here and download this tool. During the installation process, uncheck 3rd-party tools to prevent their installation. Complete the process and launch this tool.
Use options (such as output folder, audio source, filename) visible on its interface and press the Start Recording! button. You can pause the recording in between and continue the recording anytime. Finally, press the Stop button, and the recording will be saved. You can also listen to the recording directly on its interface.
If you want, you can also click on the Setting option to set transparency, output quality, change interface skin, etc.
Hope you will like these free audio recorders for Windows 11/10.