High-resolution images shot using a DSLR camera take much time to share or upload, especially via email. Often receiving or sending images via email allows low-resolution images, so they load faster and are suitable for mailing. Fotosizer is a free batch image resizer that helps you to re-size your images in a few minutes with multiple effects. You can re-size a single image or a whole folder of images in one go without hampering the image quality.
Free Batch Image Resizer Software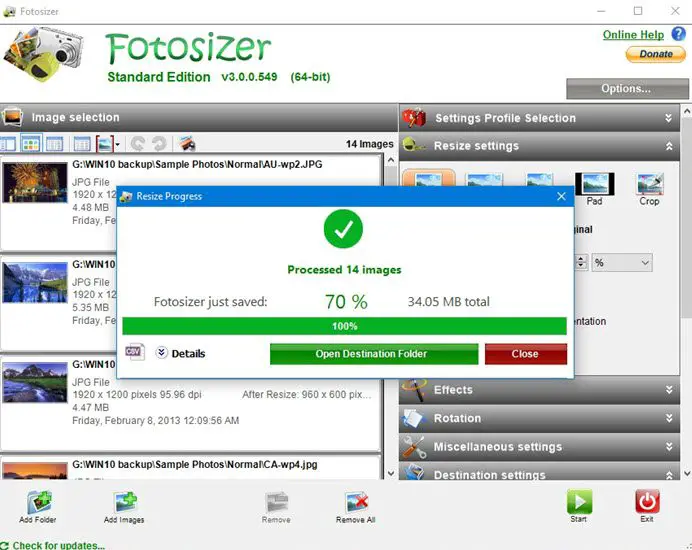 Let us have a look at Fotosizer. Towards the end of this post, you ill also see links to other free image resizer software for Windows PC.
Fotosizer review
With Fotosizer image resizer software, you can easily upload the images to any website. You can even share it with any other device. This software supports multiple output formats, including TIFF, PNG, GIF, JPEG, and BMP.
Key Features of Fotosizer:
Here are just a few of the great features of Fotosizer:
You can customize the width and height of the image
It allows you to Add images from the folder
It supports several picture file types
You can convert the images to gray-scale
Available in many languages
It has an easy-to-use interface, including drag and drop option for photos
Available free of cost for Windows.
Batch Image Resizer
Fotosizer lets you resize any image or multiple images in four easy steps:
1. Add Folder/ Add Images – To resize the image, you can click on the Add image icon, select your image by browsing your desktop, select and press OK. The image will be resized automatically. You can even Drag and Drop your images into its interface to resize. Add Folder button is also available at the extreme left corner, from where you can add a whole image folder.
2. Resize Settings – After your image is resized, you can even set the height and width or a percentage of the original image by clicking on the "Resize setting" available on the top right of the screen.
3. Save the Resized Photos – Choose the image, resize it, and decide where you want to save the new image.
4. Other Operations – In this image resizing software, you can also apply some effects and flip it horizontally or vertically or by a certain angle. The right panel of the interface will provide you with other operations like effects, adjustment, watermarks, rotation, miscellaneous, and destination settings.
Download Fotosizer here and resize your images in bulk. Works on Windows 11 too.
Also see: AdionSoft Fast Image Resizer | Flexxi | VarieDrop | XnConvert | TechNet Image Resizer.