When we want to post some images on any social networking website such as Facebook, Twitter or on our blogs, we need to resize images … and fast!  Maybe you have huge photos shot from your digital camera, and you need to resize all of them to a single small size – quickly for your personal use.  AdionSoft's Free Fast Image Resizer is a perfect image resizer if you want to bulk resize your images quickly.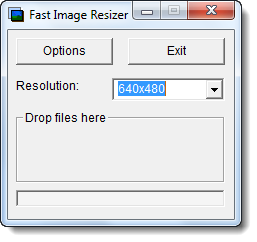 Free Fast Image Resizer for Windows PC

Simply drag and drop one or multiple images in the square box, and all the images will be resized and saved in a folder of your choice.
Features :
Dual and Quadcore compatible
Resize images to any size quickly and in high quality
Create thumbnails for your website images
Resize Algorithm quality and JPEG quality configurable
Create resized files in a new folder, or the same folder as the source
Use EXIF information to rotate your pictures to the correct orientation
Copy EXIF info from the source image
Easy resizing by using windows explorer Send To menu
Automatic cropping option
Can read JPG, BMP, GIF, PNG, TIFF and HD Photo (.wdp, .hdp) files
Writes JPG, BMP or PNG files
Compatible with Windows 2000, Windows XP, Windows Vista and Windows 7
Freeware
The software has got options menu where you can customize settings as per your choice. Here is a screenshot :
To download this tool, visit its HomePage.
Also, see Image Resizer Power Toy.