If your Folder Options or File Explorer Options are missing, Task Manager is disabled, or your Registry Editor (Regedit) is disabled in Windows, this post should help you. Three of the most common problems which many face – especially if your machine is infected or just recovering from malware infection. In this post, we will share how you can resolve the problem.
Task Manager Disabled, Regedit Disabled, Folder Options Missing [Fixed]
Some strains of the virus are resistant to even good antivirus programs. These strains can go undetected for extended periods, disabling tools such as the Windows Task Manager, Registry Editor, and Folder Options that are integral to Windows operations.
If you face such issues, your easiest bet is to use our freeware FixWin.
Use FixWin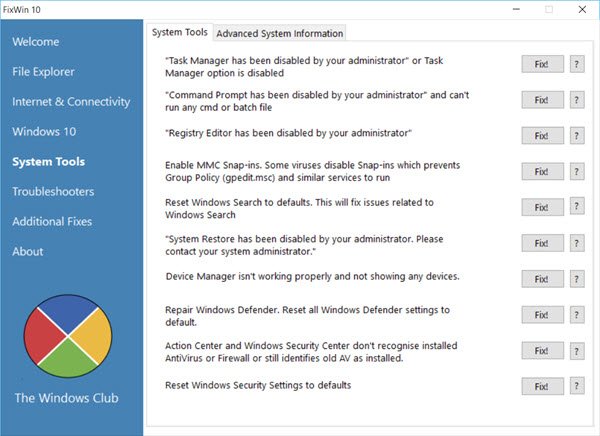 Our freeware FixWin, the Windows Doctor, has a lot of such fixes for many such Windows problems. You may download it and use it to fix your problems with a click.
Folder Options is missing or grayed out.
You will find the Folder Options is missing fix under the File Explorer tab of FixWin.
Task Manager has been disabled by your administrator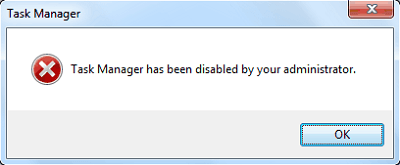 The Task Manager not opening or disabled by the administrator fix can be found under the System Tools section of FixWin.
Registry editing has been disabled by your administrator
Your administrator fixes have disabled the Registry Editor can be found under the System Tools section.
Alternatively, if your Windows ships with the Group Policy Editor, click Start > Run > gpedit.msc > User Configuration > Administrative Template> System > Prevent access to registry editing tools > Right Click on it > Properties > Check Enable> OK. Reboot.
Re-enable & RRT are small tools that will help you fix such nuisances. You may check them out too.
We hope that this will help resolve your issues.
Can you reinstall Task Manager?
Task Manager is built into Windows, so there is no way to reinstall it. However, if it is not working, you can run the DISM command. The built-in tool can find corrupt system files and replace them using the original system image. While that tool is built to service and prepare Windows images, it can also fix a live Windows system where the files are corrupt. It can also fix a corrupt registry.
How do I restore folder options?
If you can access the Folder options via File Explorer, you can easily reset things to default. Open File Explorer, click on the three-dot vertical menu and select Options. It will open the Folder options. Locate and click on Restore defaults button. Once done, it will apply the default folder settings to all. Be aware there is no way to back up any changed settings, so if you need to keep a specific setting, make a note of it.