Microsoft Filesystem Filter Manager or fltmgr.sys is responsible for making sure that all the file that is stored in a user's hard drive stay in their respective locations. The Blue Screen error SYSTEM SERVICE EXCEPTION (fltmgr.sys) is caused due to an error with the driver responsible for enabling the communication between the hardware and the computer. This means that this driver allows the direct access to the internal hardware from the CPU itself. For those who are curious, fltmgr.sys is located in C:\Windows\System32\drivers.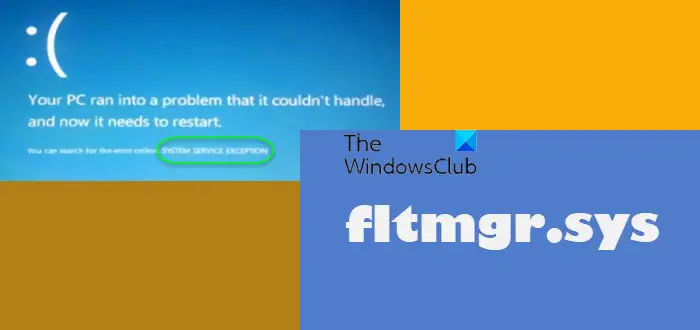 Many times, a BSOD occurs due to an error in this file as mentioned above. But there are even times when you can not log in to your computer after it reboots due to this error. So, we will cover this scenario as well.
What do I do if I cannot boot into Windows normally?
SYSTEM_SERVICE_EXCEPTION (fltmgr.sys) Blue Screen error
We will be covering four main methods by which we will be trying to fix the issues. However, it is always advised to create a System Restore Point on your computer. Also, to perform all these fixes, we would recommend you to boot into the Safe Mode first. After you are booted up into the Safe Mode, follow these methods one by one.
1] Run Windows Update
Since the source of this fltmgr.sys file is Microsoft; you might want to run Windows Update and install the Driver Updates and see if it resolves the issue.
2] Run sfc/scannow
To run sfc/scannow, press WINKEY + X button combo or right-click on the Start button and click on Command Prompt (Admin) or just search for cmd in the Cortana search box, right click on the Command Prompt icon and click on Run as Administrator. Click on Yes for the UAC or User Account Control prompt that you get. Then, the Command Prompt window will finally be open.
After that, type in the following command,
sfc /scannow
And then hit Enter.
Let it scan the whole drive for any errors and then Reboot your computer to check if it has fixed the Blue Screen of Death Error.
3] Run Blue Screen Troubleshooter
You may also run the Blue Screen Troubleshooter. The built-in Troubleshooter is easy to run and fixes BSODs automatically. The online Windows 10 Blue Screen Troubleshooter from Microsoft is a wizard that is meant to help novice users fix their Stop Errors. It offers helpful links along the way.
4] Checking hardware for physical issues
Sometimes, faulty hardware can also result in the software driver not working properly. We would recommend checking the internal components of the CPU for any issues. These issues are not only caused when the device encounters physical damage but can also be caused due to voltage fluctuations and short circuits.
You may also want to run ChkDsk. You could run a command like the following to check and repair disk errors on your C drive:
chkdsk c: /f /r
All the best!