Recently, we've heard of Xbox One user's coming face to face with error 0x80a40008. We understand this error pops up whenever users try to sign into their Xbox profile or whenever they make attempts to recover a dormant profile on their Xbox One video game system.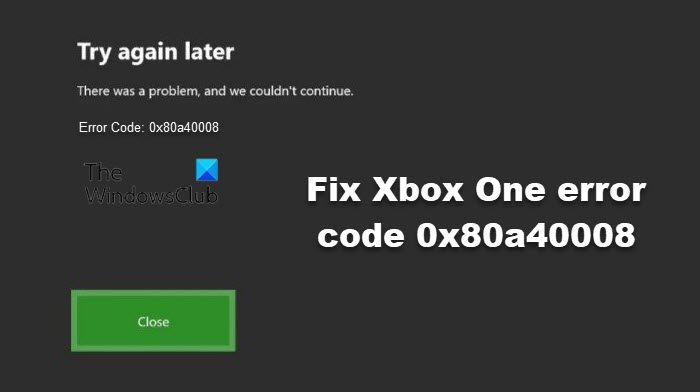 There was a problem and we couldn't continue, 0x80A40008
Unsurprisingly, the error causes all those affected to not be able to gain access to their Xbox account. This is unacceptable on all levels; therefore, we have decided to come up with ways to fix it once and for all.
How to fix error code 0x80a40008 on Xbox One
Getting around this problem is fairly easy, so follow the instructions below and we suspect you'll be just fine by the end. Now, in many situations, problems with the Xbox servers tend to be the primary reason for error 0x80a40008 to show its ugly head. So, how can we tell if such is the case, then?
1] Visit the Xbox Live Status website
To begin, please visit the official Xbox Status page. From here, you will learn if any of the key services are temporarily down.
What are the services available? Quite a few of them are available, 11 to be exact, and they are as follows:
Account & profile
Online safety & family
Store & subscriptions
Friends & social activity
Sharing & broadcasting
Devices & networking
Multiplayer gaming
Cloud gaming
Support & services
Games & gaming
Apps & mobile
What to do if services are down? Your best bet at this time is to simply wait until Microsoft has rectified the problem. There is nothing you can do, so put the controller down and find some other way to spend your time.
2] Test your internet connection
Now, if all the services are running properly, then chances are the issue is linked to your network connection. What we want to know is if the Xbox One is connecting to the internet as it should without problems.
From what we've gathered, error code 0x80a40008 will at times appear if the console fails to connect to the internet. But worry not because there might be a way to fix this by reading what we've written below.
You'll be required to navigate to the Guide menu. To do this, press the Xbox button on the controller while on the primary dashboard.
The next step, then, is to scroll down until you come across the gear icon. Please select to access the All Settings area.
From the Settings menu, please use your controller to select the Network tab via the vertical menu. It is close to the top; therefore, it will be difficult for you to miss it.
Finally, it's time to test your network connection to see if things are moving in the right direction or not. To get this done, select the Troubleshooting tab, and once done, choose Test Network Connection.
Wait a while until the text is done. If you see Everything is Good, then it means your network is fine. If not, well, suggest resetting your wireless router, or turn it off for 20 seconds, then turn it back on again.
If all else fails, then we suggest restarting your Xbox One video game console. To do this, press and hold the Xbox button on your controller until the Power Center appears.
After that, select Restart Console > Restart, then wait. The process should take just a few seconds, to have a little patience.
3] Remove and re-add your account
Deleting your account and adding it all over again has been known to work in situations like this.
To get there, press the Xbox logo button on your controller and the Guide should appear promptly.
The next step is to tap on Profile & system > Settings > Account > Remove accounts.
Select the account you want to have gone, then hit Remove. From there, restart the Xbox One.
OK, so after the console has restarted, return to the Guide menu by pressing the Xbox key. Once you done that, please click on Profile & system.
Now, you must tap on Add New, then right away enter your Microsoft account credentials. If you are using the controller to type, this might take a short while to complete. But as soon as you're done, hit Enter. Your account should now be up and running again.
If you have several accounts attached to your Xbox One, then you may want to follow the steps above to remove them all. Finally, restart the system, re-add each account, then check again if error 0x80a40008 appears still.
Hope this helps.
What is error code 0x80A4000A on Xbox?
Error 0x80A4000A may occur when you try to manage or use your Xbox Live account on Xbox One. To fix this problem, you need to power cycle the Xbox One console. Along with that, you should also test your network connection, and then try to reconnect to Xbox Live.
Why is my Xbox not letting me sign in to my account?
If you are not able to sign in to your Xbox console after changing your password, then it may happen because your console hasn't received the password. In that case, you need to restart your console and re-add your account to your Xbox console. On the other hand, if you face problems signing in to the Xbox app on Windows 11/10, then use Windows Store Apps troubleshooter, update the Xbox app (if an update is available), clear the app cache, etc.