USB-C is becoming increasingly important in our lives, as almost every smartphone uses the technology for charging. Many computer makers are now deciding to add USB-C ports to their Windows 11/10 devices, so everything is looking peachy. Now, with an increase in usage where USB-C is concerned, it's safe to say that many problems will the standard will arise. Users will begin to complain about flaws, and as usual, it's our job to help whenever those flaws have become a major issue.
Here's the thing, a lot of the problems facing USB-C these days, is mainly due to hardware, software, or a combination of the two. Luckily, we've come up with a few tips that can help you in your time of need.
Fix USB-C problems & issues
Your USB-C device has reported a problem
If your device is acting up but you have no idea what's going on, then we suggest locating the error code, then make a formal report to Microsoft in hopes of getting some well-needed help. It's an easy task, so let's get down to it, shall we?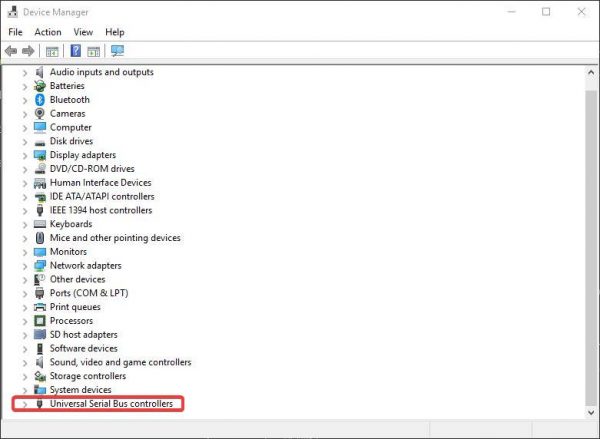 Press the Windows Key + X, then select Device Manager from the list. In the Device Manager, seek out the USB-C device, which should be marked by a yellow exclamation. The next step, then, is to right-click on this device and choose Properties.
You should see the error code under Device Status, so we suggest writing it down before taking the next step.
OK, click on the Start button and search for the Feedback Hub app. Launch it, then simply launch a complaint with the copied error code. A member of the Microsoft team should help in due time, so just wait patiently.
Slow USB charger connected
If you've come across slow USB-C charging, then chances are, you may not have the right USB-C charger for your device, or there's another issue entirely.
You must first make sure the charger is the one that comes with your product. If it's not, then purchase one from the manufacturer or from a store that sells the current type. Never cut it short by buying cheap unofficial chargers because the chance of them failing is pretty high.
Another thing, make sure the charger is connected properly to your Windows 10 computer. And if that doesn't help, then consider cleaning the USB-C port with a can of compressed air because dirt inside of the port might be preventing proper insertion.
USB or Thunderbolt device functionality might be limited
If you're seeing this error, then maybe there are some new features for USB-C that your Windows 10 computer has yet to support. Or, maybe you're connecting the USB-C device to your computer through an external hub.
What you need to do, is to make sure your computer and the device you're attempting to connect, support the same features.
Also, make sure you're making a direct connection. It's never wise to connect through a third-party dock because of issues with compatibility.
PC (or phone) isn't charging
If your device is not charging, then that is a major problem. We're going to assume the problem is linked to the USB-C connection, so with that in mind, it would be wise to make sure you're using the correct charger.
Always use a charger from the OEM instead of something from a third-party. On the other hand, make sure the charger is fully connected properly to the Windows 10 device. And finally, clean any dust that might clog the USB-C port.
The USB device might not work
Maybe you've reached a point where your USB device is not working. The best step to take in this instance is to download and install the latest updates for your specific device.
If you're still using a Windows Phone for some strange reason, then you are required to tap the Start button, swipe to the app list and then navigate to Settings > Update & security > Phone update > Check for updates.
After checking for the latest updates, be sure to download if there's any. Now, if you're running the newest version of the Windows Phone operating system, then maybe what you need to do, is connect your device to a Windows 10 computer if you haven't already.
Display connection might be limited
A situation like this is quite common, but that doesn't mean your device is acting up. Chances are, your Windows 10 computer doesn't support certain features, or maybe you've connected the product to the PC via an external hub.
Here's the thing, you must make sure that the phone or Windows PC supports DisplayPort or MHL alternate modes. Furthermore, make sure the dongle or cable is connected directly to the computer or smartphone.
Also, you should be certain that the dongle or device that is being connected supports Alternate Mode.
Use different USB port
Bear in mind that USB ports do not last forever, and sometimes, the smallest of issues can damage these ports. So, if you're trying to use a device or dongle that fails to work despite several tries, then it's time to use a different port.
If all ports are damaged, then you need to bring the computer to a reputable technician to get the USB ports replaced.
USB device might not be working properly
This could be happening because your PC or smartphone is unable to power the connected device. Alternatively, power may have been temporarily limited, therefore, the device isn't getting enough juice to keep it going.
In a situation like this, the user will be required to plug the USB device into an external power source if possible. Also, make sure your smartphone or Windows 10 C is plugged in and not running on battery power.
Finally, if by any chance you have other USB devices plugged in, please remove them because they could be the cause of your problems.
How do I fix USB-C port not working on Windows 11?
There are multiple ways to fix the USB-C port problems on Windows 11. First, you can verify the device or cable. If there is no issue, you need to try the second Type-C port, replace the driver with a newer version, etc. At times, you might need to allow your device to connect to your computer as well. You must verify that setting as well.
How do I enable USB-C charging on Windows 11?
There is nothing you can do to enable USB-C charging on Windows 11, as it is already turned on by default. All you need to do is to connect your mobile to your computer with a USB-C cable. Following that, make sure that you have selected the Charging only option on your phone. As there are multiple other options available, choosing that specific charging option is mandatory in some situations.
Hope these solutions have worked for you.
Read next: Laptop has only USB C Port; How do I use other devices?