Steam stores lots of information on users/gamers – which includes access to all of the games that the user have purchased, their chat history with their Steam friends, and even their bank account details in some cases. To protect these data, Steam provides users with the option to take extra measures with Steam Guard. In this post, we offer suggestions you can try if Steam Guard is not showing Code on your Windows 11 or Window 10 gaming rig.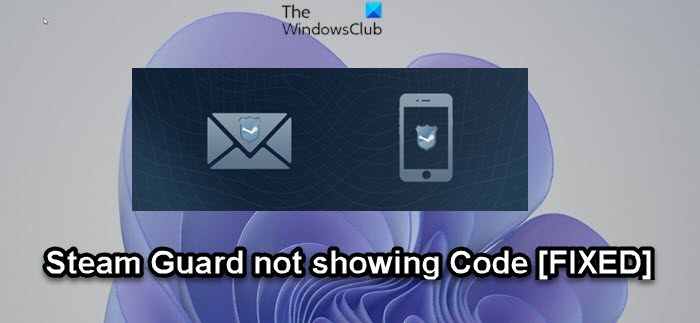 Steam Guard not showing Code
If Steam Guard is not showing Code on your Windows 11/10 gaming rig, you can try our recommended solutions in the order presented below and see if that helps to resolve the issue on your system.
Restart Steam
Check all Email Folders
Unlink and Relink your Steam Account
Disable and re-enable the Authenticator from the Steam app
Let's take a look at the description of the process involved concerning each of the listed solutions.
1] Restart Steam
The first troubleshooting step you can take to resolve the issue on your Windows 11/10 gaming rig is to restart Steam. Most affected users were not able to receive the code in the initial try. And as reported by some of the affected users, what worked is to try to restart the application on the gaming device you're trying to login with, & then reach the Steam Guard screen once again. Doing this a few times should get the code in your email.
On Windows PC you can restart the Steam application by right-clicking the icon on the Taskbar corner and selecting Quit or Close or Exit as the case may be. Alternatively, you can end the Steam process in Task Manager. Once done, relaunch the app by clicking the entry on Start Menu or double-clicking the Steam app desktop shortcut.
2] Check all Email Folders
Since the code is sent to your email, this solution requires you to check all the folders of your email account. It's possible that the Steam Guard code was sent to the spam/junk folder or another folder other than your Inbox as these types of emails don't usually always get sent to the inbox, which might leave you to believe the code hasn't been sent to you.
So, if you have checked all email folders and still weren't able to find the email in any of these other folders, you can try the next suggestion.
3] Unlink and Relink your Steam Account
Another viable solution that worked for most affected users, especially those that are trying to log in to their Steam account with a new mobile, is to unlink and relink the Steam account. This simply requires you to unlink your Steam account from all new devices that you've connected to except for the main Windows 11/10 PC which you use for the application. Once done unlinking, you can try relinking the account with the new device that you're using and then check all your email folders for the mail from Steam including your code.
To Unlink and Relink your Steam Account, do the following:
To Unlink
Go to 

Account Settings

.

Select 

Unlink account

,

 

and then select 

Confirm

.
To Relink
Go to 

Account Settings

.

Select 

Link your Steam account

.

Sign in with the Steam credentials of the account you want to link.
Try the next suggestion if this action didn't help with the issue in hand.
4] Disable and re-enable the Authenticator from the Steam app
If nothing has worked so far for you, you can disable and then enable and set up Steam Guard Authentication from the Steam app. Once you complete this task, you should be able to get the Steam Guard code without any issues.
Hope this helps!
How good is Steam Guard?
Due to the fact you're the only user with access to the temporary codes generated by Steam Guard, other users on the platform will be unable to compromise your account. Even with the possession of your password, the other user can't log in. The Steam Guard mobile authenticator is more secure since a a threat actor would need your phone in their physical possession to break into your account.
How do I get Steam backup codes?
To get Steam backup codes or create backup code, you are required to log in to your account and request for backup codes which you can either save or print and can be used only 1 time. If you try, you will get page of backup codes, these codes can be saved in email, printed or stored in any location on your computer.
How do I verify my Steam account?
To verify your Steam account, do the following:
Open Steam.
Click Steam > Preferences.
Click on Verify email address.
Follow the on-screen instructions. You should then receive an email message from Steam Support.
Click the unique link provided in this email message to finish verifying your email address.
How do I find my Steam Guard code on PC?
To find your Steam Guard code on your Windows 11/10 PC, follow these instructions: If you are logged in, navigate to the Steam Guard menu (the top menu selection). Your current code should be displayed there. If you are not logged in, the code will appear on the login page.