For those who might not know this, Steam has a cool security feature called Steam Guard, and it has been around for quite some time. It is doing work behind the scenes to make sure your Steam account is safe.
Now, the first level of security on your Steam account is your login credentials, which are basically your Steam account name and password. When it comes down to the second level, the folks at Valve have chosen to add Steam Guard. With it active, it becomes much harder for hackers to gain access to your account.
How does Steam Guard work?
It's pretty simple, really. Whenever you log into your Steam account from another device that is not recognized, the software will require you to provide a special access code to move forward and verify the account. Depending on the settings you're using, it will either deliver an email with the special code or notification via the Steam mobile app.
For the mobile aspect, you will need to have either an Android or iOS device.
How to turn on Steam Guard via email
Visit the Settings area
How many machines can be authorized?
Select how to activate Steam Guard
We should note that by default, Steam Guard is already enabled on your account if your email is verified. Now, if for some reason you have disabled Steam Guard, then worry not because we are going to discuss how to enable it again.
1] Visit the Settings area
To enable Steam Guard, you must first open Steam then navigate to Steam at the top corner of the client. After that, be sure to select Settings to fire up all the options.
2] Select how to activate Steam Guard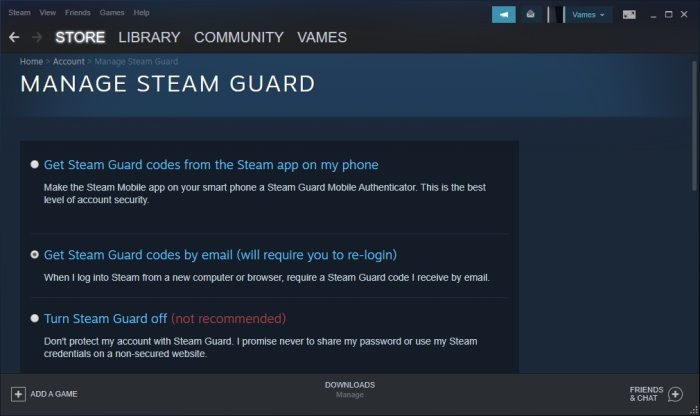 After launching the options menu, select Accounts, and from there, be sure to click on Manage Steam Guard Account Security. Finally, select either to get the Steam Guard code via email or from your mobile phone. If you choose to go with your smartphone, then make sure the official Steam app is already installed.
3] How many machines can be authorized?
Valve thought a lot about this process before the company brought it forth to users. At this time, we can say for certain that there are no limits to the number of devices one can use for authorization. It means you can gain access to your Steam account and video game library from any number of devices without problems.