Some Windows users are seeing a pop-up that says SkypeBridge.exe, The Parameter is incorrect. The error box pops up on both Windows 10 and Windows 11. It is pretty obvious that this error is related to the Skype app. In this post, we are going to talk about this problem and see how you can fix it.
Fix SkypeBridge.exe, The Parameter is incorrect
If you encounter SkypeBridge.exe, The Parameter is incorrect, error message on your Windows 11/10 computer, try the following solutions to fix the issue:
Update Skype
Troubleshoot in Clean Boot
Reinstall Skype
Let us talk about them in detail.
1] Update Skype
First up, we need to make sure that Skype is running its latest version. This can not only eliminate the bug which might have been causing the in the first place but will also get rid of any compatibility issue.
If you are running the UWP version of Skype, you need to update it from Microsoft Store.
In case you are using the Skype Desktop software, open the app, sign in, and then click on Help > Check for updates.
Hopefully, this will do the job for you.
2] Troubleshoot in Clean Boot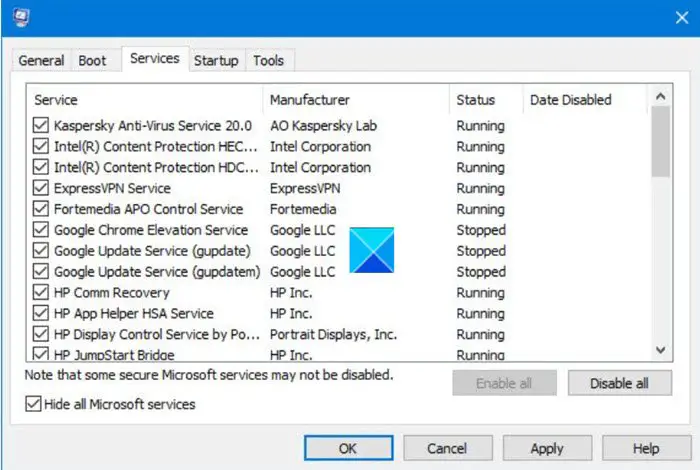 You may also see the error code in question if there is a third-party application that is interfering with Skype. To know which app is it, we are going to perform Clean Boot. This is a process that allows us to stop all the processes except the one we want to check. So, follow the prescribed steps to perform Clean Boot.
Search out "MSConfig" from the Start Menu.
Go to the Services tab, tick Hide all Microsoft Services, and click on the Disable all button.
Now, click Apply > Ok.
Restart your computer and it will boot into the Clean Boot State. Check if the pop-up appears. If it doesn't appear, manually enable processes to find out the culprit. Once you know which software is the cause, remove it and your issue will be resolved.
3] Reinstall Skype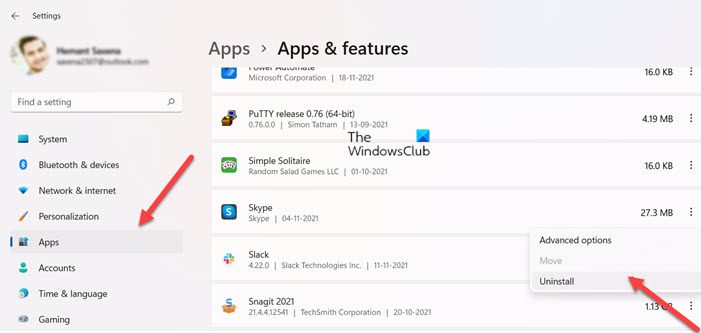 If nothing worked, then your last resort is to reinstall Skype. However, before doing that, we need to close all the related tasks. For that, open Task Manager by Ctrl + Shift + Esc, look for any process related to Skype, and close them all. Now, follow the prescribed steps to uninstall Skype from your computer.
Open Settings by Win + I.
Go to Apps > Apps & Features.
Look for Skype.

For Windows 11: Click on the three vertical dots and select Uninstall.
For Windows 10: Select the app and click on Uninstall.
Once the app is uninstalled, open Run, type "%appdata%/skype", without the quotation marks, and hit Enter. Rename the Skype folder to something else like Skype_old.
Now, we need to reinstall Skype. Do that and check if the issue persists.
Hopefully, you are able to resolve the issue with these solutions.
How do you fix an Incorrect Parameter?
Incorrect Parameter of Skyebridge.exe can be resolved by executing the solutions mentioned in this post. The issue is caused by a bug, a glitch, or corruption. We have mentioned solutions for all three of the factors above. So, start from the first solution and then move your way down. We hope that you will be able to get rid of the Incorrect Parameter error.
Read: The parameter is incorrect, Error 0x80070057
How do I fix Skype not opening on Windows 11/10?
Skype may fail to open on your computer or just stop working if its files are corrupted or the app is misconfigured. We would recommend you check our guide on what to do when Skype is not opening, working, or making voice and video calls in Windows. You will get all your answers.
Also Read: Drive is not accessible, The Parameter is incorrect.