As of late, a lot of users are reporting that they cannot update or install the Blu-ray app on their Xbox One console. Some face this error code when they try to uninstall Minecraft Launcher downloaded from Microsoft Store. In this article, we will talk about this issue in detail and see what should be done to resolve 0x80080204 error.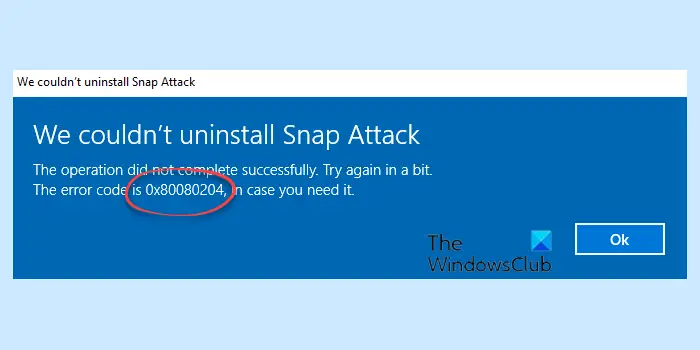 Error 0x80080204: The operation did not complete successfully. Try again in a bit.
What causes Install or Uninstall Error 0x80080204 in Windows Store?
More often than not, it is a glitch that should be resolved easily if one takes the necessary steps. The glitch can directly affect the store or indirectly, whatever the case is, we have mentioned a couple of solution that will take of it. Other than that, corruption in MS Store can also trigger the error code. Force shutdowns, abrupt restarts, etc are reasons that can make the store corrupt. However, the good news is, they can be resolved.
One should also not forget the fact that multiple processes and services are running in the background. They can interfere with your program and stop the uninstallation process.
Fix Error 0x80080204 when installing, updating or uninstalling Xbox games from Microsoft Store
If while installing, updating or uninstalling Minecraft Launcher, Blu-ray app on Xbox One, etc, you see error 0x80080204, then the first thing you need to do is check for OS updates and install them if available. If updating is to no avail, check out the following solutions to resolve the issue.
Restart your computer and try again
Log out and Log In out of Microsoft Store
Use Wsreset
Reset or Repair Microsoft Store
Install Console updates
Troubleshoot in Clean Boot
Go through the list and see which of them may apply in your case.
Error 0x80080204: The operation did not complete successfully
1] Restart your computer and try again
Let us start with a basic solution. What we need to do is reboot your computer. This will get rid of any kind of gitch that could have triggered the error. Also, it will close services and apps that can potentially interfere with your game. A restart will also clear out temporary memory stopping the app from getting uninstalled. If restarting is to no avail, move to the next solution.
Read: Fix Minecraft Launcher Error 0x803f8001
2] Log out and Log In out of Microsoft Store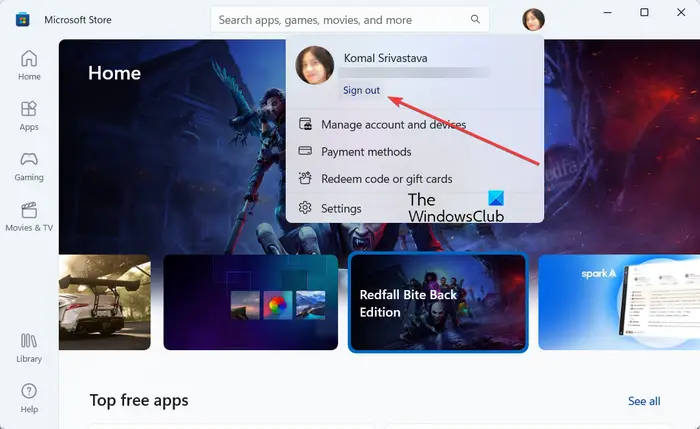 Restarting is not the only way to get rid of the glitch. You should also log out of the Microsoft Store and then log back in. This way, any bug or corruption related to your profile will be resolved. Also, you are not going to lose any data, so, there is no need to worry. What you need to do is follow the prescribed steps to carry out the task.
Open Microsoft Store.
Click on your Profile Picture and select Sign out.
Now, restart your computer and sign in again.
Retry uninstalling the app, hopefully, you won't get the error code again.
Read: Minecraft Installation Error 0x80070424, 0x80131509, 0x80070057, etc.
3] Use Wsreset
You can also see the error code in question because of corruption in the Microsoft Store. There are various reasons responsible for causing this corruption, but we won't get into that, we need to resolve it. Lucky for you, there is a command that when executed can reset Windows Store.
Open Run by Win + R and execute the following command.
wsreset.exe
Once the command is executed, just open Microsoft Store, sign in if needed, and try uninstalling Minecraft Launcher.
4] Reset or Repair Microsoft Store
If the previous solution didn't work for you, then try this. We are going to reset Microsoft Store and if that doesn't work, we need to repair it. To do that, follow the prescribed steps.
Open Settings.
Go to Apps > Apps & features.
Look for Microsoft Store.

For Windows 11: Click on the three vertical dots and select Advanced options.
For Windows 10: Select Microsoft Store and click Advance options.

Now, click Reset. If that doesn't work, click Repair.
Hopefully, this will do the trick for you.
Read: Fix Minecraft game has crashed with Exit Code 0
5] Install Console updates
If you see this error code 0x80080204 while trying to update or install an app on your Xbox One console, do the following:
Press the Xbox button
Select System > Updates & downloads
If you see Console update available, install the update.
Once the update is completed, download and try.
6] Troubleshoot in Clean Boot
As mentioned earlier, other processes can interfere with your programs and cause issues such as the one you are facing. What you have to do is perform Clean Boot and then uninstall the app. If the app gets uninstalled without any interruption, you can then use Clean Boot to find out the culprit and remove it.
Hopefully, these solutions will do the job for you.
How do I fix code 0x80242020 Microsoft Store?
To fix error code 0x80242020 in Microsoft Store or Xbox, unhide the game file for which you get this error, and clean the Microsoft Store cache. Also, update Microsoft Store, and see if the problem is gone. If these don't work, then you may need to reset or reinstall the Microsoft Store app.
How to fix error when downloading games from Microsoft Store?
If you face an error when downloading or installing games or apps from Microsoft Store, then make sure the app or game you're trying to download works with Windows 11/10. Also, keep your system updated (if not already), reset the Microsoft Store cache, and troubleshoot the game installation. You should also change your network connection and see if it works as the problem might be with your internet connection only.
That's it
Read Next: Fix Minecraft Drivers Outdated error message on Windows PC.