In this post, we will help you fix HP error code 0xc4eb8000 on Windows 10. The error might occur because of outdated printer firmware or for some other reasons. To get rid of this problem, we have covered a few simple options that might help you fix this error so that you will be able to print again.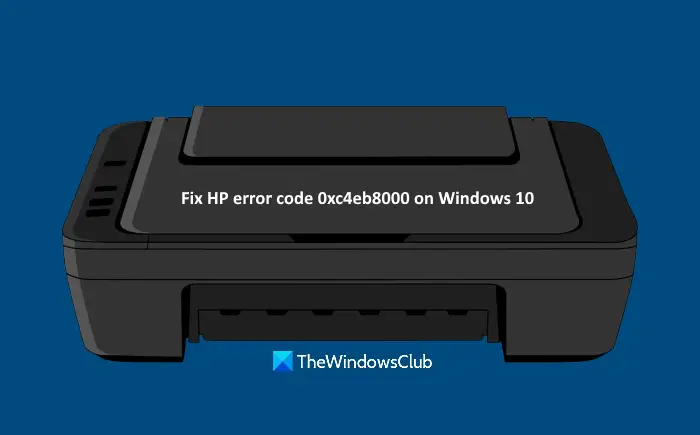 Fix HP error code 0xc4eb8000
Before you begin, try to run the Printer troubleshooter. Maybe it will help; Else here is a list of possible solutions to solve this HP error code 0xc4eb8000 on Windows 10:
Update Printer Firmware
Reset the printer
Contact HP Support.
Let's check these solutions.
1] Update Printer Firmware
It is possible that the Printer Firmware that you are using is outdated and that might be the reason that you're receiving such an error again and again. In such a case, simply download the latest firmware available on the official site of HP and install it. The updated firmware can help improve your printer function better and fix minor problems. Here are the steps:
Open support.hp.com page for printers
Enter your HP printer name and serial number
Press the Submit button
Scroll down the page
Click on the Firmware option
Click on the Download option
Install the Printer Firmware.
Now try to print. It should fix the error.
Related: Fix HP Printer error code 0xc4eb92c3.
2] Reset the printer
Sometimes, resetting the printer might help you fix different types of issues. This might work for this error too. These are the steps:
Turn on your printer. Let the printer remain silent and idle
Disconnect the USB cable of your printer from the rear part. If the printer is on a wireless connection or another network, then don't plug off the USB cable
Remove the cartridge from your printer
Disconnect printer's power cord from the rear part and wall outlet
Wait for 60 seconds or more
Connect the power code again to the rear part of the printer and wall outlet
Turn on the printer
Insert the cartridge again
Close the access door of the cartridge
Re-connect the USB cable (if disconnected) to the rear part of the printer.
Now try to take a print. Your problem should be gone now.
Related: HP Printer validation failed in Windows 10.
3] Contact HP Support
If the above options don't work, you should contact HP support at www8.hp.com.
There, select your region, click on the Contact Support option, and select Printer as your product type. After that, provide the serial number, and you should get assistance regarding the issue.
Hope this might help.