Ghost Boxes are randomized translucent boxes that may appear on your computer screen in an untimely manner. Most people who report them are unaware of their origin, making it very difficult to get rid of them. These boxes are characterized by strange loading bubbles every time a mouse cursor hovers over them, so if they are placed around the areas of your screen that you visit frequently, they can get annoying very quickly. In this article, we will be looking at a few fixes you can implement to remove the ghost boxes in Windows 11/10.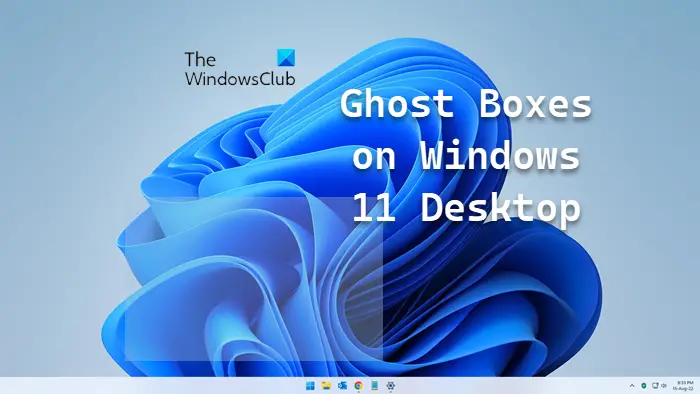 Fix Ghost Boxes on Windows 11 Desktop
Ghost boxes or circles on your computer display can render several sections of your monitor unfunctional, so it is recommended that you take care of them as soon as possible. Below are possible solutions that you can implement to get rid of the Ghost Boxes or Circles on Windows 11 Desktop near the Taskbar:
Restart Windows Explorer
Restart Graphics Driver
Disable MiniSearchHost from the Taskbar
Turn off Taskbar Search
Update or reinstall your display driver
1] Restart Windows Explorer
The first thing you can do is restart your Windows Explorer. Here are the steps you need to follow for it:
Open the Task Manager by searching for it in the Search Bar or using the keyboard shortcut
Open the Processes tab and under the Apps section, you'll find Windows Explorer
Right-click on it and click on Restart
The process will only take a couple of seconds to complete and once it is, check if those ghost boxes have disappeared or not.
2] Restart Graphics Driver
Press Win+Ctrl+Shift+B to restart Graphics Driver and see if that helps.
3] Disable MiniSearchHost from the Taskbar
Open the Taskbar as you'd done in the process above
Click on the Processes tab
Here, locate the MiniSearchHost.exe process
Right-click on it and select Disable
If you cannot find it in the processes section, try the Details tab.
MiniSearchHost is the process informing performing a quick search from the taskbar. If its menu fully fails to close, such boxes can be seen.
4] Turn off Taskbar Search
You could also disable the Search icon from the Taskbar.
Right-click on the Taskbar and open the Taskbar Settings.
Here, you'll see the Taskbar Items section expanded
Toggle off the Search option and you'll immediately observe the Search icon disappearing from the Taskbar.
With this, the MiniSearchHost.exe process will no longer run, eliminating your problem.
5] Update or reinstall your display driver
Your next resort is to update or install a fresh set of display drivers on your computer. You can check the Windows Update section on the Settings page for a new update, and if one's not available, you should go ahead with the reinstallation process.
Open the Device Manager by searching for it from the Search bar
Locate Display Adapters and expand it to find your Display driver
Right-click on it and select Uninstall device
You should then restart your computer to trigger the automatic reinstallation of the display driver.
One of these suggestions is sure to help you.
Also read: Fix Transparent or Translucent Box on Screen in Windows 11
What is a ghost window?
A ghost window is a shadow-like box that sits at the top of your Taskbar, usually at the lower-left end, with a loading icon that appears persistently. It is usually observed when the Search bar on your Taskbar is stuck and when a mouse hovers over it. Common fixes include restarting Windows Explorer, restarting the Taskbar processes, and running the DISM utility.
Read: How to remove Ghost Touch bubbles from Windows tablet.
Can I stop SearchHost exe?
The Windows Search utility runs via the SearchHost.exe process. Finding out about this process while being unaware of what it is can catch you off guard, since you may end up thinking of it as antivirus or something. The purpose of this utility is to allow you to index on your computer, thus making searching for files easier. But, having this process enabled can eat into your CPU power, so some may want to have it disabled. To do so, you must run the 'services.msc' command in the Windows Run dialog box, find the Windows Search service there, right-click to open its Properties, and click on Stop.