If your computer is not detecting Generic PnP Monitor, here are some troubleshooting tips you can follow to fix this issue. It is quite a common issue after a driver update or a malware attack. However, there could be some other reasons why you might be getting this problem. Here, we are about to explore all the possible causes and provide you with the relevant solutions.
PnP or Plug and Play functionality comes with all the latest versions of Windows. In simple terms, it lets you use hardware (in this case, a monitor) with your existing computer without installing a driver. However, at times, problems arise, and thus, your computer fails to detect the hardware as it should be.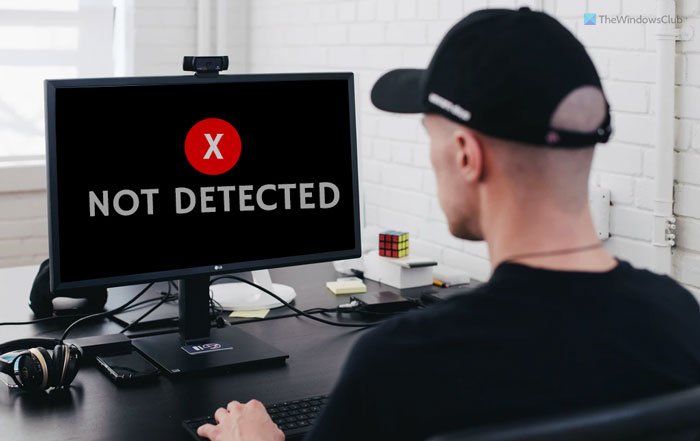 How do I fix my Generic PnP Monitor?
There are multiple ways to fix Generic PnP Monitor not detected problem on Windows 11 and 10. Some of the working solutions are mentioned above. To sum up, you need to fix any possible driver-related issue, reinstall or update the graphics driver, verify the cable and monitor, etc.
Let's assume that you have been using one monitor and now installing another one to make it a dual monitor setup. However, due to some unknown reasons, your second monitor is not being detected at all. In this situation, you have to check whether Device Manager is showing the second Generic PnP Monitor or not. Depending upon the result, you can follow the following solutions.
Fix Generic PnP Monitor not detected issue on Windows 11/10
To Generic PnP Monitor not detected issue on Windows 11/10, follow these steps:
Fix Generic PnP Monitor driver issue
Reinstall/Update graphics driver
Verify your monitor
Replace HDMI/VGA/DVI-D cable
Verify source port
To learn more about these steps, keep reading.
1] Fix Generic PnP Monitor driver issue
You do not have to install separate drivers for different monitors. However, a universal driver is required and automatically gets installed when you plug in the monitor. If this driver is showing some error code or message, it is time to fix it first. To check that, press Win+X and go to Device Manager. Expand the Monitors section, right-click on the Generic PnP Monitor and select the Properties option.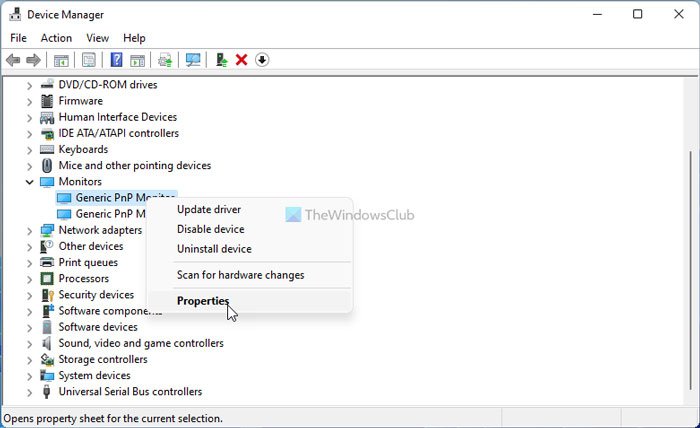 Then, check if there is an error message or not. If yes, follow this detailed guide to fix Generic PnP Monitor driver issues.
2] How do I update my Generic PnP Monitor driver?
To update your Generic PnP Monitor driver on Windows 11/10, you have to use the Device Manager. For using the second or third monitor, you must have used the port attached to your graphics card. However, if the graphics driver has some issues, you might encounter this problem on Windows 11/10. Therefore, follow this guide to update the graphics driver.
3] Verify your monitor
If you have a faulty monitor, nothing will resolve the issue you are having. Therefore, it is recommended to verify if you have a working monitor or not. First, detach the monitor from your computer and plug it into a power source. Check if you are getting any messages or not.
Most monitors display a message like No signal, No source detected, No cable attached, etc. If you are getting such a message, continue to the second step.
Now, you have to use the same monitor with another system or computer. You may connect the monitor to your laptop via HDMI or VGA cable. If you do not have a second computer to test that, you have to bring it to a professional.
If the monitor has a problem, you may contact the manufacturer. Otherwise, you can follow other troubleshooting tips mentioned below.
4] Replace HDMI/VGA/DVI-D cable
If you have an old cable to connect the monitor, it might cause an issue. Therefore, try to verify it with another system or replace the cable. If you want to test before purchasing or replacing the cable, you can simply use the existing monitor's cable with the second or third monitor and vice versa. However, if you have only one monitor, there is no way to verify that without using a second computer.
5] Verify source port
If you have an old motherboard or the source port of your graphics card is full of dust, there is a chance of getting such an issue while connecting a Generic PnP Monitor. Therefore, verify if those ports and the cable are clean to use.
How do I get rid of Generic non-PnP monitor?
You can remove Generic non-PnP Monitor or Ghost monitor using Device Manager. For that, open the Device Manager on your computer, right-click on the monitor that you want to remove, and select the Uninstall option. Following that, you have to confirm the change.
That's all! These are some of the best solutions to fix the Generic PnP Monitor not detected issue on Windows 11/10. Hope they helped.
Related reads: