If you are seeing the error that gdi32full.dll is not found or missing while trying to open a program, we have some solutions in this guide to fix the error on Windows 11/10.
What is gdi32full DLL?
gdi32full.dll is a necessary component of the Microsoft Graphics Device Interface in Windows. It is important for the proper functioning of your graphics driver and display. That is why gdi32full.dll is an important one whose errors are to be fixed fast to run the programs that depend on it run smoothly.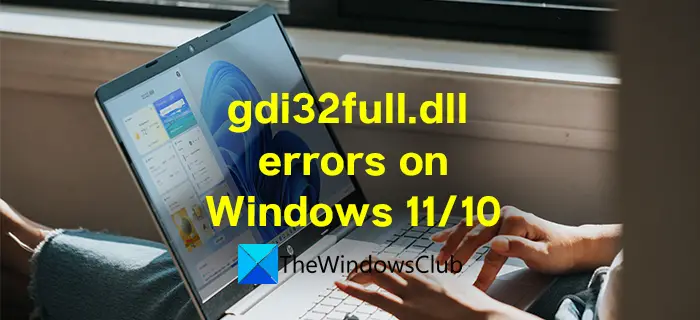 Fix gdi32full.dll not found or missing error
The missing gdi32full.dll error can be fixed in the following ways.
Run SFC and DISM Scans
Update Graphics Driver
Uninstall the recently installed applications
Reinstall the program affected by the error
Perform Clean boot
Let's get into the details of each method to fix the error.
1] Run SFC and DISM Scans
The first thing you have to do when some important files or DLLs are missing on your PC is to run the System File Checker scan first and then run Deployment Imaging and Servicing Management (DISM) scans. They both can fix the missing files or corrupted files and resolve the issues.
2] Update Graphics Driver
SInce gdi32full.dll is an important component for graphic drivers to run smoothly, you have to update the graphics driver and see if it fixes the issue. Chances are high that the issues are resolved after that.
3] Uninstall the recently installed applications
If the errors with gdi32full.dll are cropped up after installation of any program on your PC, uninstall the program and see if it fixes the error. Also, run the antivirus and antimalware programs to see if the error has been caused by any malware that has entered into your PC through recently installed applications.
4] Reinstall the program affected by the error
Uninstall the program that is affected by the gdi32full.dll error and reinstall it. You might have seen the error while trying to run a program. Uninstall that program and redownload its latest version from official or trusted sources and install it on your PC. Also, download gdi32full.dll from trusted sources and paste them into its original folder.
5] Perform Clean boot
If the issue is not resolved yet, you need to perform a Clean Boot on your PC and check the cause of the error and fix it. If you don't see the error in the Clean Boot mode, then the error is caused by a third-party application. Find them by trial and error method and resolve the error.
How do I fix all DLL files missing errors in Windows?
You can fix DLL files missing errors in Windows using many methods. You have to run SFC or DISM scans to fix the corrupted or missing files automatically. The missing DLL file can also be downloaded from a trusted source and paste into the original folder on your PC.
gdi32full.dll download
Since gdi32full.dll is an OS dll file that is giving errors, you can download Windows 10 OS files from Microsoft. This is a safe option.
Related Read: DLL Hijacking Vulnerability Attacks, Prevention & Detection.