When a third-party impact causes your computer to shut down, restart, or lock up unexpectedly, you encounter the Event ID 6008 on the Windows computer. Many Windows users have reported this problem, but most find it hard to resolve.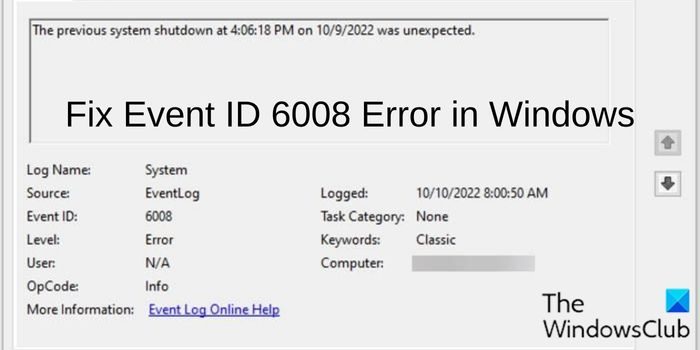 Fortunately, there are a few proven solutions that can be applied when you get the Event ID 6008 error, and we will go over them in more detail in this article. Before diving into the fixes, we'll discuss the typical reasons for this problem in Windows computers.
What causes Event ID 6008 in Windows?
The Event ID 6008 error is a Windows error logged in the Windows Event Viewer, a tool that shows information about hardware and software actions on a Windows computer.
If you experience this error, it may be due to a third-party application using the InitiateSystemShutdownEx function to force shut your computer or restart it. In some cases, the issue may be due to CPU overheating, an issue with the Power Supply Unit(PSU), a general hardware issue, or a security threat.
Since the error doesn't provide information about what caused it, these are the probable causes. With this in mind, we have identified the most effective solutions to the problem, which we will discuss in the following section of this article.
Fix Event ID 6008 Unexpected Shutdown in Windows 11/10
To fix Event ID 6008, check to see if your CPU is overheating and try to let it cool down before attempting any solutions to fix this Event ID 6008 error. The Power Supply Unit should also be inspected as well, but once you are certain that none of these hardware-related variables is the problem, follow these solutions for fixing the Event ID 6008 error on a Windows computer.
Roll Back Display Driver
Check for third-party programs on Task Manager
Check for Windows Updates
Uninstall Feature Updates
Troubleshoot in Clean Boot State
1] Roll Back Display Driver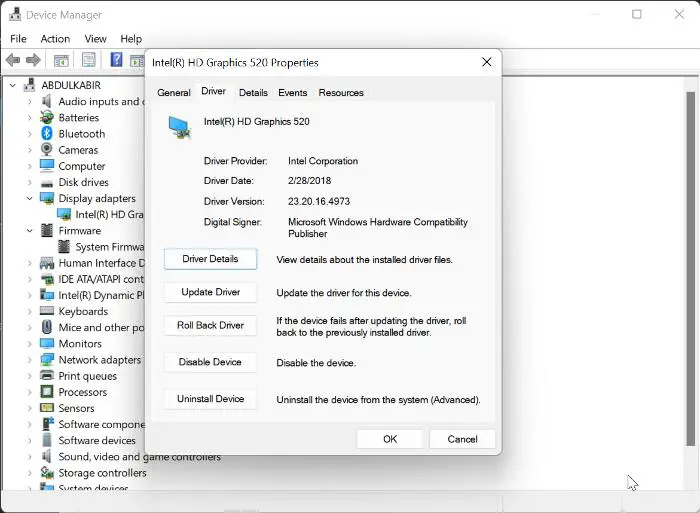 When faced with this Event ID 6008 error, you should try to rollback your display driver and see if it helps in resolving the issue:
Right-click the Start menu and select Device Manager.
On the resulting window, navigate to the Display adapter option and double-click it.
Right-click your graphics driver and tap on Properties.
Switch to the Driver category and click on Roll Back Driver.
This will take back your display driver to a previous version and thereby fix this issue for you.
2] Check for third-party programs on Task Manager
Since a program you recently installed on your computer is most likely to be the cause of the Event ID 6008 error, you should check the Windows Task Manager and end any running processes of such. Additionally, you can check the task manager's Background processes section and look for any program that seems odd, right-click it, and choose End task.
3] Check for Windows Updates
Another thing you could do to fix the Event ID 6008 error is to install the latest Windows updates on your computer.
Go to Settings on your computer.
Click on Windows Updates.
Select Check for Updates.
If there are any updates available, they'll be installed on your computer after the process. You should also restart your computer after the update.
Read: How to find the cause of an Unexpected Shutdown on Windows machines
4] Uninstall Feature Updates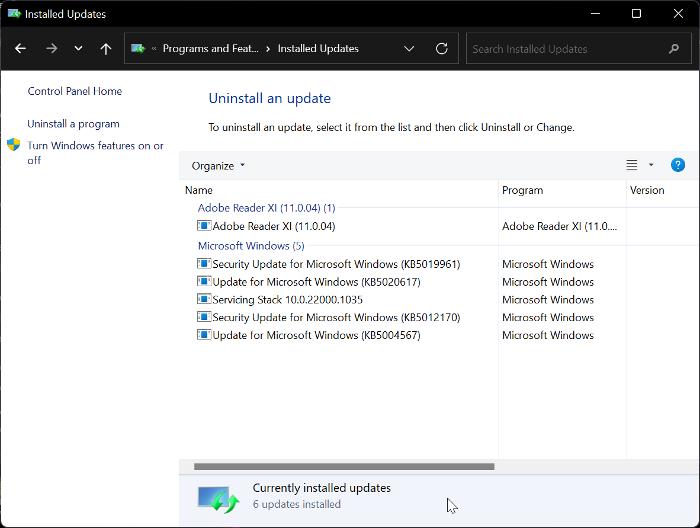 If you started experiencing this issue after a Windows update, you should uninstall some specific updates, as they may be the cause of the error. Here is how to uninstall feature updates:
Search Control Panel in Windows Search Box and open the matching result.
On the Control Panel window, tap on Programs and Features.
Select View installed updates on the left side of the resulting page.
Now, right-click on the recent Windows update and tap on Uninstall.
Afterward, you should restart your computer, and hopefully, the issue will have been resolved.
5] Perform a clean boot and find out the program causing the issue
The Event ID problem is most likely caused by a program, service, or file on your computer. However, you can perform a clean boot once and manually disable items one after the other in order to identify what is causing the problem. After that, you can now remove such a program from your computer in order to completely fix the error.  A detailed guide on how to troubleshoot in clean boot state can be found in the link here.
Read:
How do you find out what caused unexpected shutdown?
If you want to check what caused a restart or shutdown in the Windows Event Viewer, follow the steps below:
Press Windows + R to open the Run box.
Type eventvwr in the box and hit Enter.
After the Event Viewer window opens, tap on Windows Logs followed by System.
You'll see the list of events that occur while Windows is running on the middle pane.
How do I fix Unexpected Shutdowns?
If your computer frequently shuts down without warning, check to see if any third-party applications or processes are running that might be the cause. Additionally, you should try to check your battery, power supply unit, and other power-related components to make sure that they are not the problem.