Since the launch of Windows 8, we've heard many issues in which users are confused with the new Modern Apps. Yesterday, I came across the issue associated with People app in Windows 8. Most are aware that the People app can connect your social accounts at one place and let you access your contact and updates from them very easily.
Cannot connect to Facebook using People App in Windows 8
Now talking about the issue, whenever some tried to connect Facebook account with People app, they received a "Can't connect" or "Check network message". If you're also facing this kind of issue on your Windows 8, try the following tips and solve it.
Use Modern UI App Troubleshooter
To resolve your issue, ideally, you can download and run the Windows Store Apps Troubleshooter in order to check what the actual problem with your Windows 8 app.
Just run the tool supplying UAC permissions and then follow the onscreen instruction. This tool is itself capable of finding the issues and diagnosing them. Finally, the troubleshooter tool lists the issues found. A reboot may be requested in order to fix the issues found.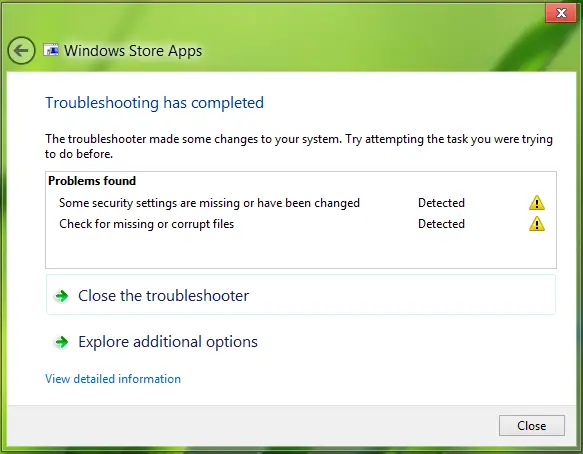 Follow Microsoft's Instructions
Follow the steps recommended by Microsoft to troubleshoot some common issues with Windows Store apps:
Update your app
Sync the app license
Reinstall the app
Contact the app publisher.
Disable Proxy
You can disable the proxy for LAN connections in order to overcome the issue. Here is how:
1. Open the desktop version of Internet Explorer 10 and at the top right corner, click the Gear icon, then click Internet Options.
2. Click on the Connections tab in Internet Options window and then head on to LAN Settings.
3. Finally, in the LAN Settings window, uncheck the Use a proxy server for your LAN checkbox. Click OK in the below window and the Apply and OK in the above window.
Finally, reboot to get the issue fixed.
If you're still facing an issue, kindly let us know via comment box. I will try to help out.