If some of your Programs or Apps cannot connect to the Internet on Windows 11 or Windows 10, then this post will help you troubleshoot and solve the problem.
Some Programs or Apps not connecting to the internet
If you face this issue, try the following fixes:
Use Windows Store Apps Troubleshooter
Repair or Reset the problematic app
Follow Microsoft's Instructions
Disable Proxy
Check Firewall settings.
1] Use Windows Store Apps Troubleshooter
To resolve your issue, ideally, you can download and run the Windows Store Apps Troubleshooter in order to check the actual problem with your Windows 8 app.
Just run the tool supplying UAC permissions and then follow the onscreen instruction. This tool is itself capable of finding the issues and diagnosing them. Finally, the troubleshooter tool lists the issues found.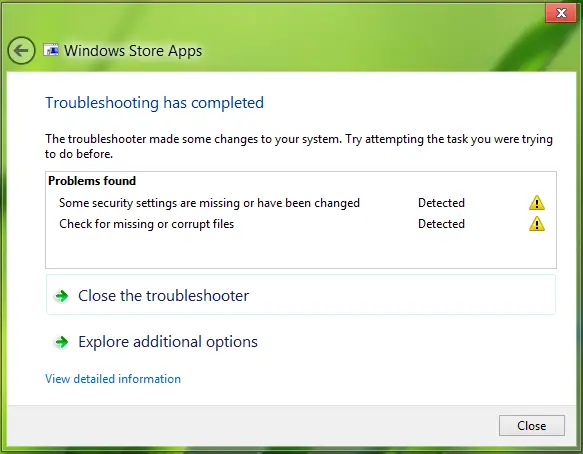 A reboot may be requested in order to fix the issues found.
2] Repair or Reset the problematic app
You may Repair or Reset the problematic app via Windows Settings and see if that works for you.
3] Follow Microsoft's Instructions
Follow the steps recommended by Microsoft to troubleshoot some common issues with Windows Store apps:
Update your app
Sync the app license
Reinstall the app
Contact the app publisher.
4] Disable Proxy
You can disable the proxy for LAN connections in order to overcome the issue. Here is how:
1. Open the desktop version of Internet Explorer 10 and at the top right corner, click the Gear icon, then click Internet Options.
2. Click on the Connections tab in Internet Options window and then head on to LAN Settings.
3. Finally, in the LAN Settings window, uncheck the Use a proxy server for your LAN checkbox. Click OK in the below window and the Apply and OK in the above window.
Finally, reboot to get the issue fixed.
5] Check Firewall settings
Open your Firewall, check if your firewall is blocking it – and make sure that the program is allowed to communicate with the internet.
Related: Windows 10 Store Apps won't connect to the internet.
If you're still facing any issues, kindly let us know via the comment box. I will try to help out.