One of the common errors in Windows Update is 80240025. This error code can be a nightmare for users who are unable to install pending updates. If you're experiencing this issue on Windows 11 or Windows 10 and want to know the resolutions, please read through this article.
There were some problems installing updates, Error 0x80240025, WU_E_USER_ACCESS_DISABLED
Fix Windows Update Error 0x80240025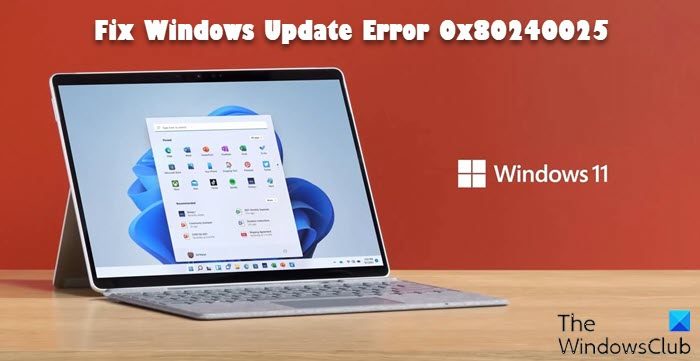 Windows Update error 80240025 can occur for a couple of reasons. It is best to ensure that your computer is connected to a stable Internet connection. Additionally, your PC's file system and the registry should be in perfect condition. If all of these are working as intended, then you may want to check if the Windows Update service is actually running or not.
Sign in as administrator and install WU in Clean Boot State
Registry Level Fix
Clear SoftwareDistribution folder contents
Run the Windows Update troubleshooter
Reset Windows Update Components.
1] Sign-in as administrator and install WU in Clean Boot State
One of the main causes of the error in the discussion would be the interference of third-party software products. Also, administrator privileges would be needed to update Windows.
Thus, it is recommended to sign in to the system as an administrator and then install the Windows Updates in the Clean Boot state.
2] Registry Level Fix
In this time of computer security awareness, you've come across an error code that's confusing you. You're wondering if it's because new Windows updates can't get through. The answer is no. If your computer is connected to a public server or network, you might have restrictions imposed at the Registry Level that are denying pending Windows Updates from getting installed. To fix this problem, please do the following:
Open the Run dialog by pressing the Windows key + R to open it. The run prompt is a text box. Type REGEDIT with no spaces, and press Enter to launch the Registry Editor. Notice how you'll be asked to give administrative privileges to the program. Press 'Yes' when you see the User Account Control prompt to grant access.
Once you've opened up the Registry Editor, make your way over to this key:
HKEY_USERS\S-1-5-18\Software\Microsoft\Windows\CurrentVersion\Policies\WindowsUpdate
Locate the Registry key labeled DisableWindowsUpdateAccess. Once you find it, double-click on it and change the Base to Hexadecimal and ensure that the Value Data is set to "0."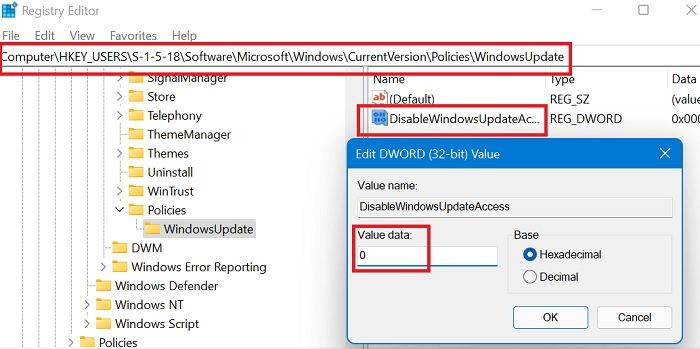 Restart your computer.
If the fix above did not work, you have to continue down this list.
3] Clear SoftwareDistribution folder contents
Usually, the error 80240025 occurs because of a specific WU component that is stuck in limbo. In this case, clearing the contents of the SoftwareDistribution folder should fix the issue.
Search for Command Prompt in the Windows Search bar. Right-click on the program and select Run as Administrator.
In the command prompt window, copy-paste or type the following commands one by one and press enter after each to halt all Windows Update Components:
net stop wuauserv

net stop cryptSvc

net stop bits

net stop msiserver
Next, to clear and rename the SoftwareDistribution and Catroot2 folders, run these commands:
ren C:\Windows\SoftwareDistribution SoftwareDistribution.old 

ren C:\Windows\System32\catroot2 Catroot2.old
Now, re-enable the services we disabled earlier. For that, run these commands:
net start wuauserv

net start cryptSvc

net start bits

net start msiserver
Reboot your computer to ensure that the issue has been resolved.
4] Run the Windows Update troubleshooter
The new Windows update could be failing to install because of a problem you can't see. Luckily, the Windows troubleshooter is here. It will scan for any problems, fix them automatically and even speed up your computer.
Press Win+I and go to the System tab.
Scroll down and select Troubleshoot, then choose Other Troubleshooters.
Finally, select the Windows Update option and click Run.
5] Reset Windows Update Components
If everything else fails, you can consider resetting the Windows Update Components. In this case, any corrupt file would also get renewed.
How do I update my Windows 11 computer?
To update your Windows 11 computer, right-click on the Start button and select Settings. In the Settings window, go to the Windows Update tab on the list on the left-hand side. Then click on Check for Updates to let Windows search for the latest updates for your system. Alternatively, you can download Windows updates manually from the Microsoft Catalog website.
Are Windows Updates free?
Windows Updates are always free of cost as far as you have purchased a genuine Windows license. As for the upgrade to Windows 11 from Windows 10, that too is free as far as your Windows license is genuine.