When trying to set Automatic Files backups (Settings > Backup > Automatically back up my files), if you receive an error — Sorry, but that didn't work. To find out more, look up error code 0x80070032 — then this post will help you resolve the Backup Error on Windows 11/10 PC.
Why does this 0x80070032 Backup Error occur?
The error occurs when the user tries to activate the file backup setting available in the backup option. It appears when an external hard disk is used to take a backup. So when you are changing the hard drive or replacing an existing backup, this can happen. Make sure to restart the PC once before starting with the troubleshooting.
Fix 0x80070032 Backup Error on Windows 11/10
Follow these suggestions to resolve the 0x80070032 Backup Error:
Delete Old Backups
Reset Backup & Restart
You will need an admin account to execute these steps.
1] Delete Old Backups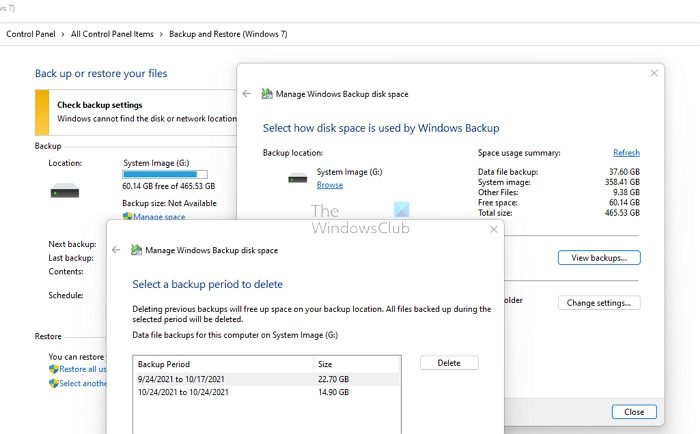 Go to Control Panel > Backup and Restore and open it. Once the backup section opens, click on the Manage Space link and View backups. Select the backups and then delete them.
Post this, reconnect the hard drive you want to add and click on the Options button to open Backup settings.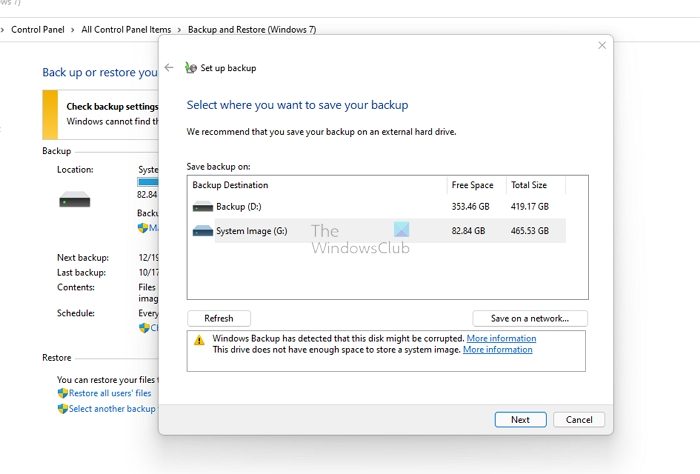 Next, select the new driver from the list, click next and let the wizard complete the process.
2] Reset Backup & Restart
If nothing else works, it would be best to delete all the backup settings and then reconfigure everything.
When you start fresh, you should use the new external drive and take a backup. Be aware that when you reset and use the same drive, everything on the drive will be deleted and wiped clean.
More suggestions here: Windows backup not working, failed or did not complete successfully.
NOTE: Error 0x80070032 can also be seen for – WslRegisterDistribution failed | Windows Update | Microsoft Store | When copying files.
What causes a Backup to fail?
There can be many reasons, but insufficient disk space and hardware faults are the most common. Make sure to set up a backup such that it has at least one copy of the last working state. This will save a lot of storage. The second is when the hardware fails. Try connecting the storage device to another PC, and see if it works; if not, you need to change the hard drive.
Hope you find it helpful.