Windows Firewall is one of the most important aspects of every Windows operating system. The firewall is there to aid in blocking attackers from gaining access to sections of the operating system that could prove dangerous. Now, from what we have come to learn of the Windows Firewall, it's feature-rich but not easy to understand.
The overall design of the feature is still trapped in the past, and we can't say for sure if Microsoft is planning to make any form of changes soon. For those who want to take advantage of all the key features available in Windows Firewall, but not inclined to try and understand the terrible user interface, we recommend Firewall App Blocker.
Firewall App Blocker for Windows PC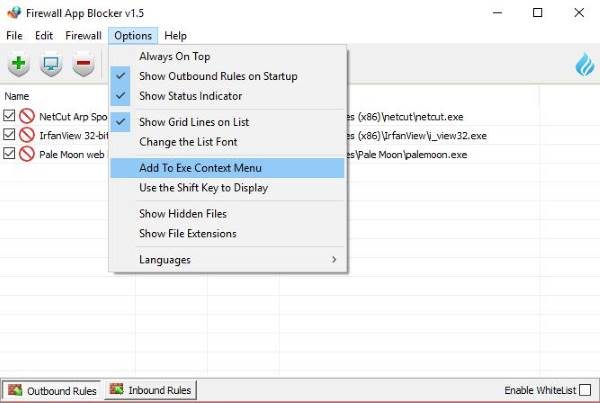 Firewall App Blocker makes it very easy to get things done, which is why we believe it should work best for Windows Firewall novices more than anything else. Even advanced users would likely enjoy using this piece of software now and again because no one likes to be forced into going through Windows Firewall crazy user interface.
How Does It Work?
Download Firewall App Blocker from the official website. It comes in a .zip file, so extract and run the executable file.. There are two options, the 64-bit file, or the regular x86 file. Just run the one that is best for your computer system and move on from there.
Firewall App Blocker should automatically open on your computer. Users will be required to select either Outbound Rules or Inbound Rules from the bottom of the software. Now, if you've selected Outbound Rules, you'll need to add a program to block from sending data. This is easily done from our point of view, and we're confident you'll feel the same.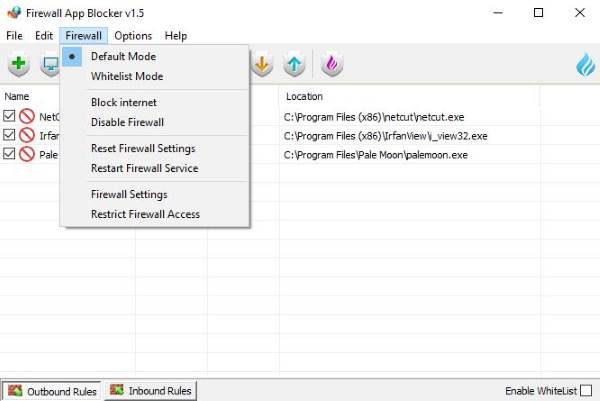 Just drag and drop the .exe file into the space available, or click on Add Application and search for the file from there. Now, once it's in, from here, the user can block it, disable it, or allow it by using the buttons from the taskbar. Furthermore, should you need to remove it later, the option is there from the taskbar to remove the program or whatever that has been added.
Enable Whitelist Mode
If you're going to mess around with the Firewall, then we recommend creating a whitelist for some of your important programs. This can be done by clicking on Firewall > Whitelist Mode. An easier way is to click the tick box at the bottom right corner that says Enable Whitelist.
It should be noted that from the Firewall option, it's possible to block the Internet and disable the Firewall completely.
Overall, there isn't much left to talk about here. Firewall App Blocker is a robust program that does what it says it can do, and that's one of the many reasons why we love it so much. Any computer user who is looking to get the Windows Firewall program under control, this is the software to use.
Still, we urge all users to take some time out now and again to learn more about Windows Firewall without having to use Firewall App Blocker.
Firewall App Blocker can be downloaded from the official website right here.
What is Firewall App Blocker?
Firewall App Blocker is a Windows program that lets you allow or block a specific program on your computer. For that, you do not need to create all the inbound or outbound rules as you do in the in-built Windows firewall app. Instead, you can find a different UI, which is easier and handier to use.
How do I use Firewall App Blocker?
To use the Firewall App Blocker, you need to follow the aforementioned guides. Here we have discussed every step in detail so that you can get started with this app within moments. Whether you use Windows 11, Windows 10, or any other version, the process for getting started is the same across all versions.
Windows Firewall Control is another tool that lets you easily configure and manage Windows Firewall settings.