There may come a time when you may forget the password of your Wi-Fi connection. Or it may happen that your family member or office colleague has connected to the wireless connection, but has forgotten to share the password with you. At such times, if you need to find the WiFi password, then you can do so via the Control Panel or by using the Command Prompt.
Find WiFi password in Windows 11/10
From the WinX Menu, open Control Panel > Network and Sharing Center. Here click on the Connection WiFi link.
The WiFi Status box will open. Click on the Wireless Network Properties button. Now under the Security tab, select the Show characters check-box.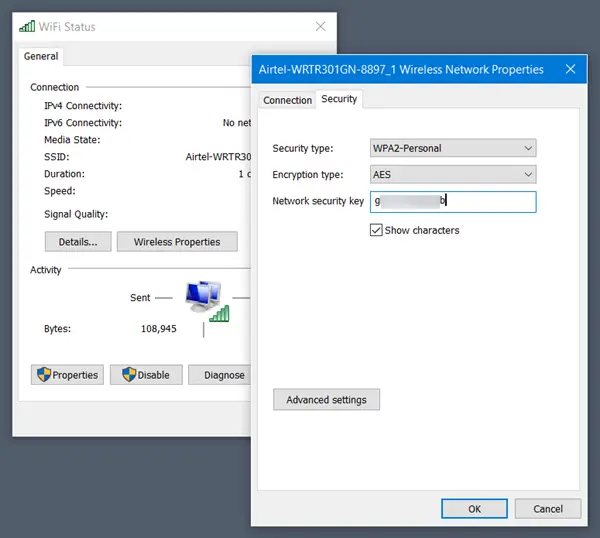 The password will be visible against the Network security key column.
Find Wi-Fi password with Command Prompt
You can also use the command prompt to find the WiFi key. To do so, from the WinX Menu, select Command Prompt, type the following and hit Enter:
netsh wlan show profile name=YOURWIFINAME key=clear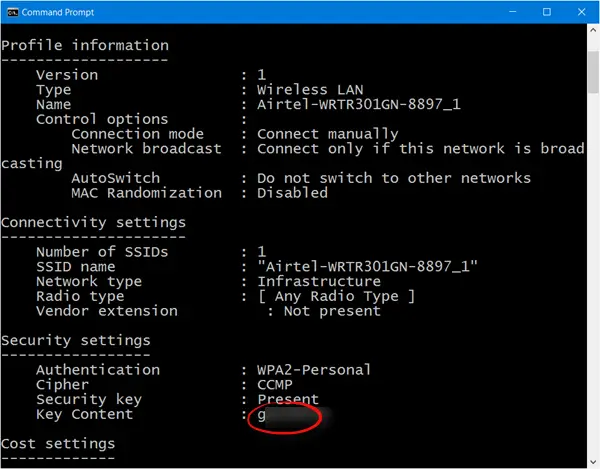 Here, in place of YOURWIFINAME, you have to type the name of your WiFi connection.
You will then be able to see the WiFi password under Security settings > Key Content.
Trust this works for you!
How to update Security Key for WiFi Network in Windows may also interest some of you.