How to find my computer? If you have this question, then this post will interest you. The advancement in technology has enabled users to keep track of or trace their devices anytime, anywhere.
How to find my computer?
Find my Device is one a feature introduced in Windows 11/10 that allows you to trace your device's last known location. The feature is similar to the Mobile feature that permits users to configure their smartphones to enable them to find their device if it ever gets stolen or misplaced. Find My Device works in combination with a user's Microsoft Account.
Enable Find My Device in Windows 11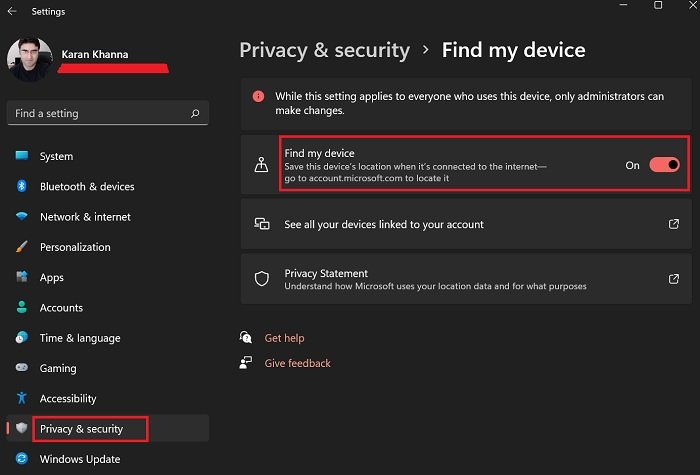 Microsoft has always been very conscious of user security. Thus, with previous operating systems it introduced a feature using which you could trace the location of your lost or stolen laptop. However, with Windows 11, a lot of settings were shuffled. If you wish to enable the Find my device option on your Windows 11 computer, then the procedure is as follows:
Right-click on the Start button and select Settings.
In the Settings window, go to the Privacy & security tab on the list on the left-hand side.
In the right pane, select Find my device.
Now turn ON the switch associated with Find my device to activate the option.
If your device gets lost or stolen, you can trace its location from accounts.microsoft.com.
Turn on Find My Device in Windows 10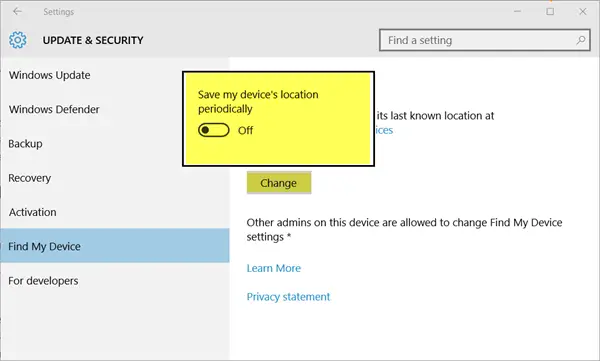 Find My Device feature in Windows 10 allows Microsoft to save your device's GPS location periodically. If you lose your device the feature will help you trace it by knowing the device's last known location in your devices online, at Microsoft.
To turn on Find My Device in Windows 10:
Hit the Start button of your Windows 10
Select Settings from the options displayed
Click open the Update and Security category
Locate the 'Find My Device' option in the left section
On the right side toggle the Find My Device slider to ON.
Thereafter, your Windows device will regularly study the locations the device has traveled to.
Read: How to remotely Lock or Unlock Windows PC with Find My Device
How to track a stolen laptop
In case you have lost your device or misplaced it and are unable to find out your Windows device, navigate to this link account.microsoft.com and sign in.
Choose the device you wish to locate and administer a click on Find my device.
This feature will only let you track your device. It will also allow you to remotely lock or wipe it.
Do enable Find My PC right away. It can maybe help you someday!
Can Microsoft detect a computer's location if it is switched OFF?
No! But would the thief know this option is enabled? Even to format the system, he would have to switch ON the computer and that is when you can find the last known location. Interestingly, this allow enabled location monitoring in Windows 11.
Read: How to Track a Cell Phone Number
Is this Find my device feature effective?
It is quite effective to counter amateur thieves. However, if the person is proficient with Windows 11 Settings and technology in general, he can bypass this setting. Yet, it is always worth keeping this setting activated.
Read: Find my device not working in Windows 11
Does the Find my device option strain the CPU?
The main service is activated is the location service. Whatever the location service utilizes is the impact of this option on the CPU.
TIP: Using the group policy and registry values of your Windows 11/10 computer, you can disable this feature permanently so that no user can toggle the Find my Device option in the Settings.