Along with the massive repository of products, buyers can also find countless fake reviews on the Amazon website. To purchase the original product or value-for-money products, you need to identify the fake reviews. So, how to spot fake reviews on Amazon? You can use these fake Amazon review checker tools for online buyers.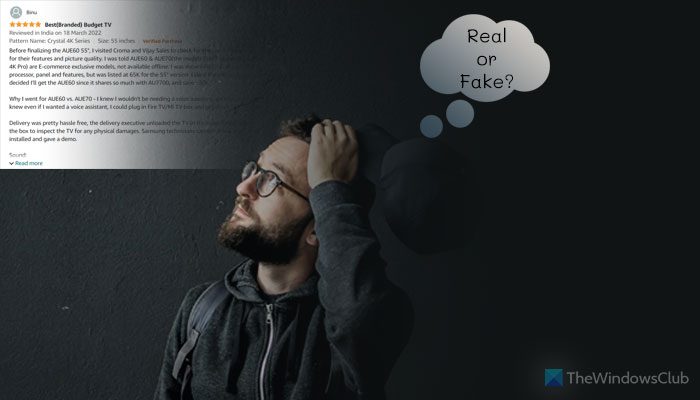 How to Spot Fake Reviews on Amazon?
When an identical product goes online on Amazon, it generally doesn't appear on the top, and most buyers do not even check the second page. To go around this monopoly, some retailers often use fake review services so that the product looks amazing at first sight in front of a regular buyer.
When you know about the product already, you might not check the reviews. However, in most cases, buyers often check the ratings and reviews irrespective of the product to purchase a valid item. As fake reviews are growing significantly and, most times, they look just like a normal review, it is difficult to identify a fake review for everyone.
Fake Amazon Review Checker tools
To spot fake reviews on Amazon, you can use any one of these fake Amazon review checker tools:
Fakespot
Shulex Copilot
ReviewMeta
Amy Reviews
Writer AI Content Detector.
These tools will help you check if Amazon reviews are fake!
1] Fakespot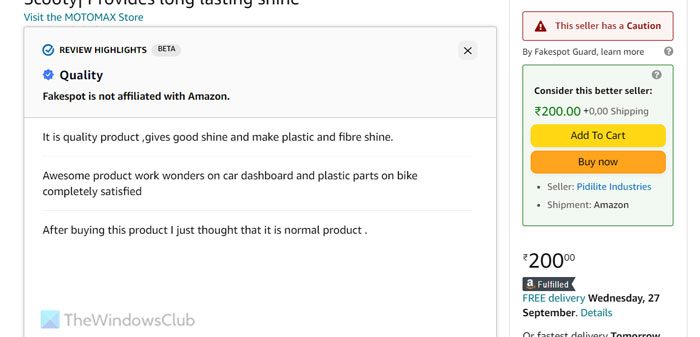 Fakespot is one of the most popular fake review checkers you can use on your browser. It works fluently on Amazon.com, Amazon.in, Amazon.co.uk, etc. No matter whether you want to verify a book, t-shirt, washing machine, or anything else, Fakespot works on every page of Amazon. There are mainly two ways to use this online tool – a browser extension and a dedicated website. If you use the browser extension, you do not need to copy the link and check it on their website. However, using the web version, you can find many other things about the product that do not appear while using the browser add-on. Visit fakespot.com to learn more.
2] Shulex Copilot

This browser extension is powered by ChatGPT. It comes with three main options – Review Analysis, Listing Optimization, and Q&A Analysis. As the name suggests, you can use the Review Analysis to find out whether a product is genuine or not. However, it is also very important to check the Q&A Analysis, where many people often answer questions asked by the consumers. The only drawback of this extension is that it comes with a daily limit, which can be withdrawn at a cost. Download Shulex Copilot from chrome.google.com.
3] ReviewMeta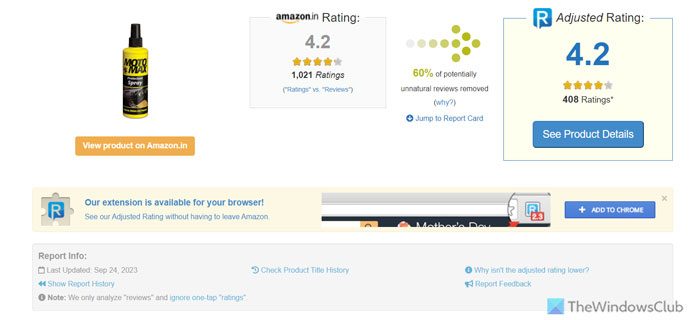 If you are looking for an alternative Fakespot, ReviewMeta could fulfill your demands in every way. In fact, the interface of ReviewMeta is much better than Fakespot, and it displays more information about the product that a regular consumer needs. It filters all the fake reviews from original reviews using AI. No matter whether someone left a start or wrote a 100-word review, you can find everything on ReviewMeta. Instead of using the browser extension, it is suggested to use the web version to find more information. Visit reviewmeta.com.
Read: How to become an Amazon Products Tester?
4] Amy Reviews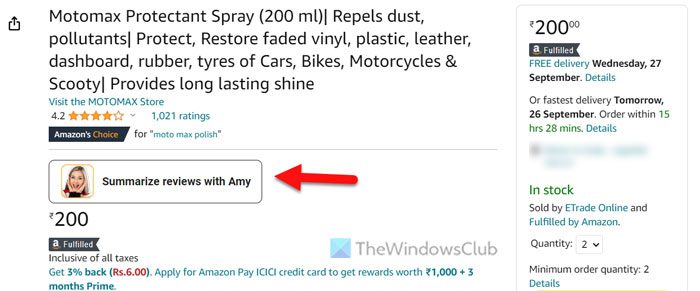 No matter how many reviews have been posted for a product, you can make a summarized version of all of them at once. Following that, you need to understand whether a product is genuine or not. There could be times when a product has received fifty or sixty genuine reviews but double or triple fake reviews. This browser extension can put them together and make a new version of the review section so that users can find what they need. Download Amy Reviews from chrome.google.com.
Read: Best Amazon Price Tracker Services and Extensions
5] Writer AI Content Detector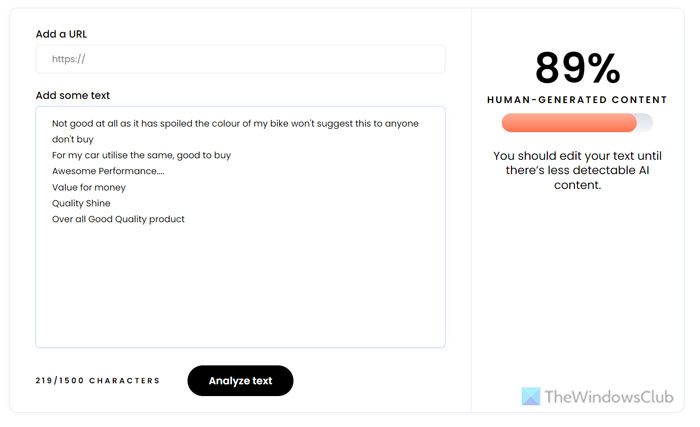 The main reason behind using this tool is that most of the fake Amazon review services use AI content writer tools to write reviews. In most situations, they do not just sit and write reviews on their own, as it takes more time and is not much productive as well. That is why you can use an AI content detector tool.
Writer AI Content Detector is one of the best in this business. It is free, and you can find all the fake or AI-written reviews. However, it is time-consuming, and it needs some additional effort, too. Having said that, you need to copy all the reviews from the product page and paste them into this website. Then, it shows a percentage based on the AI algorithm. If you find it less than 50-60% (depending on the number of reviews and type of products), it is suggested to opt out. Visit writer.com.
I hope these tools help.
Read: How to save money while shopping online
How do you check if Amazon reviews are real or fake?
Although you can use your own senses to find a fake Amazon review, it is kind of difficult to read hundreds of reviews in one sitting. That is why you can use some online apps to check if Amazon reviews are real or fake. Fakespot and ReviewMeta are two of the best for this purpose.
Read: How to spot a Fake Shopping Website
Can online reviews be faked?
Yes, online reviews could be faked. There are countless companies and individuals who can provide such services. However, if you are about to launch a product online, it is never ethical or recommended to opt for such a service since it might make your product glow, but it may not last long.
Read next: Best Chrome extensions for shopping.