If you see This video is taking longer than expected to load message with error code 7017 while watching a web series or movie on Prime Video, then this post will help you resolve the issue. We have demonstrated all the possible causes and solutions in this article so that you can get rid of this issue immediately.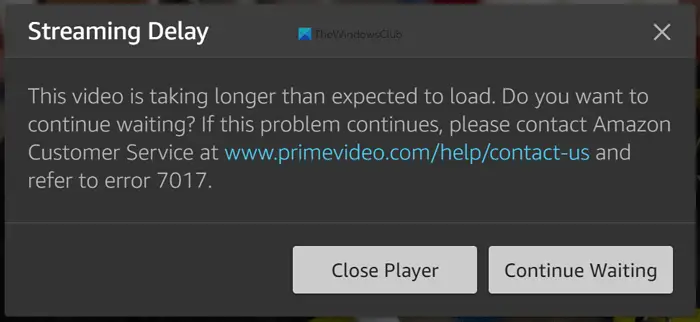 The whole error message says something like this-
Streaming Delay

This video is taking longer than expected to load. Do you want to continue watching? If this problem persists, please contact Amazon Customer Service at www.primevideo.com/help/contact-us and refer to error 7017.
You can find two buttons – Close Player and Continue Watching. If you click the second button, the chances are you might end up getting the same error message.
There might be several reasons why you are getting this error message while watching a movie or web series. However, the possible causes are-
Your internet connection has some ping loss issues. In other terms, the current bandwidth is not enough for the Prime Video to stream the content you are trying to watch.
The external monitor that you are using has a loose cable or is not performing correctly.
Your browser has some internal issues that are stopping the video stream.
Amazon Prime Video error code 7017
To fix Amazon Prime Video error code 7017, try these solutions-
Start the show from the beginning
Check ping status
Reconnect the external monitor
Restart or change browser.
1] Start the show from the beginning
It is the quickest and the most working solution to this problem. If your internet connection lost several pings due to some reasons while streaming a video, there is a very high chance of getting this error code. Because of that, the continuing show might get interrupted and failed to resume from a certain point. That is why you should start the show from the beginning.
2] Check ping status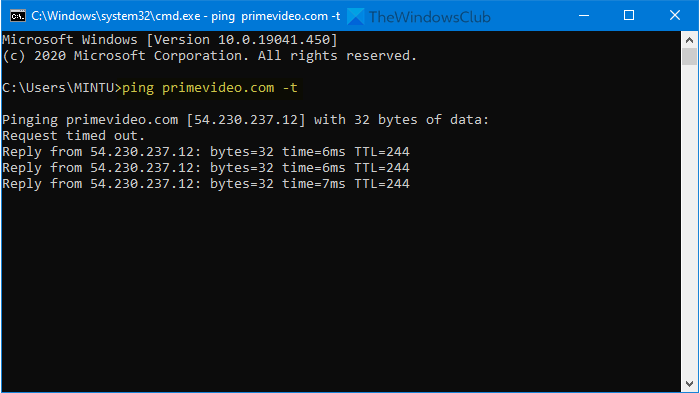 As this problem might issue due to the server-side issue, you should check if the official website of Prime Video is up and running. The most efficient way to check that is by pinging through Command Prompt.
For that, do the following-
Press Win+R to open the Run prompt.
Type cmd and hit the Enter button to open the Command Prompt. Alternatively, you can search for "command prompt" in the Taskbar search box and open it accordingly.
Type the following command and hit the Enter button-
ping primevideo.com -t
If it shows a positive ping result, you should opt for the next solution. However, if it doesn't show the proper result, you need to wait as there might be some issues going on in the Prime Video server.
3] Reconnect the external monitor
If you are connected to an external monitor, and Prime Video is showing the error only on the external monitor, there might be a loose cable. To verify that, unplug the HDMI, VGA, or DVI-D cable and reconnect it.
4] Restart or change the browser
Although it is not a permanent solution, you can try this out to fix it for some time. At times, the browser's internal settings can cause the issue. Therefore, restart the browser first and check if it remediates the issue. If not, change your browser and log in to your Prime Video account.
As this specific problem doesn't have a clear-cut solution, it is essential to experiment with these workarounds as well-
Disable VPN and proxy: If you are using a browser-based or system-wide VPN or proxy, it is the time to disable that temporarily.
Disable browser extensions/add-ons: At times, installed browser extensions can cause this problem – especially when you are using a VPN extension.
Reinstall the Prime Video app: If this problem is appearing on the Prime Video app for Windows 10, you should reinstall it from the Microsoft Store.
Let us know if anything here helped you.
Read: Amazon Prime vs Netflix vs Hulu vs Hotstar – Which is the best streaming service?