Amazon Prime Video app for Windows 11/10 is now available to download via Microsoft Store. You can also download and use it or install Amazon Prime as a Progressive Web App (PWA) using the Edge browser.
Download Amazon Prime Video app on Windows 11/10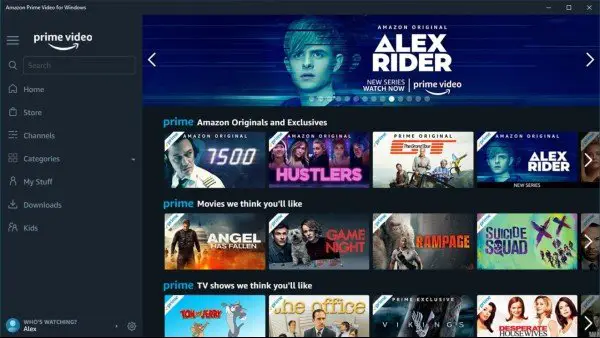 Following is the list of features of the new Amazon Prime Video app for Windows 11 and Windows 10:
Download videos to watch offline – anywhere, anytime
Rent or buy thousands of titles including new movie releases, popular TV shows, and more
With Prime Video Channels, Prime members can subscribe to more than 150 premium and specialty channels like HBO, SHOWTIME, STARZ, and Cinemax.
Only pay for the channels you want, no cable required, cancel anytime
With X-Ray, view IMDb information about the actors, songs, and trivia for videos as you stream.
You can download Amazon Prime Video for Windows 11/10 from Microsoft Store.
Install Amazon Prime Video as a PWA on Windows 11/10
Amazon has also released a web app for its shopping portal and a music app for Windows 10 and Windows 11. With the power of Progressive Web Apps, the Amazon Prime Video app can also be installed on Windows and you can use the streaming services on the desktop.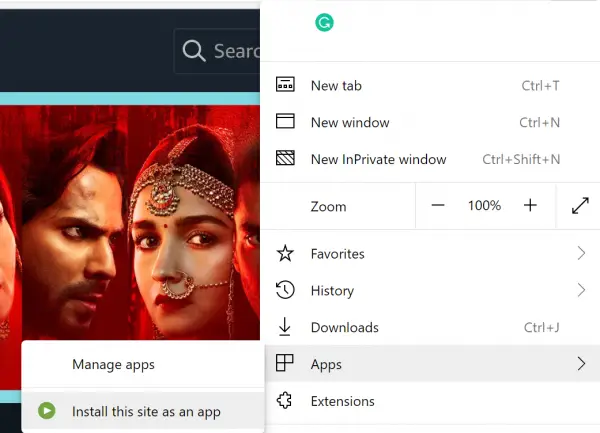 The Amazon Prime Video app on Windows 11/10 can be installed and used in the best possible experience. This can be done by using only the new Microsoft Edge browser based on Chromium.
Open the Amazon Prime Video website on the new Chromium-based Microsoft Edge browser.
When the website loads, select the menu button on the top right corner denoted by three horizontal dots.
Select Apps > Install this site as an app.
It will install the Amazon Prime Video website as an app with a XAML shell on your Windows 11/10 computer.
You will also find an entry for it in the All apps list in the Start Menu. If needed, you can create a shortcut for it on the desktop, pin it to the taskbar or pin a live tile.
It is worth noting that this app won't work offline, unlike its Android and iOS counterparts.
This is the default procedure to install a website as a Progressive web app on the new Microsoft Edge browser based on Chromium.
What is the advantage of using the Amazon Prime App for Windows?
The biggest advantage of using the app is that you can download videos for offline viewing anywhere, anytime without an internet connection. You can download a maximum of either 15 or 25 total Prime Video titles.
How long can you keep the downloaded video in Amazon Prime App?
You cannot keep it for very long. It will automatically delete within 30 days after downloading. You can also set it to delete after you are done watching. It is useful if you do want it to keep occupying the space. If you uninstall the apps, all downloads will be deleted. Also, these downloads are not synced across devices.
How many devices can you have Amazon Prime on?
Amazon Prime video can be downloaded on multiple devices. The limit is up to three devices that can stream simultaneously with the same login credentials, and only two devices can simultaneously view the same title/content.
Do Prime Subscription users get any extra advantage?
The app is available only if you are part of Amazon Prime member. So whatever is you get in the app is available to all the users including offline download, add movies to favorites, watch original streaming content. It is available as part of Amazon's subscription but doesn't include any of the latest add-ons.
How do I set up Amazon Prime on my TV?
The process is the same across all devices. You will need to sign in using an Amazon account, and then confirm the linking over email or through the Amazon app. You will need to enter the code offered on the screen.
What device do I need to watch Amazon Prime on my TV?
Amazon Prime works on a plethora of devices and services. It includes Apple TV, Mi TV, Chromecast, FireTV, Roku devices, and so on. However, the interface will differ for every platform but most of the features will be the same on all the apps.
I hope you found our helpful guide.