Progressive Web Apps (PWA) are the next big thing in the app-based ecosystem across platforms. Various companies are pushing hard on their platforms to add support for Progressive Web Apps. This includes Windows 11/10, Android as well as iOS. Microsoft Edge browser based on Chromium also supports progressive Web Apps. In this article, we will be learning to install PWA in a very simple way.
Install PWA on Microsoft Edge browser
There are two methods by which one can install a website as a Progressive Web App using the new Microsoft Edge based on Chromium on Windows 11/10:
Using an automatic prompt.
Using a manual method.
1] Using an automatic prompt
When you log in to a website that is a Progressive Web app and makes use of Service Workers in the background, it will be a fairly simple method to follow.
When you open a website that is a Progressive Web app, you will get a + button in the Address bar. Select it to get a pop up asking you if you want to install the Progressive Web app.
Select Install and you will be good to go.
2] Using a manual method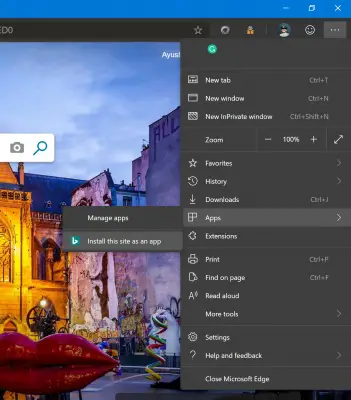 When you log on to a website that you wish to use as a native application, there is nothing much complicated that you need to do.
Just select the Menu button denoted by three horizontal dots on the top right corner of the browser window.
Select Apps > Install this site as an app. 
It will ask you for the name of the app. When you set it, select Install. 
That website will now be installed as a Progressive Web App.
Progressive web apps are supported in all modern browsers. You can install them in Chrome, Edge Mobile and other browsers.
I hope that this is a useful guide for you.