Shopping has shifted from offline to online. We buy a majority of products online because of the convenience and the offers we get. There are a lot of websites that sell products online. With online stores, there is a chance for scammers. They create websites that look just like branded online stores and scam customers. Many people get scammed by fake shopping websites. In this guide, we show you how to spot a fake shopping website and tips for online shopping safety.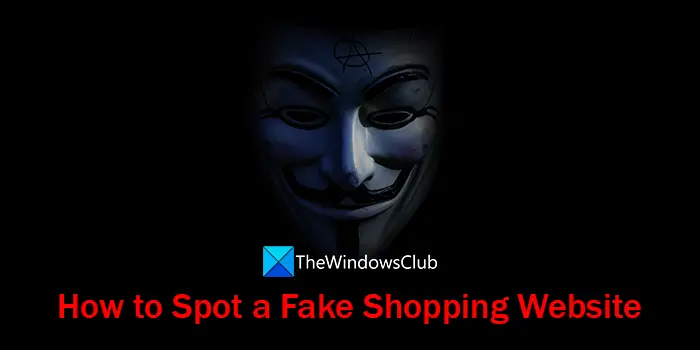 What is a fake shopping website?
A fake shopping website is created by scammers that looks just like a genuine e-commerce website. They are designed to steal your money, passwords, and personal information. The majority of fake shopping websites lure customers by sending emails to customers saying unbelievable offers on products. Fraudsters create these fake shopping websites in a hope that people will fall into their trap with their desire to buy products at a cheaper rate than the major e-commerce stores.
The websites are created as a mimic of major shopping websites we know. They start by creating logos that look like a trustworthy store, using images from official websites, and URLs that look exactly like a trustworthy online store. Everything about fake shopping websites looks real.
Most of the fake shopping websites list products that are of high monetary value, have good brand value, etc. They include luxury items, jewelry, and electronics of bigger brands. The products are listed with huge discounts that come to buyers at a fraction of the original price.
Not only prices and discounts, but they also offer free shipping as well as 24-hour delivery promises to appeal to the customers to fall prey to their scams. Fake shopping websites usually thrive during the festivals and holiday seasons when people spend more money on purchases.
Why are fake shopping websites dangerous?
While you can always save money while shopping online, you have to be careful and stay away from scams. Fake shopping websites are created with the motive to scam buyers and steal their money. They thrive on deal-hungry customers who don't shy away or think twice before making purchases while they are on unbelievable offers. The customers who get carried away by the discounts on the products they want enter sensitive information like credit card details etc. get their money stolen. Some websites even make people download malware they create for phishing or extorting customers to make payments to unlock files locked by the malware.
We need to be careful when we make purchases on websites that we do not know about or never heard of. Though there are some good websites that sell products are huge discounts, we need to think twice before making payments or entering our personal information.
How to Spot a Fake Shopping Website
Fake websites thrive in the holiday season on the customers who seek huge discounts on the products they want to buy. If you are not careful while making purchases online, you might get robbed by scammers online. The following tips can help you spot fake shopping websites and stay safe while shopping online.
Copycat URLs
Low-quality images
Bad grammar and spelling mistakes
Bad website design
Huge discounts
Contact details
Complex return policy
Limited payment options
Scrutinize social media accounts and reviews
Domain history
Let's get into the details of each one and know more about them.
1] Copycat URLs
Most fake shopping websites have copycat URLs. They resemble an existing major shopping website and deceive you with just a letter change. You need to carefully examine the URL while opening a website. Websites that resemble major e-commerce websites are just there to scam you. You need to be wary of that. They look almost similar but if you carefully look into the URL, you will find a spelling change.
Another way to tell a website is fake by looking into URLs is by checking for HTTPS with a lock icon next to the domain name in the address bar. HTTPS on a domain says it is secure with SSL encryption. No one other than you and the website can know or read your data. Just focus on the domain names and you can say if it is fake or genuine.
2] Low-quality images
Another way to tell if a shopping website is fake or genuine is by looking at the quality of images they upload for the listed products. If you find low-quality or pixelated products, skip buying on that website. No genuine seller or website uploads low-quality images for their products.
If the deal on a product is good and the images are of high quality, go to the product's official or manufacturer's website and find the product. You will find the retailers' details on the product page to buy genuine products if you are confused by the high-quality images on the retailer or fake websites.
3] Bad grammar and spelling mistakes
As said before scammers who create fake shopping websites thrive on deal-hungry customers who don't look for anything except deals and discounts listed on the website. If you find bad grammar and spelling mistakes on a website you are buying products from, you need to think twice before entering your details. Major shopping websites have dedicated teams to write product descriptions. Their product description never contains bad grammar or spelling mistakes.
Read: Precautions to take before you click on any link.
4] Bad website design
Major shopping sites design websites that are pleasing to customers' eyes and make them purchase more. If you opened a website with a bad website design and are non-responsive on your mobile phone, you need to stay away from it. Genuine retailers never list products with a bad website design. There will be dedicated teams that take care of the user interface and design of the website to induce users to purchase more products.
5] Huge discounts
We cannot expect huge discounts on products that are still in great demand among customers. Huge discounts can only be true if the product is not in demand or another better version of it is available in the market. If you see huge discounts on a product on an unknown shopping website, look for its products on the official website as well as other trusted retailers. Then, you can say if the shopping website offering huge discounts is genuine or fake.
6] Contact details
When you open an unknown shopping website with great offers, see the contact details and about page. If you find them believable, try contacting the customer care of that particular website. If it is genuine, you will know after talking to the customer care representatives. Most fake shopping websites do not mention contact details or company details. Look into them and you will spot the fake shopping website easily.
7] Complex return policy
Genuine shopping websites have strict shipping and return policies that prioritize the customer and make the return of the products easy. Look for shipping and return policies at the bottom of the website and you will know if it is a fake or genuine shopping site. Even If you find the shipping and return policy trustable, copy and paste the policies on Google. If they copied it from a major website, you will know and can stay away as genuine shopping websites will never copy others' policies.
8] Limited payment options
We find a lot of payment options like cards, wallets, and online payment methods while checking out a genuine shopping website. Fake shopping websites never include traceable payment options. They include untraceable payment options like Paypal, Venmo, and others such options. There is no way you can secure yourself from fraud in these circumstances. If a website does not have card or net-banking payment options, stay away from it. Your money is not safe on such shopping websites.
9] Scrutinize social media accounts and reviews
Another way to look for in a shopping website is to scrutinize their social media accounts and the reviews on them. Major shopping websites have dedicated social media handles posting offers or news regularly. Fake shopping websites do not have such a presence on social media. Also, search for reviews for the shopping website on Google and you can know if it is genuine or fake by seeing customers' experience.
10] Domain history
The other way to spot a fake shopping website is by looking at the details of the domain. You can find the details of a domain by doing a WHOIS search. If a domain is registered for a limited period of time, you need to stay away from it. A genuine seller registers a website for many years to build its brand and make more online sales for the coming years.
These are the different ways you can spot a fake shopping website and stay away from it.
Read: What is AliExpress? Is it legit or safe?
What to do if you're a victim of a fake shopping site
If you have fallen prey to a fake shopping website and lost money, you can follow these steps to protect yourself:
Call your bank and let them know about the fraud that is happened with your account. Your bank will stop further transactions on your accounts and safeguard your money with it. Many banks or financial companies have fraud protection policies that might help you get your money back.
Change the passwords of accounts that you have used on fake shopping websites and enable two-factor authentication.
Download and install a free antivirus on your devices to protect them from malware.
File a report with the local police department so that they can take an action on such fake shopping websites
Related read: Avoid Online Shopping Fraud & Holiday Season Scams.