If you often do online shopping, you might be interested in these Chrome extensions for shopping. Here are some of the best extensions that help you get a coupon, check the price list on other websites, see related purchases, etc. Whether you do shopping from one or multiple e-commerce websites, these extensions will spruce up the game.
Best Chrome extensions for shopping
Some of the best reliable Chrome extensions for shopping using your PC are:
Honey
Rakuten
Keepa
FlipShope
Fakespot
The Camelizer
To learn more about these extensions, continue reading.
1] Honey
Honey is one of the most popular Chrome extensions to find coupon codes and discounts while shopping online. Whether you want to purchase clothes, furniture, electronic gadgets, or anything else, you can find a coupon code on this website. The best thing is that it automatically applies the coupon on the respective web page so that you do not miss out on a coupon unknowingly.
It requires an account that you can create using your Gmail account without any problem. You will earn Honey Gold that you can redeem later for better options. Download from chrome.google.com
2] Rakuten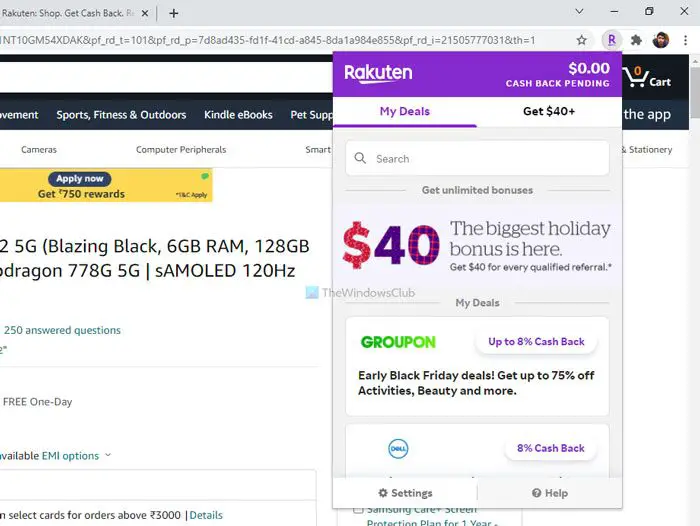 Rakuten is similar to Honey but with more attractive features and options. The best thing about Rakuten is that you can actually receive the cashback to your PayPal account when it meets the threshold. Like Honey, you need to create an account so that you can manage all the coupons, discounts, cashback, etc.
Another exciting thing about Rakuten is that you will get a $10 welcome bonus that you can use in the future. Most of the popular online stores are available. For example, you can find Walmart, Nike, Target, eBay, etc. According to the official website, it includes more than 2500 stores from all over the globe. Download from chrome.google.com.
3] Keepa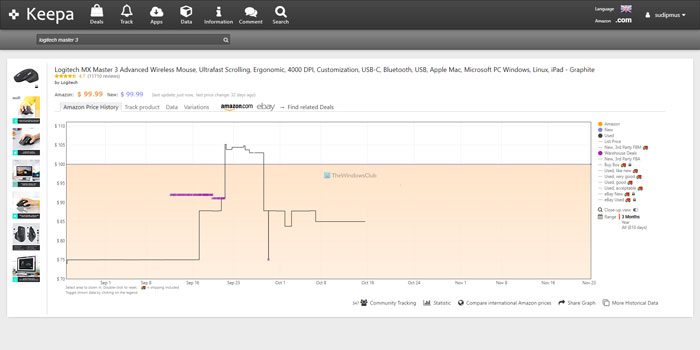 Amazon is one of the biggest e-commerce websites that many of us customers of. At times, you might find a product is listed at $99, and some other day, you might find the same product with a $129 price tag. If you use the Keepa Chrome extension, you can learn how Amazon changed the price of a product over the past few weeks.
You can learn more about the pricing structure of a product, track the price, and shop accordingly. You need to create an account to track the price-changing graph. You can open a product page on Amazon and click on the extension to see the graph on your screen. Download from chrome.google.com.
4] FlipShope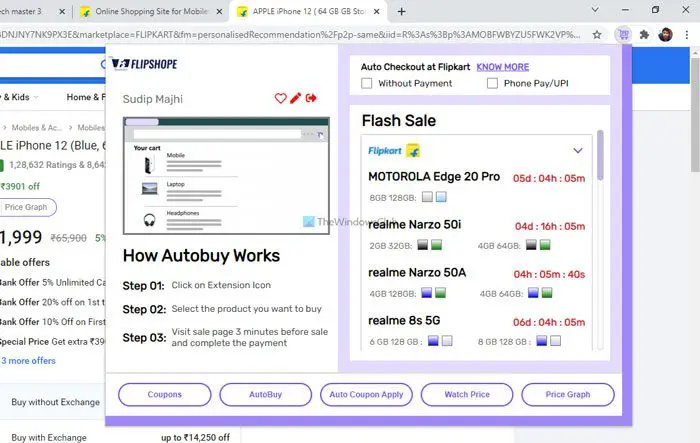 FlipShope is a Flipkart exclusive Chrome extension that you can use to get several things done. Flipkart often makes flash sales, which is very difficult to purchase a mobile or anything else from. However, if you use FlipShope, there is a very high chance of getting the product even during the flash sale.
Apart from that, you can add a product to the list so that you can track the pricing. The next feature is the Price Graph, which helps you check the ups and downs of the pricing of a product. You can auto apply coupons so that you do not miss any ongoing offer while purchasing a product from the Flipkart. Download from chrome.google.com.
5] Fakespot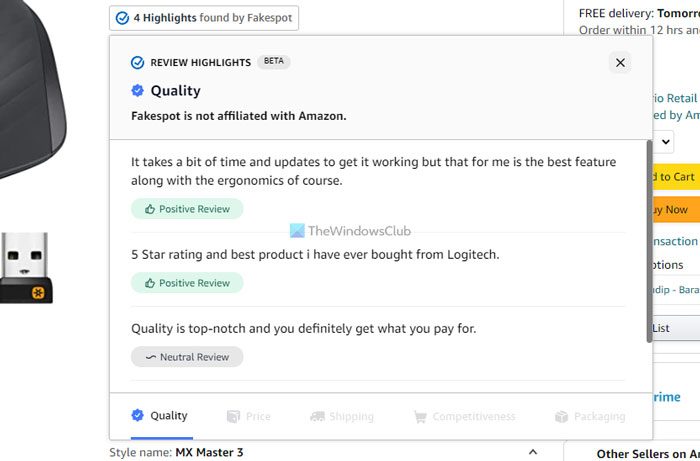 We often become victims of fake reviews while purchasing a product from popular online stores like Amazon, Walmart, eBay, etc. Nowadays, it is quite difficult to identify if a review a genuine or fake. That is why you must use an AI to get the job done.
Fakespot helps you find fake reviews on Amazon and some other well-known online stores so that you can purchase a genuine product. After visiting the product page, click on this extension. Then, it checks all the reviews and finds out if there is any problem with those or not. The best thing is that you can find a grading system to quickly know if you should opt for the product or not. Download from chrome.google.com.
6] The Camelizer
The Camelizer is a price tracking extension for Chrome that you can download before your next purchase. It displays a graph with the past pricing so that you can know how Amazon changes pricing according to the events. It is possible to know the pricing of the last one month, three months, six months, one year, or all time. You do not need to create an account, unlike other price tracking extensions, which is one of the best parts.
The only problem with The Camelizer is that it doesn't work with other websites except for Amazon. However, you can add region-based Amazon websites from the settings panel. Download from chrome.google.com.
What is a shopping browser extension?
A shopping browser extension may help you in different cases. For example, a shopping extension can help you find the history of the product's pricing, find coupon codes, help during a flash sale, etc. Depending upon the extension, you can get various facilities like these from a shopping browser extension.
What is the best Chrome extension for coupons?
There are so many Chrome extensions for finding coupons while shopping online. For example, you can use Honey, which is one of the most popular extensions out there. On the other hand, you can use Rakuten, FlipShope, etc. It is highly recommended to install all these aforementioned extensions if you want to save money while shopping online.