When you try to launch or start a live stream on the Twitch platform in OBS Studio on your Windows 11 or Windows 10 PC, you may get the error message Failed to authenticate with Twitch. This post provides the most appropriate solutions affected streamers can apply to easily resolve the issue.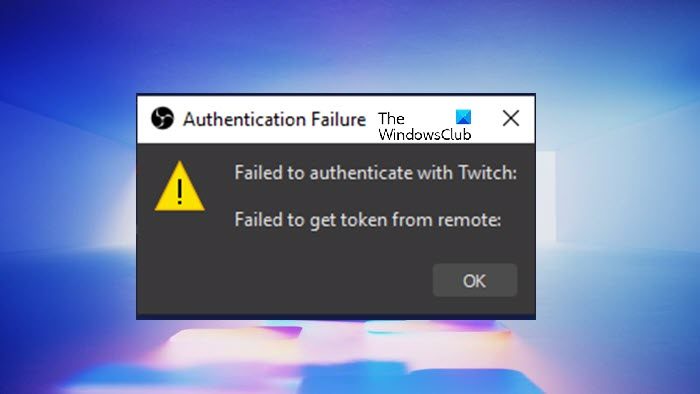 Authentication Failure

Failed to authenticate with Twitch:
Failed to get token from remote:
Fix Failed to authenticate with Twitch in OBS error on Windows
If you get the error message Failed to authenticate with Twitch when you try to start OBS on your Windows 11/10 PC, then the suggestions we have presented below in no particular order can help you resolve the issue on your system.
Let's look at the description of the process as it relates to each of the listed solutions.
Restart OBS Studio
Reconnect Twitch With OBS Studio
Reset and Fix Your Stream Key
Use A Custom Ingest Server
Re-install OBS Studio
Let's see these fixes in detail.
1] Restart OBS Studi
Your first line of action to resolve the Failed to authenticate with Twitch error is to restart OBS Studio. If that doesn't work, you can restart the PC altogether and see if that helps. Any connectivity issues between Twitch and OBS can be fixed with this easy fix. Make sure OBS Studio is running with administrator privilege when you launch the program. OBS now has access to all the permissions needed for interaction and collaboration with third-party software.
Read: Fix OBS Studio keeps crashing on Windows PC
2] Reconnect Twitch With OBS Studio
You must sign into the program using your Twitch login information to connect directly to Twitch through OBS Studio. Your account will be connected as a result, enabling direct communication between the two sites. To perform this task, do the following:
Go to OBS Studio settings and select the stream tab first.
Next, locate and click the Disconnect account button to log out of Twitch on OBS Studio.
After the tab refreshes, click on the Connect account button.
An additional window will open. Use your Twitch credentials to log in.
The next set of security questions must be answered. Your mobile phone number or email account may need to be accessible for this.
On OBS Studio, you are currently signed into Twitch once more. You should be re-authenticated on OBS Studio after this reconnect.
Read: OBS recording stuttering, and freezes every few seconds on PC
3] Reset and Fix Your Stream Key
An exclusive alphanumeric code known as a stream key serves as an access code to your stream. It's crucial to keep this key a secret because anyone who has it can stream to your channel. Resetting your stream key entirely from time to time can be beneficial for security and authentication.
To perform this task, do the following:
Go to the dashboard for your Twitch creator account by clicking your profile image in the top right corner of the Twitch site.
Click the stream tab in the menu on the left-hand side once you're in the creator dashboard.
The first line in the stream key and preferences settings is labeled the primary stream key. To reset your key, press the reset button at the end of the line.
The tick logo will appear when it has been reset.
4] Use A Custom Ingest Server
Using a custom ingest server rather than linking your Twitch account to OBS Studio is an option if you have a stream key. The authentication step can be skipped, however, this is a little less secure.
To perform this task, do the following:
In your stream settings menu, rather than clicking Connect account, click the Use stream key instead.
Now, paste your stream key from Twitch.
Click Apply.
You will no longer be using a direct connection, but rather streaming to a personalized ingest server.
Read: Fix Failed to connect to server error on OBS Studio
5] Re-install OBS Studio
If nothing works, then you may consider completely reinstalling OBS Studio. Some OBS builds have known crashes or bugs that can be addressed by installing the software from scratch.
Your scenes won't be lost from one installation to the next. Reinstalling any plugins that were previously added to OBS Studio is the only action you will need to take afterward.
Hopefully, this post helps you!
Why is OBS failing to connect to Twitch?
If OBS is failing to connect to Twitch, then it could be due to any of the following reasons:
You're using an incorrect software version.
Windows Firewall is interfering and blocking the essential services of the OBS Studio.
You're running OBS Studio without administrative privileges.
The in-app settings are not compatible with your network settings.
Is OBS compatible with Twitch?
With OBS Studio, live broadcasting to Twitch is quite simple. To begin streaming, all you need to do is link your OBS account to your Twitch account. Without utilizing OBS, you can stream live on a desktop with Restream Studio. Restream Studio is a live-streaming program that runs in the browser. You may stream live on Twitch right from your web browser without having to download anything.
Read next: Can't log in on Twitch? Try out these fixes.