The right-click menu context menu in Explorer under Windows 10/8/7 is quite useful and improved. Right-click a file or folder, and a menu appears, letting you take a variety of actions, such as opening the file, printing it, deleting it, copying it, creating a shortcut to it, etc. But there is more! Holding down the Shift key while right-clicking in Windows 10/8/7 gives you a fuller range of options.
Expand Context menu in Windows 10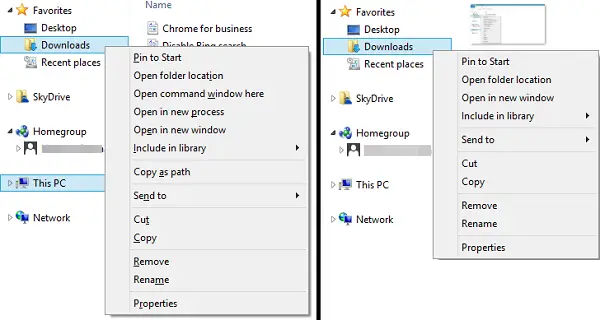 If you hold down the Shift key as you right-click a file or folder, you'll see several new menu options.
I tried it with the 'Downloads' folder on my Windows PC, and I got some additional options as well.
Here are the new options you get and what each one does:
Open Command Window here
Adds an "Open Command Window Here" context menu option on file system folders, giving a quick way to open a command window
Open in new process
As the name suggests, the option opens the file in a new process.
Copy as Path
This copies the file name and location to the Windows clipboard, e.g. D:\TWC\2007note.xls. You can then paste that path wherever you want.
You may see different options for files and folders.
Using the Shift key will also expand the Send To menu in Windows 10/8/7.