If you're encountering Exception Processing Message error on your Windows 10 computer, then this post will likely help you. We will outline the possible solutions you can try to resolve this issue. Bear in mind that there are different instances of this error message with varying error codes, but the solutions are essentially the same.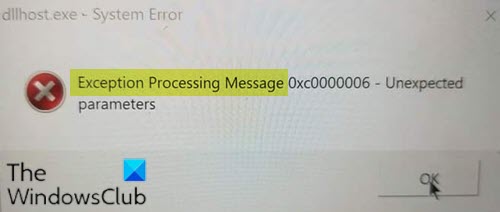 You may encounter this error due to one or more of the following reasons:
Invalid File path.
3rd party AV interference.
System File Corruption.
In most cases, this error appears as part of a series of startup errors related to system .DLLs and .exe files.
Exception Processing Message
If you're faced with this Exception Processing Message, with error codes 0xc0000005, 0xc0000013, 0xc0000006, 0x00005, 0xc0000139, 0xc000007b, 0xc0000135, 0xc0000006, etc. , you can try our recommended solutions below:
Modify the Error Mode registry key value
Disable/Uninstall 3rd party security software (if applicable)
Run SFC and DISM scan
Re-register DLL files (if applicable)
Let's take a look at the description of the process involved concerning each of the listed solutions.
1] Modify the Error Mode registry key value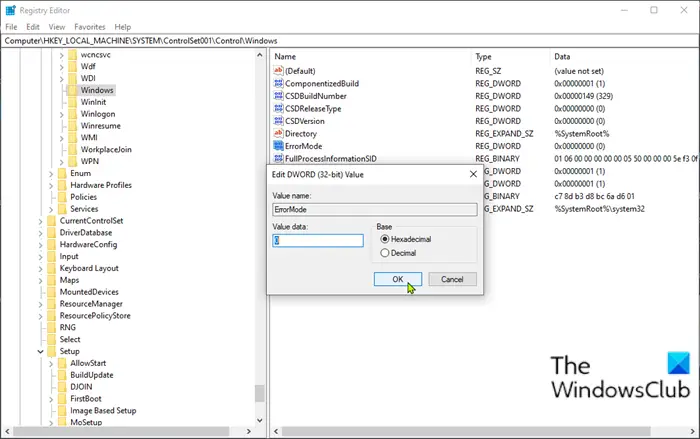 Since this is a registry operation, it is recommended that you back up the registry or create a system restore point as necessary precautionary measures. Once done, you can proceed as follows:
Computer\HKEY_LOCAL_MACHINE\SYSTEM\ControlSet001\Control\Windows
At the location, on the right pane, double-click the Error Mode key to edit its properties.
In the properties windows, set the Base to Hexadecimal and the Value data to 0.
Click OK to save the changes.
Exit the Registry Editor and restart your computer.
On boot, perform the action that triggered the message and see if the error appears again.
2] Disable/Uninstall 3rd party security software (if applicable)
This issue might also occur due to some kind of 3rd party interference. This issue might also occur due to an overprotective AV/firewall suite that recently quarantined some system file items due to a false positive. In this case, to fix this issue, you'll have to remove all third-party antivirus programs from your PC using the dedicated removal tool to remove all files associated with your antivirus program.
3] Run DISM scan
If you have system file errors, you may encounter the error.
The DISM is a utility in Windows that allows users to repair a potentially corrupted system image. You can run this DISM utility and see if the issue is resolved or not.
4] Re-register the DLL file (if applicable)
If this error prompt shows that the affected files are the DLL files, you can try to re-register the mentioned DLL file and see if that resolves the issue.
Hope this helps!