Some MS Excel users reported Excel is not opening on their Windows computers, and some other users reported that Excel would open normally but the Excel file would not open. These issues could occur due to various reasons, but they can be broadly classified into three major reasons- misconfiguration in Excel, corruption of the app or related files, and conflicting third-party apps. In this post, we are going to talk about this issue and see what you can do if Microsoft Excel or its files fails to open on your Windows computer.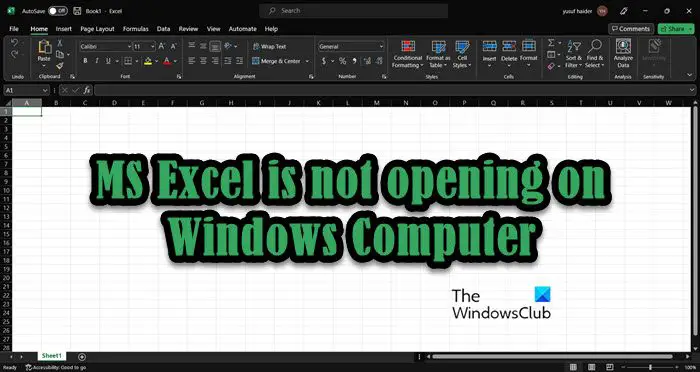 Fix Excel is not opening on Windows 11/10
Excel is a software that is needed in every company and without it, managing the data of the organization is very difficult, well, we are going to resolve this hassle for you. So, if Excel is not opening on your system, follow the solutions mentioned below to resolve the issue.
Start Microsoft Access in Safe Mode
Uncheck the ignore DDE option
Reset File associations
Open Microsoft Access in a clean boot
Remove Workbooks from XLStart Folder and find out the culprit
Run Office Repair
Let's resolve this issue by using the above methods.
1] Start Microsoft Excel in Safe Mode
If you find that Microsoft Excel is not working, it could be possible that some of the mods/add-ins/extensions are corrupted. Opening MS Excel in Safe Mode will allow this app to open without any of them. We can then find out if that's the case. Use the prescribed solution to run Excel in safe mode.
To open a Run dialog box, Press the Windows + R.
Type "Excel /safe" in Run and press Ctrl + Shift + Enter to run the command with admin access.
When prompted, click Yes to continue.
After running Microsoft Excel in safe mode wait for a few seconds, and open Excel again. If you face the same issue proceed to the next step.
If Microsoft Excel is launching in safe mode without any issues, we can conclude that the problem is a result of an add-in. To know the culprit, open MS Excel (normally) and navigate to File > Options > Add-Ins > COM Add-ins. Now, remove these extensions one by one to find out which one is causing the issue. Once you know who the culprit is, remove the extension permanently or remove and then add it. Hopefully, when you restart Excel in normal mode this issue will be solved.
Read: Excel is freezing, crashing or not responding
2] Uncheck the ignore DDE option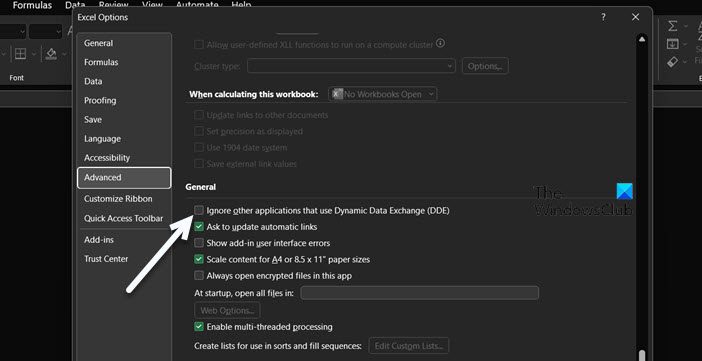 Dynamic Data Exchange(DDE) is a message and instruction that permit application to exchange data within the operating system. So whenever you click on an Excel file, it sends a signal to MS Excel asking for permission to open the file. In case, the app fails to gather the required permission, it will not open. In case, you have set enabled the ignore DDE option, some files might fail to open. In that case, you need to disable the option using the following steps.
Open Microsoft Excel.
Click on File in the top left corner of the window.
Click on Options.
Click on Advanced and go to the General option by scrolling down.
Uncheck the Ignore other applications that use Dynamic Data Exchange (DDE) box.
Then click OK to apply and save the changes.
Hopefully, using this method your issue will be resolved.
Read: Cannot close Excel
3] Reset File associations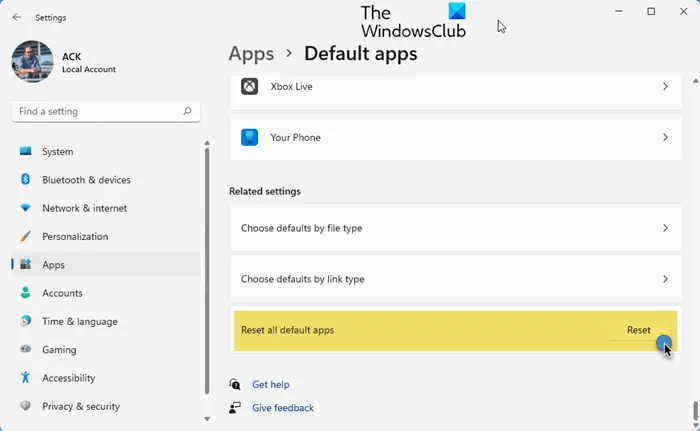 A file association is a relationship between a file type and a supporting application. For instance, an Excel document may be associated with Microsoft Excel. Now when you double-click a Word document, Microsoft Word will open the file. Follow the steps to reset the file association to fix the said error. In case, the File Association is not configured correctly, you will receive the said error.
Press Windows + R key to open the run dialog box
Type Control Panel and press enter
Click on Programs and then click on Default Programs
Click on the Set default programs option and wait for a while for the search process
Scroll down, go to Reset all default apps and then click on the Reset button.
I hope, this idea worked for you.
4] Open Microsoft Excel in a clean boot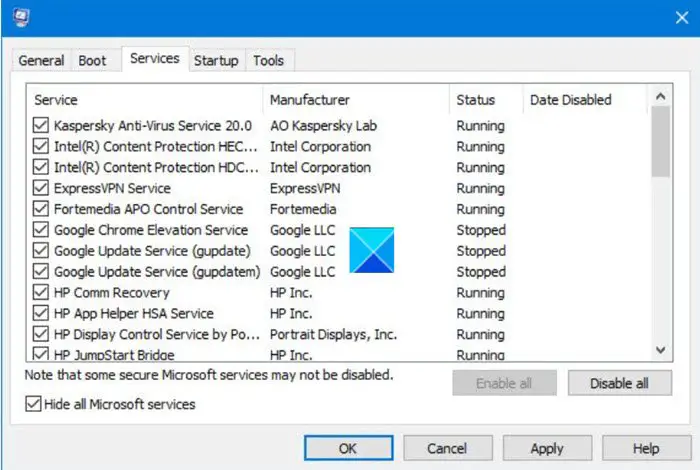 You may encounter the said error due to a third-party app interfering with MS Excel. In that case, you need to perform Clean Boot. To run this app in Clean Boot, use the following steps.
Press Windows + R key.
Write msconfig in the Run dialog box and click Ok, this will load the system configuration.
Here, click on the Service tab and check the option Hide All Microsoft service and click on Disable All > Apply, and then click on OK.
It will prompt you to restart, select Restart.
Once your system starts, launch MS Excel and check if the issue continues. If MS Excel starts without any problem, manually start services to find the culprit. After knowing which app is causing the problem, you can easily delete it to resolve your issue.
5] Remove Workbooks from XLStart Folder and find out the culprit
Any file or workbook present inside the XLStart folder will get loaded in Excel as soon as you launch the app. If MS Excel is failing to launch on your system, we can remove all the files from the folder and then start Excel. To do the same, open File Explorer and go to the following location.
C:\Users\<user-name>\AppData\Roaming\Microsoft\Excel
Note: Replace <user-name> with your actual username.
Open the XLSTART folder, cut all of its content and then paste it at any location, make sure that you can remember that location. Once you have moved all files, open MS Excel normally and see if the issue is resolved. In case, Excel is opening without any issues, move XLSTART files back to their original location one by one. If after moving a particular file, MS Excel fails to launch, that file will be the culprit. You can then remove the file or store it somewhere else to get rid of the problem.
6] Run Office Repair
You may encounter the said error if MS Excel is corrupted. We have a built-in tool to repair Office and since MS Excel is its part, we run the tool to resolve the issue. Follow the prescribed steps to repair Office.
Open Control Panel by searching it out of the Start Menu.
Go to Programs.
Click on Programs and Features.
Right-click on Microsoft 365 or Office (the name will vary as per your version) and select Change(or Modify if that's what you see).
You have two options there, either select Quick Repair or Online Repair and then click on Repair.
Lastly, complete the on-screen instructions to resolve your issue.
Hopefully, this issue will be resolved by using the solution.