Did you ever run into a situation where you received an error 0x80072EFD while trying to activate Office 365, or Ofice 2021/19? If yes, here's the reason why it occurs. Office, at times, poses problems while completing the activation process due to network issues. If this happens, Office displays the following error message:
We couldn't contact the server. Please try again in a few minutes. (0x80072EFD)
This error is being reported by many Office buyers who purchased a yearly subscription to Office 365. While activating the subscription over the internet, they continually received the error message, expressing the inability to contact the server.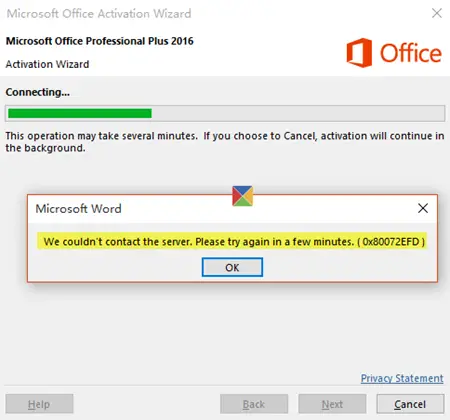 As a workaround, you can try these steps in order. After each workaround, try activating Office again.
Error Code 0x80072EFD when activating Office
1] Temporarily turn off proxy settings
For users using the same device at home and at work, it is advised to turn off the proxy settings in Microsoft Edge before installing the Office software. The procedure may vary for other browsers depending on their proxy settings.
Assuming you are using Microsoft Edge, click the Start button and choose Settings.
Next, select Network & Internet, click Internet Options, and then hit the Settings tab to configure a proxy server for a connection.
Clear the checkbox to turn off any proxy settings.
Next, click OK.
If you are using IE, you can easily reset Internet Explorer proxy settings.
3] Temporarily turn off antivirus software
Disabling your third-party antivirus software before activating Office may also help. You can re-enable or reinstall the Anti-virus software once you have finished installing Office.
To disable it, you may right-click on its notification area icon and select Disable or Exit.
To uninstall it, first go to Control Panel by right-clicking the Start button and choosing Control Panel. Select Security and Maintenance link, and then the arrow next to Security. If Windows finds any anti-virus software installed, it will list the program under Virus protection. Now go to Programs & Features applet, and uninstall it.
3] Temporarily turn off the Windows Firewall
You may want to reset your Windows Firewall settings to default and see if it helps. If not then disable it. It is one of the most widely practiced and accepted methods. Please open Control Panel and go to go to Turn Windows Firewall on or off.
If you're using a firewall from another provider, check the method of temporarily disabling the firewall. Usually, one can right-click on its notification area icon and select Disable or Exit.
4] Use Microsoft Support and Recovery Assistant for Office 365
Users of  Office 365 for Business can download the Microsoft Support and Recovery Assistant for Office 365 to help you fix activation issues.
5] Contact Microsoft Support
If nothing helps, you may want to contact Microsoft Support. There are various options available. Choose the one which best applies to your situation and report your problem to them.
Hope something helps.