Searching the web using images is a lot easier than typing text. Bing's Visual Search feature has been designed with this purpose in mind. It lets you find similar images, products, pages that include an image, and even recipes. Now, the same feature has been added to the Microsoft Edge browser. Let's find out how to enable or disable Visual Search in Microsoft Edge.
Enable or disable Visual Search in Microsoft Edge
When enabled, Visual search in Microsoft Edge returns insights for an image. Insights are visually similar images or web pages that include the image, and more. So, depending on your preferences, you can enable or disable this feature in the browser. Here's how it's done!
Launch Microsoft Edge browser.
Select Settings and more menu.
Choose Settings.
Scroll down to the Appearance section.
On the right, find Context Menu section.
Choose the Visual Search heading.
Enable or disable the Visual search option.
That's how you can quickly explore more related content about products, landmarks, celebrities, animals or plants you see in an image on a webpage.
Currently, Visual Search is available in the Canary version of the browser. So, launch the Microsoft Edge browser.
Click the Settings and more options visible as 3 horizontal dots in the upper-right corner of the window.
When a new screen appears, scroll down to the Appearance section in the sidebar. Switch to the right-hand side and go to the Context menu section.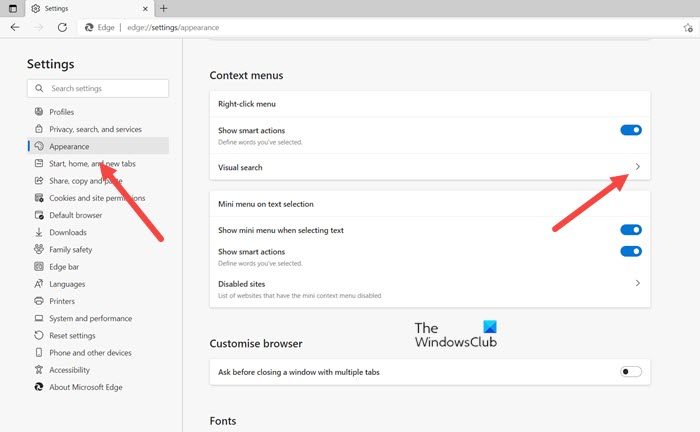 Under it, expand the Visual search heading by clicking it.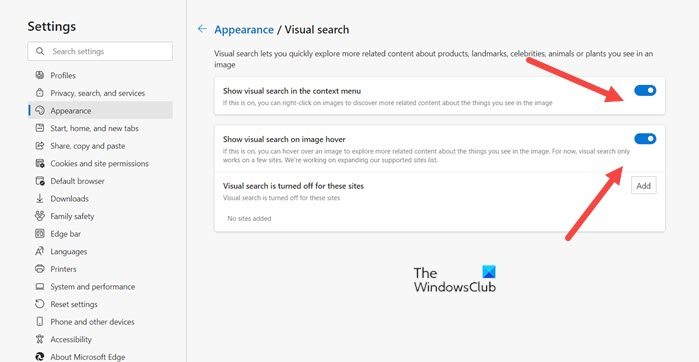 When directed to a new page, enable or disable the toggle next to the following entries –
Show visual search in the context menu – Simply right-click on images to discover more related content about the things you see in the image.
Show visual search on image hover – This lets a user hover over an image to explore more related content about the things you see in the image. Currently, it is limited to just a few sites.
Visual search is turned off for these sites – lets you turn off the feature for desired websites.
When done, close the window and exit. Restart the browser to allow the changes to take effect.
Is Edge a Chrome browser?
It is not a Chrome browser but a browser, based on Chromium version, a free and open-source web browser project, principally developed and maintained by Google. All versions released with the Chromium name and logo are built by other parties. Edge like Chrome is compatible with all supported versions of Windows, and macOS.
Is Edge better than Chrome?
That's debatable but it has all the features that can help you protect your data and save time and money. Microsoft Edge features such as Collections, Vertical Tabs, and Immersive Reader help you organize and get the most of your time while browsing, streaming, searching, sharing, and more.