In this post, we will show you how you can enable or disable the Tab Sleep feature in the Firefox browser. When this feature is turned on, then Firefox puts inactive tabs (that you haven't accessed for minutes) to sleep mode or suspends those tabs. That is helpful so that tabs won't occupy system resources or memory unnecessarily. Whenever you access any of the inactive tabs, those are awakened or bring back to the active mode with a refresh. If you don't find this feature useful, you can simply disable it using some simple steps.
Enable or disable Tab Sleep in Firefox browser
Microsoft Edge also comes with a similar feature to enable or disable sleeping tabs and automatically suspend tabs. Those who use the Firefox browser can try this built-in option to automatically suspend Firefox tabs when not in use or disable that feature. Here are the steps:
Open Firefox browser
Access the Advanced Preferences page
Search for browser.tabs.unloadOnLowMemory preference
Set its value to false to disable tab sleep.
At first, open the Firefox browser using the Search box or some other way you prefer.
Now access the Advanced Preferences page. For this, type about:config in the address bar, and press the Enter key. You will see a Proceed with Caution warning message. There, click on Accept the Risk and Continue button and Advanced Preferences page will open.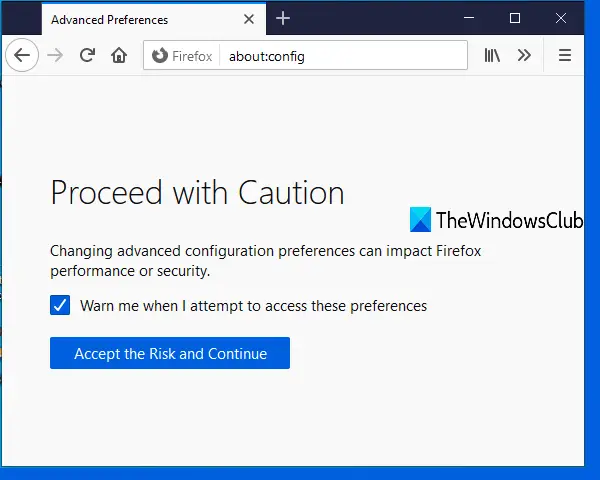 Now use the search box and type browser.tabs.unloadOnLowMemory. When this preference is visible, double-click on it to set its value to false.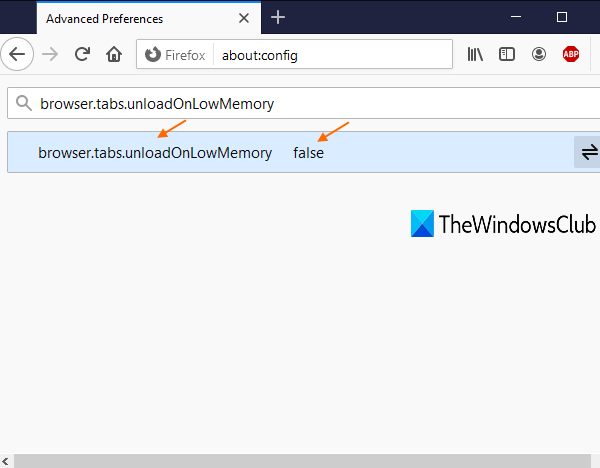 That's it! You have disabled the tab sleep feature in your Firefox browser.
Now, whenever you are working with too many tabs and some tabs are not accessed for some minutes, then Firefox won't suspend those idle tabs automatically.
To turn on or enable tab sleep in Firefox, just follow all the above steps, and set tabs.unloadOnLowMemory preference value to true.
Hope it will help.
Related reads: