We all know that in today's era of the Internet, everything is embedded here and there. We can embed a YouTube video, a Tweet, a GoogleMap and many more things. Ever wondered what if it was possible to embed a document? If you are a web developer or running a blog or website then this is something you should take interest in. Today in this article we are going to learn how we can embed Office and Office 365 documents on a website.
Now to embed a document, need an active account on OneDrive and the document you need to embed. This works exactly like our Google Drive. Upload any document and it is compatible with Google Docs. When you open any document that is present on OneDrive, it uses the Web versions of the application you use on the system to open it. Guess what, whether you upload Office or Office 365 document, you can embed either of it.
How to embed Office Word document on a web page
Before we start, here's a catch, the Word document you are embedding will be visible to everyone.
Log on to your OneDrive and upload the document.
Once uploaded, right-click on the document and select the option Embed.
Now click on the Generate button on the left panel.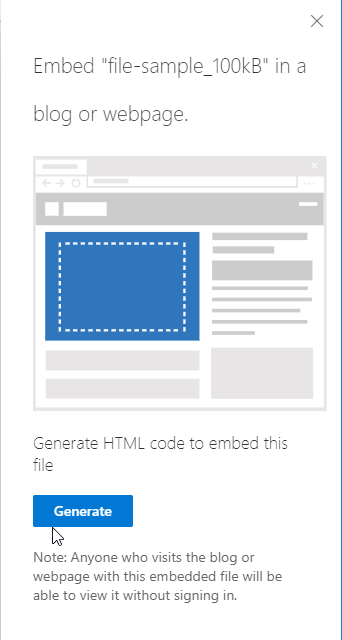 A new panel will open up with the preview of the file and a link to embed the file.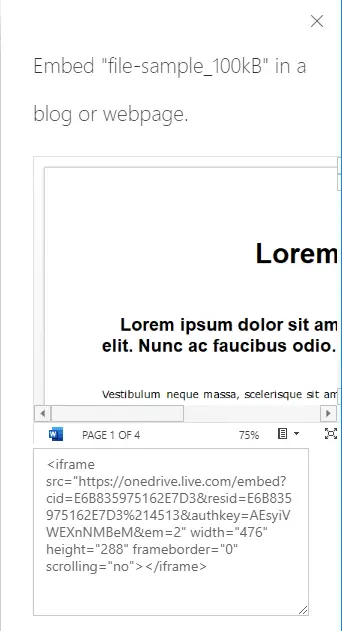 Once you generate the link, you can embed the file wherever you want.
After the file is embedded and the website is live, the document will appear as a widget on the webpage. You can view it, zoom in and out, download as pdf and many more. Just think how much time one can save when the document is visible directly. No redirection to other links, no new tab and no hassle.
Just embed the Word document and you are done.
Let us know in the comments below if you find it useful.
Related reads: