When it comes to saving time, everybody has their way of performing tasks. Take the example of our social lives, we share things on every platform – either by links or by embedding posts. Embedding posts not only saves our time but also makes our blogs look good. But, when it comes to sharing files, we always tend to share the links. Why? When we can embed the files too, then why share links? We have already seen how to embed a Word document on a website. In this article, we will learn how to embed Excel Sheets on your website.
To embed a spreadsheet, need an active account on OneDrive and the document you need to embed. When you open any document that is present on OneDrive, it uses the Web versions of the application you use on the system to open it.
Embed Excel Sheets on your website
Before you begin, just make sure that you haven't added any important and private information in the file before embedding it.
Log in to your OneDrive account and upload the sheet on it. It is preferable that you keep the file in .xlsx format.
Once uploaded, right-click on the file and select the Embed option.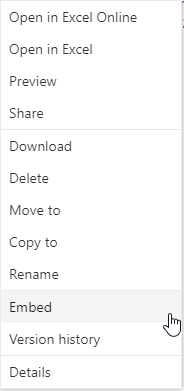 A new panel will open up on the right side of the window. In the panel, click on Generate. It will generate the code to embed the file.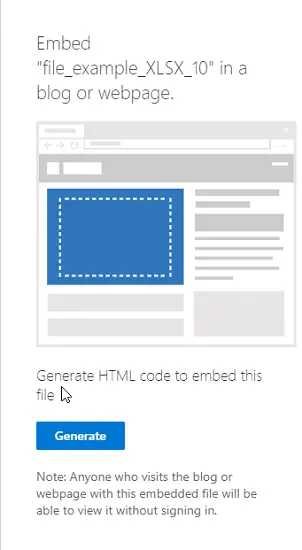 Now paste the code wherever you want in your blog or website.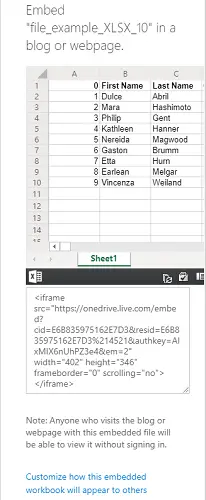 When you copy the embedding code, below it you will also find an option as "Customize how this embedded workbook will appear". Click on it and you will discover some new settings on how the widget of your sheet should appear. The options will include:
What to show
Appearance
Interaction
Dimensions
Embed Code | JavaScript
1] What to show
In this option, you can either select the entire workbook to be shown or select the range of rows and columns in the widget.
2] Appearance
You can change the appearance of the embedded sheet by the options as "Hide grid lines", "Hide row and column headers" and "Include a download link".
3] Interaction
Here you can select whether you want to let people dort and filter the data. Let people type into cells, but the data won't get saved. Always start with this cell selected.
4] Dimensions
You can select what should be the width and height of the widget window in pixels.
5] Embed Code | JavaScript
You will get two types of codes here, you can select either from embedding code or JavaScript. If you are running the website on your own and know how the JavaScript works then you can select either of them.
The embedded file will appear as a small widget on the webpage. A viewer can download it, edit it and tweak as per his/her choice. The changes made by any viewer will be temporary and won't get saved. Here's the example of what an embedded sheet will look like:
After the spreadsheet is embedded and the website is live, the document will appear as a widget on the webpage.
Read next: How to embed a PowerPoint presentation on a Website.