A login password on your computer helps protect your computer and user files from other users. However, we cannot deny that it adds a step when you try to log in to your computer. Hence, some users might want to remove the password and log in to their computers immediately. So the question is, how do you remove or disable passwords for users in Windows 11/10? If you are wondering the same, here is a quick guide.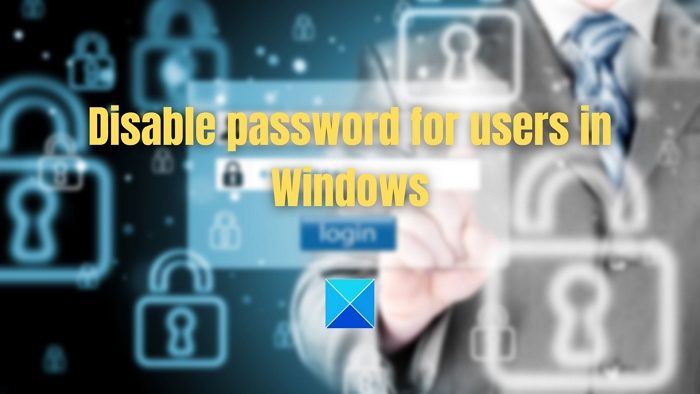 Why disabling passwords is not a good idea?
Before you go ahead and disable the Windows password,  you must know that it can put your computer at risk. If multiple users use your computer, they can easily access it and go through your files, browsing history, and more. Moreover, if you lose your laptop, unauthorized users will access your files, which can lead to identity theft and other threats.
But if you want to use Windows without a password, you can create a Guest account. The guest account would let you access and use your computer usually. But it will not let you install apps, change PC settings or access private files.
How to disable or remove Login Password for Users in Windows 11/10
Now that you know the risk of disabling Password on your computer. The second question is, how to remove the login password? Well, there are three methods to disable or remove Login Password for Users. These are:
Using netplwiz  (Local Account)
Using Windows Settings (Local Account)
Remove login password using Command Prompt
Make sure to use an administrator account to execute these suggestions.
Remove Login password using Netplwiz (Local account)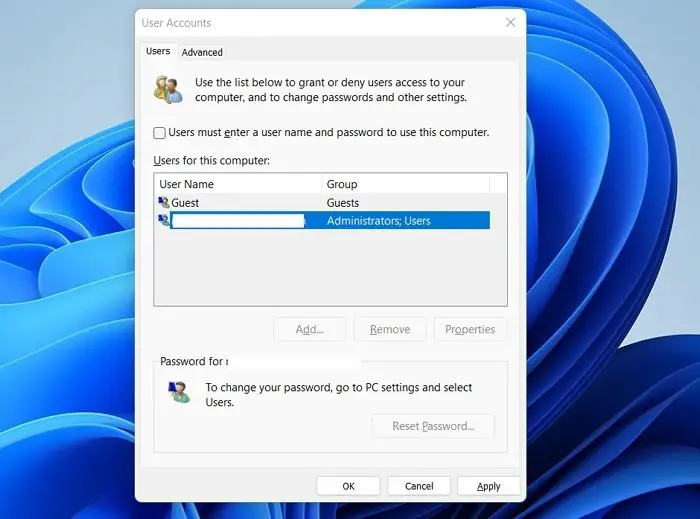 Press the Windows key + R to launch Run.
Type netplwiz and press Enter key.
Over here, uncheck the User must enter a user name and Password to use this computer option. (If you don't see the option, you have to disable Windows Hello from settings).
Click on Apply > OK.
A popup window will now appear. Click on OK without making any changes.
That's it. Now you should be able to turn off the Windows login screen and automatically log in to Windows.
TIP: See this post if User must enter a username and password to use this computer option is missing.
Remove login password using Windows Settings (Local account)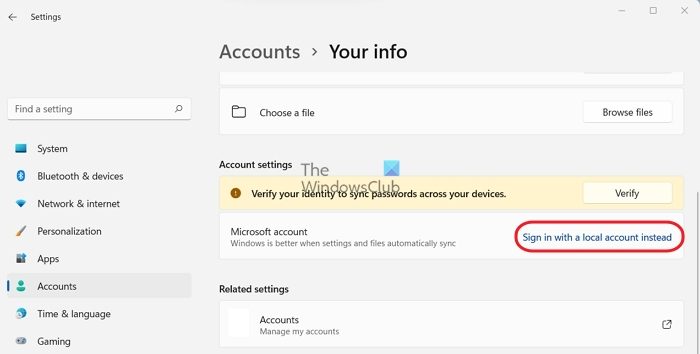 You can also switch to a local Windows account to disable the password. For this, follow these steps:
Press Windows Key + I to launch Settings.
Navigate to Accounts > Your info.
Click on Sign in with a local account instead.
Click on Next and enter your Windows login password.
Next, you will be asked to enter and re-enter a password, keep these fields black and click on the Next button.
Finally, click on the Sign-out and finish button.
Once done, your Windows will no longer be using your Microsoft Account. Instead, you can log in to your computer automatically without facing any login screen.
Disable login password using Command Prompt
You can also use the Command Prompt or Terminal on Windows to remove the Password; for this, follow these steps: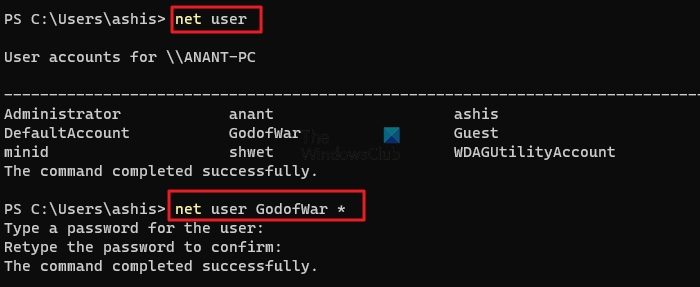 Go to Windows search.
Type CMD and right-click on it, and select Run as Administrator.
Run this command to view all the accounts:
net user
Next, run the below command to change the account password. Make sure to change the USERNAME field to your username.
net user USERNAME *
Now press enter twice to remove Password.
So those were three quick ways to remove Windows passwords. However, among all the methods, I prefer using the second one, which is to switch to a local Windows account. But you are free to try any of the methods quoted above.
Is it possible to remove the password for Microsoft connected account?
No, there is no way to remove the password of a Microsoft-connected account. But you can always switch to a Local account and avoid using a password to log in to your computer. Post that, you will have to sign in using your Microsoft account on the Microsoft Store, Xbox App, Browser, and more. The seamless experience will not work.
What is a DEFAULTUSER0 user account in Windows?
The Defaultuser0 account is a temporary Windows profile used to complete the installation. Once Windows is installed, the profile usually gets deleted automatically after you create the first user profile. If the profile remains after installation is complete, you can remove Defaultuser0. According to Microsoft, the account has no password as it's an encrypted account.