Starting with Windows 10 v1903, you should instantly notice the blurred background on the Login screen. Also called as Acrylic Blur Effect on Sign-in Screen, the feature delivers a beautiful experience by adding more focus to the login screen. However, it's not necessary that everyone would like it even if it stays there for less than a minute. In this post, I will share how to enable or disable Blurred Background on the Login Screen in Windows 11/10.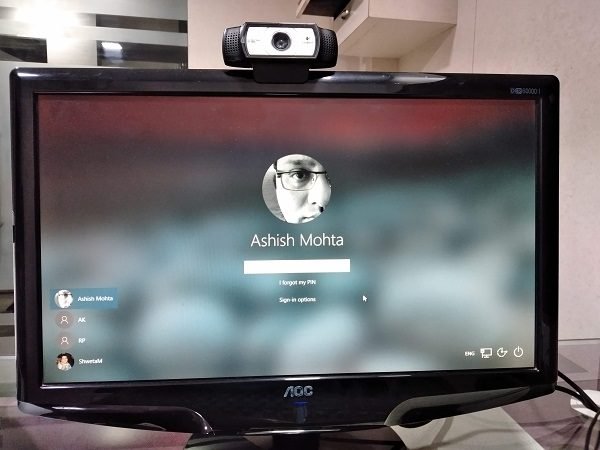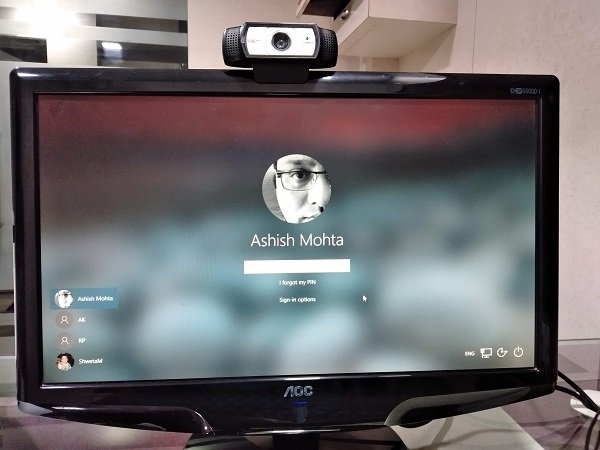 Disable Blurred Background on Login Screen
You can do it in two ways. Using Group Policy or Registry Editior. The former is much more comfortable, but for both of them, you will need an admin account.
Using Group Policy
Editing Registry keys
Using Ultimate Windows Tweaker
Make sure to create a system restore point before making any changes.
1] Disable Blurred Background using Group Policy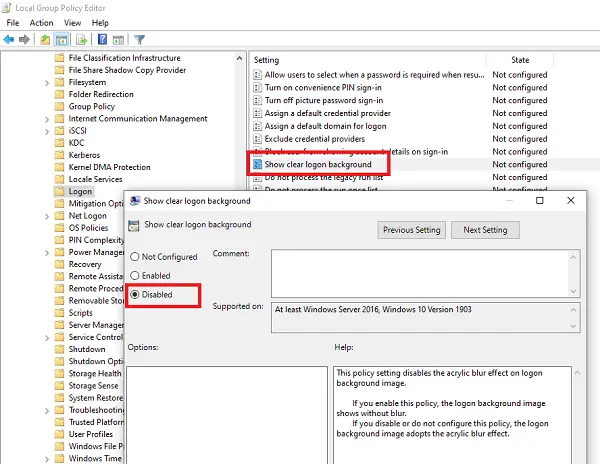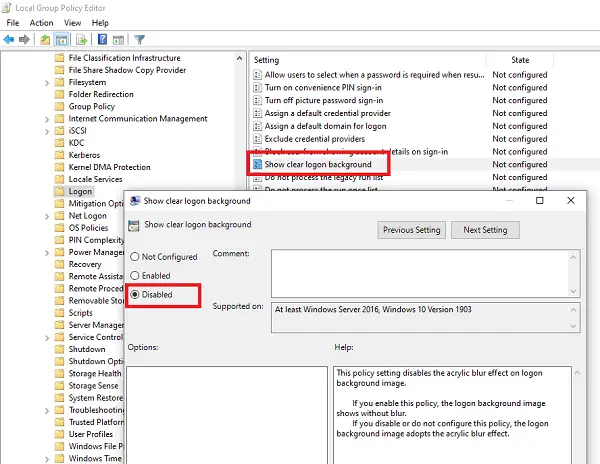 Type gpedit.msc in the Run prompt, and hit Enter.
In the Group Policy Editor, navigate to:
Computer Configuration\Administrative Templates\System\Logon
Then double click to open Show clear logon background settings
The default is Not configured. To disable, select Disabled
Click OK, and check the Login Screen.
This policy setting disables the acrylic blur effect on logon background image.
If you enable this policy, the logon background image shows without blur.
If you disable or do not configure this policy, the logon background image adopts the acrylic blur effect.
If it doesn't work, reboot your computer or check the next time you restart the computer.
2] Disable Blurred Background using Registry Keys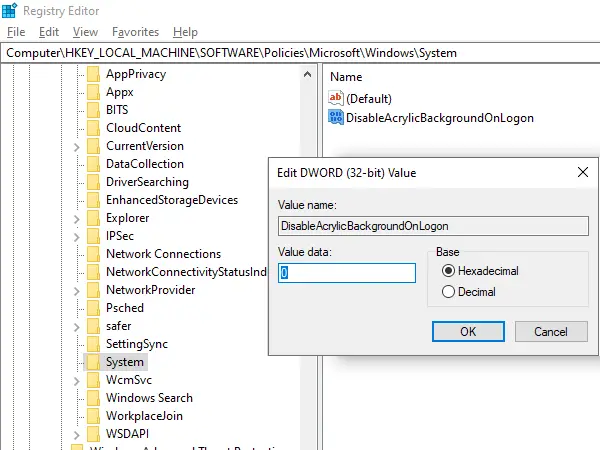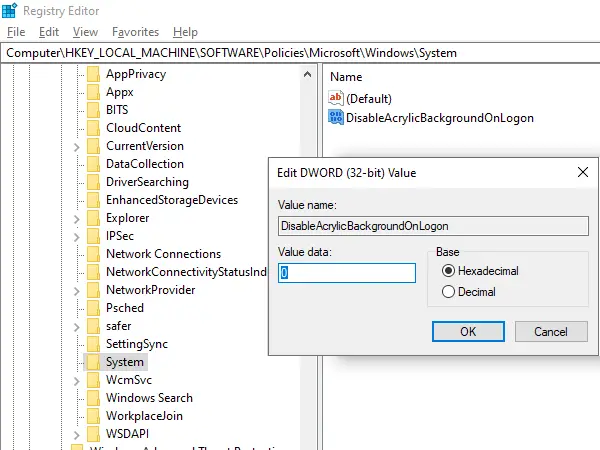 Type regedit in the Run prompt, and hit Enter to open the Registry Editor.
Navigate to:
KEY_LOCAL_MACHINE\SOFTWARE\Policies\Microsoft\Windows\System
Right click in the right pane, and create a new DWORD (32bit) and name it DisableAcrylicBackgroundOnLogon.
Once it is created, double click on edit the value. Set it to 1 to disable the blur effect o t0 to enable it.
Make sure to reboot the computer for the changes to take effect.
No matter which option you choose to change the background, it stays blur when you click on the login button.
3] Using Ultimate Windows Tweaker
Our free tool Ultimate Windows Tweaker lets you do this with a single click. You will see the tweak under Customization > Universal UI.
As of now, there is no way to disable this feature from the Personalization section. I am hoping that in the future, Microsoft will roll out an option to disable Blurred Background on Login Screen via Settings.