According to a several users, all the websites are working on their browser except DirecTV. As per the reports, DirectTV starts buffering or just does not play the video at all. In this article, we are going to see what you need to do if DirecTV is not working on your computer.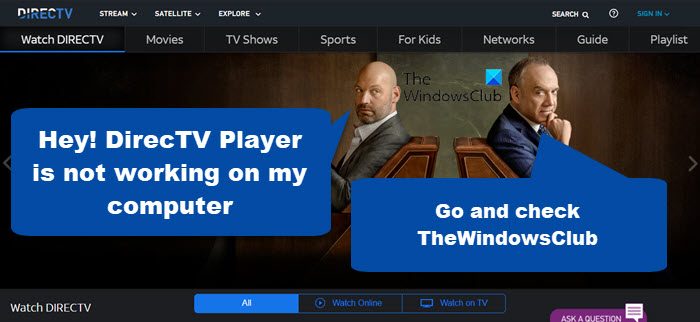 Why won't my DIRECTV work on my computer?
First of all, you need to make sure that your computer has the required Internet to run DirecTV videos. If your Internet is fine, then check if the server of DirecTV is down. If the server is under maintenance or just down because of some reason, then all you can do is wait for the issue to be resolved.
If those are not the issues dealing with, maybe you are not able to watch DirecTV because of corrupted browser caches. The best part about this cause is that you can just flush it and your problem will be fixed. Other than that, incorrect date and time, extensions, and incorrect network protocols are some other potential reasons able to forbid DirecTV from working on your computer. Hereinafter, we are going to talk about all of this in detail and see how you can resolve each of the errors.
Fix DirecTV player is not working on Windows PC
If the DirecTV player is not working on your computer, check out the following solutions.
Check your Internet Connection
Check if the site is down
Close Multiple tabs
Clear data and cache
Disable Extensions.
Release IP, Reset Winsock, Flush DNS
Install the latest Flash Player
Let us talk about them in detail.
1] Check your Internet Connection
Let us start by checking the speed of your Internet. You can try a free Internet Speed tester to know your bandwidth. If it is low, check the network on other devices connected to the same network. In case all the systems are having network issues, contact your ISP. If yours is the only device with this problem, check our guide on how to fix slow Internet.
2] Check if the server is down
Maybe the server of DirecTV is down, you can use a down detector to confirm that. If the server is down, wait for some time and it will get resolved.
3] Close Multiple tabs
Apparently, DirecTV doesn't support multiple tabs. If you have a lot of tabs running at the same time, you won't be able to play DirecTV videos. So, just close the tabs that are not in use and you will be able to resolve the issue easily.
4] Clear data and cache
Corrupted browsing data and cache can stop DirecTV from playing on your computer. Fortunately, each and every browser has an option to clear these files. They are not even going to delete your personal files. So, just clear the browsing cache of Chrome, Firefox, Edge, and Opera. Then, restart your computer and check if the issue persists.
5] Disable Extensions
Try disabling your browser's extensions one by one and see if that works. If any of the extensions are corrupted, and if it has something to do with DirecTV, chances are it is stopping the streaming service from playing videos. So, start disabling extensions one by one and you will stumble upon an extension that is causing trouble.
6] Release IP, Reset Winsock, and Flush DNS
Maybe there is a glitch in the network protocols that are stopping some websites such as DirecTV to play videos. We need to reset these protocols and see if that works.
Open Command Prompt as an administrator and execute the following commands one after the other.
ipconfig /release
ipconfig /flushdns
ipconfig /renew
netsh winsock reset
This should do the trick for you.
7] Install the latest Flash Player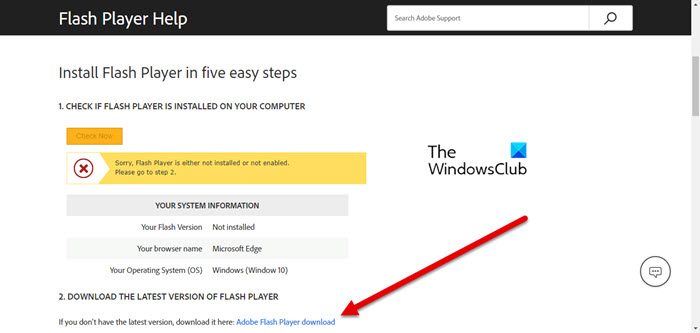 Flash Player is required to play DirecTV on your Windows computer. You should go to helpx.adobe.com and check if you have the latest version of Flash Player installed. If the feature is missing, you will be prompted to download it. Do that, clear the cache, restart the system and try playing the video.
8] Troubleshoot in Clean Boot
If all else fails, maybe there is a third-party app that is interfering with your browser and causing this issue. You should perform Clean Boot and try to find out the exact culprit. Once you do that, just remove the troublemaker and you will be good to go.
Hopefully, these solutions worked for you.
Why is DirecTV now not working on Chrome?
DIRECTV STREAM (formerly known as DIRECTV NOW or AT&T TV NOW) won't work on the Chrome browser if the cookies are blocked for it. So, instead of the content, you may see a blank screen. To fix the issue, you need to allow cookies for specific sites (DIRECTV STREAM in this case) in Google Chrome.
Also Read: