If you have recently updated your Windows 10 computer and then found that all the Desktop icons had moved from the Primary Monitor to the Secondary Monitor, here is a simple suggestion that will help you bring back all the icons where they were.
It could happen because of the wrong cable setup. Generally, Graphics cards give HDMI cable/port the first preference, DVI-D cable/port the second preference and VGA cable/port the third preference. If you have used the wrong cable to power wrongly placed monitor, you may face the same problem after each major Windows upgrade. You can then either replace your monitors or make this change in Windows Settings to get things done.
Desktop icons moved from Primary Monitor to Secondary Monitor
If the Desktop icons are not on the Primary monitor (Monitor 1), but instead are moving to the Secondary monitor (Monitor 2) on a Dual-monitor setup, here is what you need to do to make the desktop icons display correctly on your Windows 10 computer.
You need to set the Monitor 1 as a primary display if you want to get all the icons on monitor 1. So open Windows Settings and go to System > Display.
Select the monitor where you want to get the icons and scroll down until you get Multiple displays option. Here, you should find a checkbox labeled Make this my main display. Select the checkbox.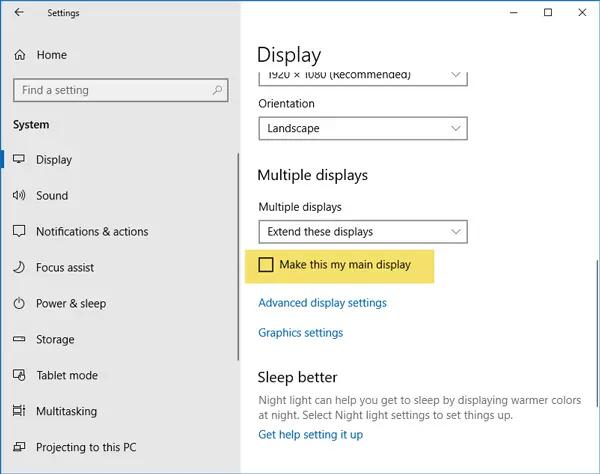 That's all! Now you will find all the icons on your primary display.
NOTE: Please read the comments below for some additional tips. Says Clarissa – Go to Display settings, Themes, under related settings, click on Desktop Icon Settings (or just search for it in the display settings). Click on Computer then Apply. If it doesn't work uncheck it click Apply.
Read next: How to set up Dual Monitors on Windows 10