Maintaining privacy online is essential. It has become even more vulnerable more than ever. Although, you can minimize your online footprint by using encrypted services, taking necessary steps to avoid everyone profiling you. In today's post, we'll explain how to delete your Search history from Outlook.com.
Mail services like Gmail, Outlook.com, and others are major database resources for direct mail marketing. If you do not like sharing your information, Outlook offers an option to delete Search History. The procedure is somewhat different for Outlook on the Web and the old classic Outlook.com. Let's have a look at these two in details:
Delete your Search history in Outlook on the Web
Delete your Search history in the earlier classic Outlook.com site.
Delete Search History from Outlook.com
Before proceeding further, choose which version of Outlook on the web you're using to follow the steps that apply to you.
1] Delete search history in new Outlook on the Web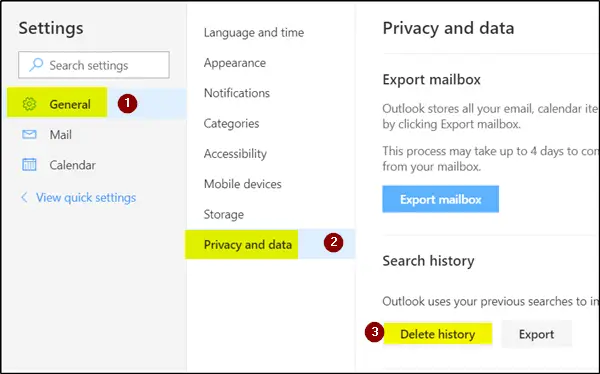 Open your Outlook.com account
Select 'Settings' option appearing in the upper right-hand corner of the screen
Click on 'View all Outlook settings' link (it is visible at the bottom of the settings menu)
Choose 'General' from the left pane
Under the 'Privacy and data' section move to 'Search history.'
Here you can either proceed to

Delete your Search History
Export it as a .csv file.
2] Delete search history from old or classic Outlook.com
The earlier, older or classic Outlook.com sports much simple options in comparison to the new Outlook on the web. To delete your Search History from classic Outlook.com:
Log into your account, select 'Settings' and choose 'Mail.'
Navigate to the 'Options' pane, choose General > Export
Select one of the following:

To delete your search history, select 'Delete history.'
To export your search history to a .csv file, select Export.
When you export, you can view Outlook search history by opening it in any editor.
Let us know if you bother to remove search history or export it?