Some users, when trying to install new apps, have reported seeing Delete other apps, This drive has apps from another device error after they have upgraded/reinstalled their OS or reset their PC without deleting or removing folder containing the old apps. The problem will be even more if you had earlier installed or moved the installed apps to another drive. They are even unable to change the where new apps will be saved to setting. If you face this issue and this error message, here's what you can do.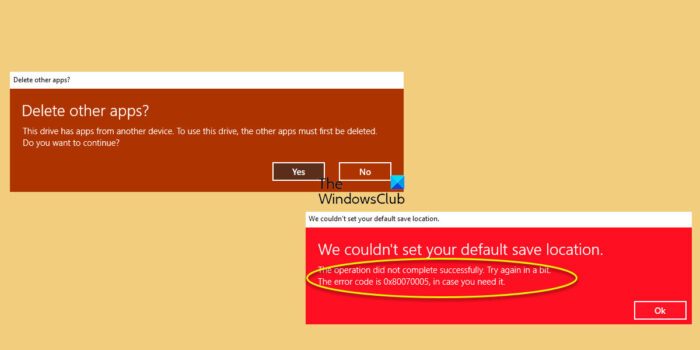 The error message says:
Delete other apps? This drive has apps from another device. To use this drive, the other apps must be deleted.
Clicking on Yes leads to another error:
The operation did not complete successfully. Try again in a bit along with the error code 0x8007005.
Delete other apps; This drive has apps from another device
To fix the Delete other apps; This drive has apps from another device error message in Windows 11/10, you need to move or rename your existing WindowsApps folder:
Log in to an Administrator account.
Open the folder location where your existing WindowsApps folder is located
By default, it is located in the C:\Program Files folder, but if you had changed its location, then go to that non-system drive
Locate WindowsApps folder
Take full control over the WindowsApps folder
Rename it to, say, WindowsAppOld
Next, delete the contents of the WpSystem and WUDownloadCache folders.
Restart your PC and see.
An observable change after this would be that you will then see the option to change the default Save location for apps and programs. Open Windows Settings > System > Storage > Advanced Storage Settings, and select & set Where new content is saved. Check the various drop-downs here, and with the new folder creation, you should have the other drive as an available option for saving new programs.
For your information, this WindowsApps folder contains all the files and apps you download from the Microsoft Store. As a matter of fact, if you ever choose to move programs to another partition, it will create another WindowsApps folder in that drive. The problem with this folder is that if you move back the apps to the primary drive, Windows will choose to keep the folder, and will not allow you to delete them.
So the apps that you download from Microsoft Store are stored in the WindowsApps folder. But if you change the install location for Microsoft Store apps, Windows will create the WindowsApps folder in that drive. Along with the WindowsApps folder, other folders are also created automatically in the same drive, namely: WUDownloadCache & WpSystem folders. The WpSystem and WUDownloadCache folders are created only during the installation of some specific apps from the Microsoft Store.
We hope that you find this helpful.
Related: We couldn't set your default save location, Error 0x80070005
How do I force delete the WindowsApps folder?
Deleting the WindowsApps folder or its contents isn't a straightforward process and requires you to jump through some hoops. To get rid of the WindowsApps folder from an external hard drive, you first have to take ownership of the folder. This post will show you how to perform WindowsApps Folder Cleanup.
How do I delete an app from another device?
If you need to delete an app on a remote computer, you need to connect both computers using a remote desktop tool. Following that, you need to grant the access from your remote computer so that the host computer can make or modify things. Next, you need to open the Windows Settings or Control Panel or use a software uninstaller to delete the app from another device.