Defraggler is a free Disk defragmentation software that lets you quickly defrag the individual files you want to, without having to process the whole drive. The new version now lets you even defrag system files at boot-time.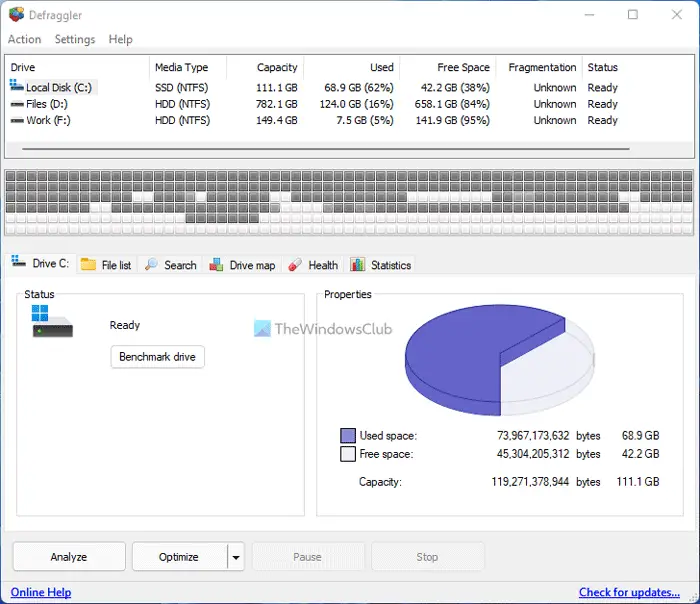 Defraggler for Windows PC
This compact and portable Windows application support NTFS and FAT32 file systems.
Defraggler pushes the capabilities of Defraggler far beyond any other free defragmentation tool, by offering complete offline defrag during the boot process with full OS support.
Additionally, the UI has been improved with a new Drive Map and customizations. They have also re-architectured the internal defrag processes to make it faster and more efficient!
You can now also defrag system files at boot-time.
To do so, open Settings > Options > Defrag tab > Check run boot-time defrag of system files.
Should I use boot time defrag?
There is a great advantage of defragging hard drive during boot time – it can move some files that are in use all the time when your computer is on. If this advantage benefits you in any way, there is no harm in defragging while booting your system. That being said, you can try this third-party tool called Defraggler, which helps you defrag during boot.
Is Defraggler better than Windows Defrag?
If you consider all the features, options, and workflow, you might find Defraggler is slightly better than the in-built functionality that Windows 11/10 comes with. For instance, Defraggler lets you defrag files forcefully, whereas Windows Defrag ignores most of the files at times. As a result, it might not work properly as it should be. That is why Defraggler is better than Windows Defrag.
You can download it from its home page.
Defraggler comes from the folks who have given us CCleaner, Recuva and Speccy!
You might also want to check out some of the best free defragmentation software.