There are various custom router firmware and DD-WRT, Tomato, and OpenWRT are some of the best in the business. However, one can not install all of them at once. That is why, in this post, we will compare, DD-WRT, Tomato, and OpenWRT and find out which firmware is better.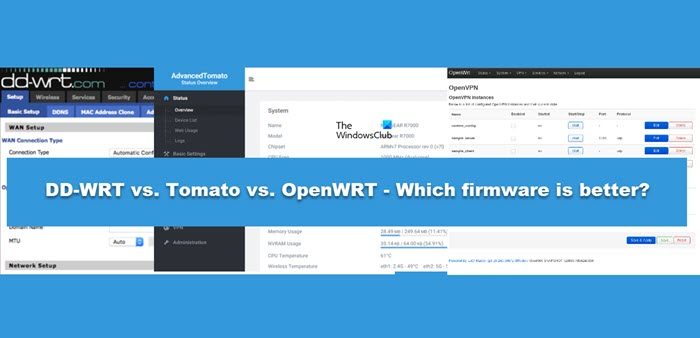 DD-WRT vs Tomato vs OpenWRT firmware compared
The default firmware that comes preinstalled with the router, is good enough for the general consensus, however, we the tech geeks should explore some custom firmware as well. There are various custom firmware in the market, but the three firmware in question are the most talked-about ones. To compare the three router firmware, DD-WRT, Tomato, and OpenWRT, we need to discuss them in detail. We will look at their pros and cons to get an unbiased perspective.
DD-WRT
Let us start with one of the most famous open-source router firmware in the market, DD-WRT. They are so famous that some routers, even ship with DD-WRT firmware. So, if you want to switch to DD-WRT, we are pretty certain that you won't regret it. However, there is no one-fit-all solution, which is why, we need to analyze the firmware.
The DD-WRT installation media is a complete package in itself. You will get everything you need there and more. However, this does mean that you will not have total control over the firmware experience. DD-WRT compensate for this by adding various customization option to the firmware. If you want to download the firmware, go to dd-wrt.com
Tomato
One of the best features of Tomato is its UI. The developers at Tomato have perfected the art of creating a simple but intuitive user interface that has real-time monitoring, graphs, and other neat features. However, a lot of router is not supported by this firmware. Things were pretty bad in terms of compatibility when AdvancedTomato was looking after this project, but they have improved since then and now encompasses more router. This shortcoming can not take away Tomato's features, it is quick, has real-time monitoring tools, an open VPN, and many other features. Go to advancedtomota.com.
OpenWRT
Now, let us finally talk about the veteran firmware, OpenWRT. It is the oldest of the bunch and has a lot of features embedded in a classic UI. However, out of all the options mentioned, this is the only one that does not contain non-free binary blobs.
Even OpenWRT is not perfect, it doesn't have routers because it lacks non-free drivers that are required to them. But in spite of this limitation, it has loads of advantages such as giving the user the ability to tune their router the way they want. To know more, visit openwrt.org.
Now that we know we have a basic idea of the three firmware, let us compare them on the basis of a few parameters.
User Interface: All three firmware have good enough GUI, but out of the three Tomato takes the lead with its modern-looking design. DD-WRT is second and OpenWRT with classic UI takes the last spot, mostly because there is a learning curve to its interface.
Easy to setup: The pattern that we saw in the previous point is followed here as well. Tomato is the easiest to set up, followed by DD-WRT and then OpenWRT. This is quite understandable as setup depends a lot on the UI.
Support and Security Updates: OpenWRT leads the pack when it comes to updates and support services. However, DD-WRT is not too far behind, especially when it comes to support service, but Tomato needs to catch up.
Compatibility: OpenWRT is the most versatile of the bunch as it supports almost all router types. making it the top choice for firmware compatibility. DD-WRT is compatible with only a limited number of routers, while OpenWRT has a much broader range. Tomato, on the other hand, ranks last in terms of compatibility.
Hopefully, this guide has helped you to pick the best router firmware.
Read: How to update Router Firmware?
Is OpenWrt better than DD-WRT?
OpenWRT supports a lot of routers and has great update record and support, whereas, DD-WRT, on the other hand, has a better user interface and some embedded features. So, it is not easy to pick over the other, the choice depends on what you rate more.
Read: How to install and setup VPN on a Router?
Is OpenWRT better than stock firmware?
OpenWRT will beat stock router firmware any day, it has more advanced features. If you are a network engineer or like to keep track of your network, you must install OpenWRT. However, the only drawback is that you need to learn a few things, from the Internet, to get hold of the OpenWRT UI.
Also Read: How to check Browsing History on WiFi Router?